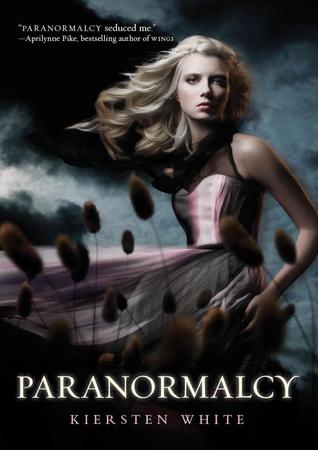 Paranormalcy

by Kiersten White
Series: Paranormalcy #1
Published by Harper Teen on August 31, 2010
Genres: Paranormal
Pages: 352
Format: ARC
Source: Publisher
Buy on Amazon
Goodreads


Evie's always thought of herself as a normal teenager, even though she works for the International Paranormal Containment Agency, her ex-boyfriend is a faerie, she's falling for a shape-shifter, and she's the only person who can see through paranormals' glamours.

But Evie's about to realize that she may very well be at the center of a dark faerie prophecy promising destruction to all paranormal creatures.

So much for normal.
I had heard that Kiersten White's debut novel was good but I had no idea just how good until I read it.  This year has been full of fantastic debuts and Kiersten White's is another one to add to the list.
Evie has always wanted to be normal.  She has always wanted to belong.  Working for the International Paranormalcy Containment Agency means that will never happen.  She will always be alone.  Then she meets Lend.  Well, actually, she captures him.  At first she just wants someone her own age to hang out with but eventually she just wants Lend.  Too bad something out there is killing paranormals and Evie has to find out what it is before it's too late.
Paranormalcy isn't one of those books that starts off with a lot of action but it does start off with a lot of humor.  Evie seemed lonely a lot of the time but it didn't seem to stop her from cracking jokes.  I liked that about her.  In the beginning it was one of the few things I liked about her but she did grow on me as I got more into the book.  Lend, on the other hand, I liked from the start.  He wasn't the typical love interest which intrigued me.  He was insecure, alone, and actually kind of vulnerable.  It was nice to read about a more realistic guy.
The faeries were what made the book really interesting.  They had a major role in the story but they confused me a lot of the time.  They did finally become a little more clear at the end but I was lost at some parts.  The faery prophecy was very unique though and I definitely want to know more about it in the next book.
Overall, Paranormalcy is a fabulous book with a kick-ass heroine (the pink taser is awesome).  If you haven't already checked this one out, do so NOW!