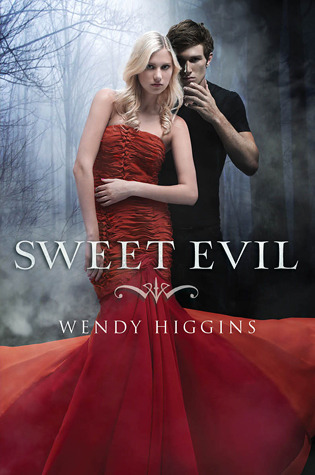 Sweet Evil

by Wendy Higgins
Series: The Sweet Trilogy #1
Published by Harper Teen on May 1, 2012
Pages: 464
Format: ARC
Source: Publisher
Buy on Amazon
Goodreads


What if there were teens whose lives literally depended on being bad influences?

This is the reality for sons and daughters of fallen angels.
Tenderhearted Southern girl Anna Whitt was born with the sixth sense to see and feel emotions of other people. She's aware of a struggle within herself, an inexplicable pull toward danger, but it isn't until she turns sixteen and meets the alluring Kaidan Rowe that she discovers her terrifying heritage and her willpower is put to the test. He's the boy your daddy warned you about. If only someone had warned Anna.

Forced to face her destiny, will Anna embrace her halo or her horns?
As most of you know, angels (including fallen ones) are my favorite paranormal creature.  Sweet Evil may have changed that though.  This book has some kick-ass demons and I can't wait to read more about them.  (The angels were also pretty awesome.)
Anna is not a spectacular character.  She's normal.  She has a best friend she loves to hang out with, she gets frustrated around cute guys, and she has superhuman senses.  Wait, that last one's not normal?  Oh.  So maybe she's not exactly normal but she's pretty close.  Anna has no idea what she is until Kaidan Rowe enters her life and turns her world upside down.  He's sexy, he's mysterious, and he's a major slut.  For some reason though Anna is still drawn to him.  Turns out he's very similar to her.  He wants to help her find out more about herself but he doesn't know why.  And it turns out that helping Anna could get them both in serious trouble.
Anna is a total sweetheart.  She adores her best friend Jay, she is super confused by guys, and she makes some mistakes.  She is fun and easy to like.  She acts like a very normal girl even though she totally isn't.  She also doesn't immediately fall for Kaidan although admittedly, he is an easy guy to fall for.  He's sexy (I think I already mentioned this one but it needs repeating), he's a drummer, and he has a British accent.  Triple threat!  However he is a slut and way too cocky for his own good.  I wanted to high five Anna every time she turned him down.  It really showed her strength.  Although I will admit that Kaidan did grow on me.
The cast of secondary characters in Sweet Evil is phenomenal.  Patti is such a wonderful mom and so loving.  Pharzuph is creepy beyond compare and makes for a great villain.  Belial is scary at times but quite a big teddy bear at others.  Kopano, Blake, the twins, they were all unique and didn't let their jobs define them.  Jay and Veronica were probably the best though.  They were great comic relief.
Sweet Evil is an angels and demons story and there are quite a few of those out there already.  However Sweet Evil reads like no other angel and demon story.  These demons are scary and evil but not all of them. And the good guys aren't quite who you would expect them to be.  There is more to this story than most and it completely drew me in.  The history was fabulous and detailed and you can clearly tell that what goes on in this book is only just the beginning.
Overall, Wendy Higgins has written an awesome debut novel.  It seems like it's going to be the start of an explosive new series.
Looking for more reviews of Sweet Evil?