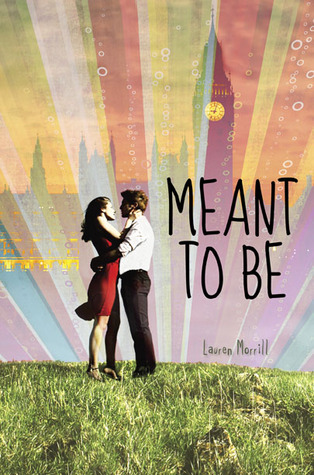 Meant To Be

by Lauren Morrill
Published by Random House on November 13, 2012
Genres: Contemporary
Pages: 304
Format: ARC
Source: Publisher
Buy on Amazon
Goodreads


Meant to be or not meant to be . . . that is the question. 

It's one thing to fall head over heels into a puddle of hazelnut coffee, and quite another to fall for the—gasp—wrong guy. Straight-A junior Julia may be accident prone, but she's queen of following rules and being prepared. That's why she keeps a pencil sharpener in her purse and a pocket Shakespeare in her, well, pocket. And that's also why she's chosen Mark Bixford, her childhood crush, as her MTB ("meant to be").

But this spring break, Julia's rules are about to get defenestrated (SAT word: to be thrown from a window) when she's partnered with her personal nemesis, class-clown Jason, on a school trip to London. After one wild party, Julia starts receiving romantic texts . . . from an unknown number! Jason promises to help discover the identity of her mysterious new suitor if she agrees to break a few rules along the way. And thus begins a wild goose chase through London, leading Julia closer and closer to the biggest surprise of all: true love.

Because sometimes the things you least expect are the most meant to be.
Meant To Be was very high on my to-read list for 2012.  I'm such a huge fan of contemporary and pretty much every review I read just raved about Lauren Morrill's debut novel.  I'm very happy to say that I loved it just as much as every review I read.
I wasn't sure how I felt about Julia at first.  She was very goody goody.  She seemed almost too perfect.  She never did anything spontaneous, she always followed the rules, and she just didn't seem to live much.  Her attitude was difficult to like but she was still very easy to relate to.  She was bookish and kind of nerdy and she reminded me a lot of myself.  However, unlike me, she saw the error of her ways and started to try some new things.  Of course, she had some help along the way.  Jason, class clown and arch nemesis of Julia, gets paired with her on their class trip to London.  He is the opposite of Julia in every way and he is determined to pull her out of her shell.  Jason really reminded me of a lovable puppy.  He was funny, smart, sarcastic, and cute.  He was impossible not to love.  He and Julia were a match made in hell but it was so much fun to read about them and their mishaps.
The story was a little predictable but it still had a couple fresh twists to it.  The setting, for one.  Having the story take place in London really added to the awesomeness of the book.  I honestly felt like I was visiting London while reading Meant To Be.  Lauren Morrill included a ton of famous places in London in Meant To Be and it was almost like I could picture them.  The mystery aspect also added to what made the book so great.  Julia was determined to find out who her anonymous texter might be and I did guess it before Julia but it took me quite some time.  I had to keep reading so that I could see if my guess was right.
The romance might have been the best part though.  This was no case of insta-love, let me tell you that.  It's pretty obvious from the summary alone which guy Julia is going to end up with but the road there was a rocky one.  There were obstacles along the way but it only made things more realistic.  Jason and Julia brought out the best and the worst in each other.  Theirs was a very true relationship.
Overall, Meant To Be is a fresh addition to the contemporary YA selection.  Lauren Morrill is an author to watch for.
Looking for more reviews of Meant To Be?
Beauty and the Bookshelf's review
365 Days of Reading's review