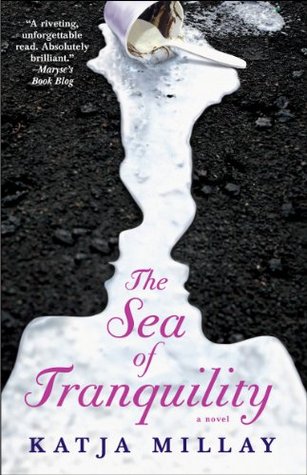 The Sea of Tranquility

by Katja Millay
Published by Atria on June 4, 2013
Genres: Contemporary
Pages: 448
Format: ebook
Source: Bought
Buy on Amazon
Goodreads

Former piano prodigy Nastya Kashnikov wants two things: to get through high school without anyone learning about her past and to make the boy who took everything from her—her identity, her spirit, her will to live—pay.

Josh Bennett's story is no secret: every person he loves has been taken from his life until, at seventeen years old, there is no one left. Now all he wants is be left alone and people allow it because when your name is synonymous with death, everyone tends to give you your space.

Everyone except Nastya, the mysterious new girl at school who starts showing up and won't go away until she's insinuated herself into every aspect of his life. But the more he gets to know her, the more of an enigma she becomes. As their relationship intensifies and the unanswered questions begin to pile up, he starts to wonder if he will ever learn the secrets she's been hiding—or if he even wants to.
This review is just going to be a jumbled mess of me gushing about Katja Millay's debut novel. Let's just get that out of the way from the start.
The Sea of Tranquility is not like a lot of other YA books and I'm actually not sure I'd classify it as YA. While the characters are in high school, they act a lot older and they are pretty mature. I'd definitely say that The Sea of Tranquility could fit into the New Adult category. The content is mature and it reads a little differently than other YA books. However, it definitely has the suspense and fast pace of a YA novel and will appeal to YA readers, for sure.
Nastya was a little hard for me to like in the beginning. I knew she had been through something traumatic but I didn't know what and I didn't understand quite why she acted the way she did. She was hilarious though. Even for a girl who didn't talk, she had a great sense of humor, even if it was a little self-deprecating. I felt sorry for her more than anything in the beginning but I quickly grew to like her and I wanted to see her happy. I knew that wouldn't come easy for her but I wanted to see it happen. Josh had a lot to do with that happiness. He was also very messed up but he was easier to like than Nastya. His problems were kind of out in the open and everyone knew about them (except Nastya.) Josh had issues letting people in but Nastya didn't really give him much of a choice. Two people with so many problems really shouldn't work but together, Josh and Nastya were amazing. Their relationship was so real and beautiful.
The supporting characters in The Sea of Tranquility were also pretty dang fabulous. My favorite would have to be Drew, Josh's best friend. Drew is a total womanizer and at first I thought he was going to be the typical jerk but that wasn't the case at all. Drew ended up being a great guy and his friendships with Josh and Nastya were great. Drew's family was also pretty great, except for his little sister, Sarah. Sarah was a bitch. That's the nicest way to put it. She grew a little bit throughout the book but she didn't really have that big a role. I kind of forgot about her after finishing the book. Drew's parents were the best part of his family. They were kind and non-judgmental. They accepted Josh and Nastya with all their problems even when Nastya's own family couldn't. To be honest, I didn't care for her family but I understood them better by the end of the book.
The mystery of what happened to Nastya really kept me hooked. There was enough going on in the book that I never lost interest but I really just wanted to know what happened to her. It played such a huge role in the book but readers really only get glimpses of it until closer to the end. Even after I found out though the story didn't lose it's fast pace. In fact, things might have even picked up after the big reveal. The Sea of Tranquility really is just one of those books that you won't be able to put down until you finish it. And even then you won't be able to stop thinking about it.
Overall, read The Sea of Tranquility. I don't care if you hate contemporary novels, just read it. It's so perfect. I can't wait to read whatever Katja Millay writes next.
What others have to say about The Sea of Tranquility:
Dear Author's review: "It was an emotionally satisfying book in large part due to the ending."
Lovin' Los Libros' review: "Nothing that I'm about to say is even going to scratch the surface of helping you all understand how amazing this book truly is."
Paper Fantasies' review: "I'm not entirely sure what I was expecting going into this book, but whatever my expectations were, they have been exceeded."