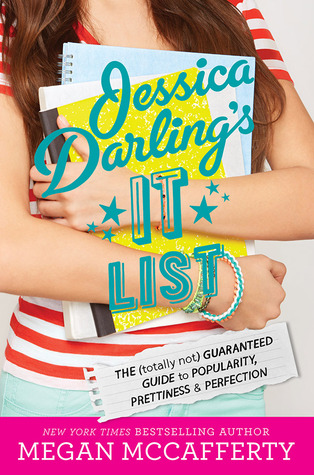 The (Totally Not) Guaranteed Guide to Popularity, Prettiness & Perfection

by Megan McCafferty
Series: Jessica Darling's It List #1
Published by Little Brown on September 3, 2013
Genres: Contemporary
Pages: 223
Format: ARC
Source: BEA
Buy on Amazon
Goodreads


Move over, Dork Diaries! Jessica Darling, star of Megan McCafferty's bestselling Jessica Darling series for adults, is back in a hilarious new series perfect for tween (10 to 14) girls.

I hadn't even gotten to homeroom yet and I'd already discovered five hard truths about junior high:

1. My best friend had turned pretty.
2. She didn't know it yet.
3. It wouldn't be long before she did.
4. That knowledge would change everything between us.
5. And there wasn't a thing I could do about it.

It's the first day of seventh grade. Is Jessica Darling doomed for dorkdom?

New York Times bestselling author Megan McCafferty's hilarious series opener will have you laughing, cringing, and cheering for Jessica Darling as she learns that being herself beats being popular, pretty & perfect any day.
The (Totally Not) Guaranteed Guide to Popularity, Prettiness & Perfection is a fabulous start to Jessica Darling's It List series. Fans of the original Jessica Darling series will love this glimpse into pre-teen Jessica's life and mind!
Jessica Darling's It List series is very much middle grade. The writing is simple, the humor is aimed for younger readers, and the characters are not very mature. However, it totally works in this case. It's set in junior high and Jessica Darling and her friends are exactly how you would expect them to be. Megan McCafferty really captured the feel of junior high with this book.
Jessica Darling is probably one of the most awkward characters I've ever read about. It's probably what makes me love her so much. She recognizes her awkwardness and while it does bother her sometimes, she embraces it most of the time. She's remarkably self-assured for a pre-teen girl. She cares very little about what everyone else thinks and worries only about what she thinks. She's a great heroine for young readers to look up to.
Her friends aren't so awesome. Bridget, Manda, Sara, and Hope are quite a crew. Bridget starts off as a nice girl but that quickly changes once she realizes how pretty she is and how she can use it to her advantage. I didn't like her at all. Manda and Sara were even worse. They considered each other friends but they were terrible to each other. And everyone else. Hope was the only one I liked and I felt like there was very little of her in the book. I look forward to learning more about her throughout the rest of the series.
The story is nothing special. It's Jessica's first year in junior high and let me tell you, she goes through some crazy stuff. There's friend troubles, boy troubles, cheer team, woodshop, and so much more. I'll just put it this way; everything that could go wrong, did. It's a quick read that definitely made me think of my own days in junior high.
Overall, The (Totally Not) Guaranteed Guide to Popularity, Prettiness & Perfection is perfect for fans of the original Jessica Darling series or for readers looking to start it. Middle grade readers should greatly enjoy this one and I definitely recommend checking it out!
What others are saying about Jessica Darling's It List:
Alluring Reads' review: "The IT List was funny, sweet and incredibly authentic for the age group."

Mostly YA Lit's review: "It's a prequel that delivers many of the things that I feel like I probably needed to know at age ten to twelve, but it's also so wonderful as an adult fan of the series to be able to revisit these characters, and to see how they got their roots." 

Reading the Best of the Best's review: "The snarky, hyper observant, opinionated Jessica Darling we first met in Sloppy Firsts is back but this time as a soon to be 7th grader and she's just as fantastic, except younger!"