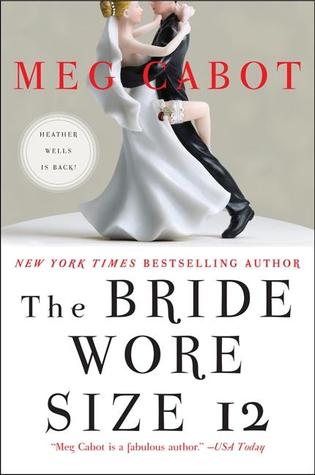 The Bride Wore Size 12

by Meg Cabot
Series: Heather Wells #5
Published by William Morrow on September 24, 2013
Genres: Contemporary
Pages: 392
Format: eARC
Source: Edelweiss, Publisher
Buy on Amazon
Goodreads


Heather Wells is used to having her cake and eating it too, but this time her cake just might be cooked. Her wedding cake, that is.

With her upcoming nuptials to PI Cooper Cartwright only weeks away, Heather's already stressed. And when a pretty junior turns up dead, Heather's sure things can't get worse—until every student in the dorm where she works is a possible suspect, and Heather's long-lost mother shows up.

Heather has no time for a tearful mother and bride reunion. She has a wedding to pull off and a murder to solve. Instead of wedding bells, she might be hearing wedding bullets, but she's determined to bring the bad guys to justice if it's the last thing she does . . . and this time, it just might be.
The Bride Wore Size 12, the fifth (and final?) book in the Heather Wells series, is the perfect conclusion to the story. I've always been a Meg Cabot fan and this series really cemented my love of her books.
Everything in Heather's story is tied up with this book. I don't know for sure if it's going to be the final book in the series but if it is, Meg Cabot did a fabulous job tying up all the loose ends. There's closure with Heather and Cooper, Heather and her mom, all the lovely people who work at Death Dorm with Heather, and even a glimpse at someone from one of Meg Cabot's other series. It all tied together so perfectly.
Oh and I can't not mention the adorableness that is Heather and Cooper. They are so cute together. They are really perfect for each other and readers can see it in every one of their interactions. Also, they are too funny! I tried so hard not to laugh out loud at this one but it was extremely difficult.
Overall, The Bride Wore Size 12 is a must read for fans of the Heather Wells series and if you haven't started the series, get on that right now!
What others are saying about The Bride Wore Size 12:
Nick's Book Blog's review: "I can't even tell you guys how much I just adore this cozy mystery series."
The Readers Den's review: "Meg Cabot has truly created an unforgettable series which I'm sure will hold a special place in my heart and on my book shelf for a very long time."
The Book Addict's Guide's review: "It's definitely for a light reading kind of mood and if you're a fan of the series, I'm sure you'll enjoy it!"