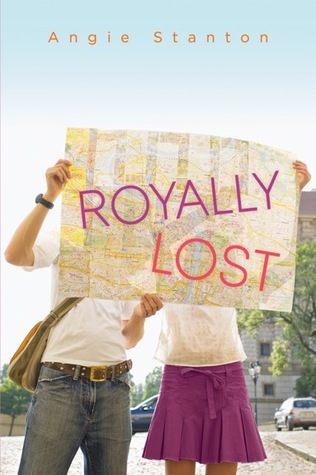 Royally Lost

by Angie Stanton
Published by Harper Teen on May 6, 2014
Genres: Contemporary
Pages: 336
Format: ARC
Source: Publisher
Buy on Amazon
Goodreads


Dragged on a family trip to Europe's ancient cities, Becca wants nothing more than to go home. Trapped with her emotionally distant father, over-eager stepmother, and a brother who only wants to hook up with European hotties, Becca is miserable. That is until she meets Nikolai, a guy as mysterious as he is handsome. And she unknowingly finds herself with a runaway prince.

Nikolai has everything a guy could ask for-he's crown prince, heir to the throne, and girls adore him. But the one thing he doesn't have...is freedom. Staging a coup, he flees his kingdom and goes undercover on his own European tour.

When Nikolai and Becca meet, it's their differences that draw them together. Sparks fly as they share a whirlwind of adventures, all the while dodging his royal guard. But Becca's family vacation ends in a matter of days. Will Nikolai and Becca be forced to say goodbye forever, will his destiny catch up to him, or will they change history forever?
I'll admit, the cover totally got me with this one.  It looked like the perfect summer read and I figured it'd be a cute, fun, quick read.  Sadly it was only one of those three things: quick.
Where do I even begin with this one?  I guess Becca is a good place to start since she was one of the biggest problems I had with Royally Lost.  She was a spoiled rotten whiny little brat.  And that's putting it nicely.  Her dad and stepmom, Vicky, took her on an all expenses paid trip to Europe and all she could do was complain about how boring the trip was and how much she hated history.  She found some way to mention how boring history was at every stop on their tour.  She said something about living in the moment at one point and sure, I get that but that doesn't mean you should completely ignore history.  It was so annoying.  Then there was how she treated her dad and stepmom.  She made a point to always make sure people knew Vicky was just her stepmom.  I completely understand that Vicky was not a replacement for her real mom but the way she treated her was just horrible.  Vicky was nothing but nice and helpful and Becca was an utter bitch to her.  She also mentioned how her dad never had time for her or her brother, Dylan, but throughout the whole book they were the two running away from family time.  Seems a little hypocritical to me.
Let's move on to the romance between Becca and Nikolai.  This is the third book I've read by Angie Stanton and they all have one thing in common: horribly cheesy romances.  Becca and Nikolai couldn't have been more different but of course they were immediately attracted to each other and very quickly realized that they were in love.  Umm, what?  You have known each other how long?  Seriously, they spent maybe a total of 3 days with each other but by the end of those 3 days, they were in love and couldn't stand to be parted.  They were willing to do whatever it took to be together yet Nikolai didn't even know Becca's last name!  Seriously, they get separated and he has no idea how to get in touch with her because all he knows is that she's from Chicago and her name is Becca.  Yet they are in love.  Sure, I'll believe that.
There was also the fact that the ending was way too perfect.  Nikolai is the crown prince of a small country and Becca is a girl about to start her first year of college.  I couldn't really see how things would ever work out for them but of course the story wouldn't be a good romance if it was realistic.  Things tied up way too easily and I didn't find it realistic at all.  It was also super cheesy.  I was not impressed, at all.
Overall, Royally Lost is one I'd recommend skipping.  There are tons of other cute summer romances that you should check out before you waste time on this one.
What others are saying about Royally Lost:
Into the Hall of Books' review: "Royally Lost is a fun, quick read – another light romance from Angie Stanton for my shelf."
Stay Bookish's review: "Royally Lost, which I then decided had lots of feel-good-book potential, was sadly a huge disappointment."
Catching Books' review: "Definitely was a cute contemporary romance and yes-it was cheesy but sometimes we all need to read an unrealistic romance!"