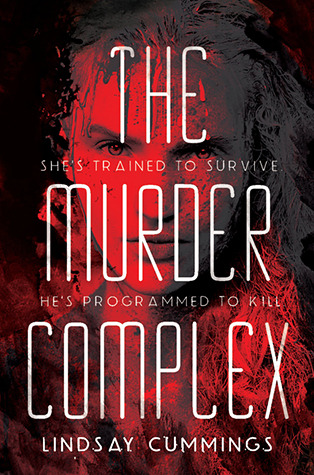 The Murder Complex

by Lindsay Cummings
Series: The Murder Complex #1
Published by Harper Teen on June 10, 2014
Genres: Dystopian
Pages: 400
Format: Hardcover
Source: Publisher
Buy on Amazon
Goodreads


Meadow Woodson, a fifteen-year-old girl who has been trained by her father to fight, to kill, and to survive in any situation, lives with her family on a houseboat in Florida. The state is controlled by The Murder Complex, an organization that tracks the population with precision.

The plot starts to thicken when Meadow meets Zephyr James, who is—although he doesn't know it—one of the MC's programmed assassins. Is their meeting a coincidence? Destiny? Or part of a terrifying strategy? And will Zephyr keep Meadow from discovering the haunting truth about her family?
The Murder Complex is Lindsay Cummings' debut novel and the start of what promises to be an awesome new dystopian series.  The characters, the story, and the pulse pounding action make for a thrilling read.
Meadow is a strong female character who knows how to take care of herself.  Her dad raised her so that she would never have to rely on other people to save her.  She can fight, she can feed herself, she can be brutal when need be, but above all else, she can still be vulnerable.  She is not some cold person who wants to be alone.  Sure she can take care of herself but that doesn't mean she wants to always have to.  Enter Zephyr, someone she never expected and someone she definitely couldn't plan for.  He is a surprisingly vulnerable male character.  He is not afraid to show weakness or sorrow or shame.  He balances out Meadow.  She may not be cold but she doesn't always show emotion and Zephyr definitely does. They work well as a team because they both have strengths and weaknesses that work well together.
I've seen The Murder Complex compared to The Hunger Games and in this case, I have to agree.  This is a gritty story that is very rarely happy and I could definitely see comparisons between Meadow and Katniss.  However, that's not to say that this is a rip off of The Hunger Games.  It's a completely new story set in a completely different world but it will appeal  to The Hunger Games fans.
The romance is a little too fast paced for me but otherwise it was cute.  Meadow and Zephyr had some serious chemistry but I felt like their relationship was a little too fast.  The only concession I will make is that it's set in a dystopian world where death is a daily occurrence so I can see why things might move a little faster than normal.
The familial bonds were some of my favorite things about The Murder Complex.  Lindsay really developed these relationships in the short amount of time they spent together.  Each member of Meadow's family had a different kind of relationship to Meadow.  Her dad clearly loved her but he was very fierce with her.  He knew that she needed tough love sometimes and he gave it to her.  Her brother, Koi, was protective of her like any older brother would be but he was also so proud of her.  He wanted her to succeed where he had failed and he encourager her a lot.  Her little sister, Peri, was adorable.  Meadow was super protective of her and she was pretty much a stand in mom for her.  She did everything she could to make sure Peri had a good life and it was so sweet.
Overall, The Murder Complex stands out in a crowd of boring, overdone dystopian concepts.  There are so many fresh aspects to this book that will hopefully really help this series succeed.  I can't wait for more from Lindsay Cummings!
What others have to say about The Murder Complex:
Cuddlebuggery's review: "There is a small rebellion, some cool science stuff and plenty of tension to keep a reader turning pages."
Crystal in Bookland's review:  "If you love fast paced thrillers I would definitely recommend that you read this book!"
The Book Lantern's review: "While "The Murder Complex" hints at Cummings's potential as an action writer, there are too many questions left hanging, too many plot holes gaping wide open and a whole barrel-load of problematic content that tries to be shocking but ends up being distasteful."
Don't forget to check out the rest of the blog tour stops:
June 2 – Fangirlish – GUEST POST
June 3 – The Story Book Kingdom – REVIEW
June 4 – Chapter by Chapter – REVIEW and Reading Teen – INTERVIEW
June 5 – Page Turners – BOOK PLAYLIST
June 6 – The Book Smugglers – GUEST POST
June 9 – Shelf to Screen– INTERVIEW and  Never Ending Stories Book Blog – GUEST BLOG
June 10 – Alice Marvels – GUEST POST
June 11 – Hypable – REVIEW
June 12 – Novel Novice – INTERVIEW
June 13 – Sasha Alsberg – REVIEW   and Mundie Moms – REVIEW