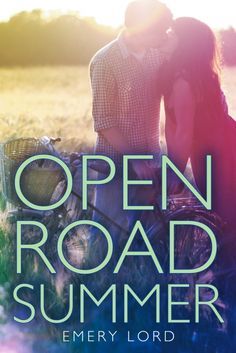 Open Road Summer

by Emery Lord
Published by Bloomsbury on April 15, 2014
Genres: Contemporary
Pages: 342
Format: eARC
Source: Netgalley, Publisher
Buy on Amazon
Goodreads


After breaking up with her bad-news boyfriend, Reagan O'Neill is ready to leave her rebellious ways behind. . . and her best friend, country superstar Lilah Montgomery, is nursing a broken heart of her own. Fortunately, Lilah's 24-city tour is about to kick off, offering a perfect opportunity for a girls-only summer of break-up ballads and healing hearts. But when Matt Finch joins the tour as its opening act, his boy-next-door charm proves difficult for Reagan to resist, despite her vow to live a drama-free existence. This summer, Reagan and Lilah will navigate the ups and downs of fame and friendship as they come to see that giving your heart to the right person is always a risk worth taking. A fresh new voice in contemporary romance, Emery Lord's gorgeous writing hits all the right notes.
Open Road Summer is a book after my own heart.  Emery Lord's debut novel is everything a contemporary lover could want in a book.  It's a novel of friendship, fame, family, and love and it hits the right notes on every one of those subjects.  And did I mention Matt Finch?  No?  Well don't worry, I will.
The best aspect of Open Road Summer is, by far, the friendship between Reagan and Lilah.  They couldn't be more different but they balance each other out.  Reagan is the girl who makes bad decisions regarding everything in her life, especially boys.  Lilah is the teen country star who couldn't be more perfect.  It doesn't seem like they could work together but they do.  Lilah's family embraces Reagan almost as a second daughter.  That only serves to cement the bond that Lilah and Reagan share.  And no matter what happens in either of their lives, they always have time for each other.  Sure they fight but they always find their way back to each other.  They are true friends.
The fame aspect was so much fun.  Reagan is tagging along with Lilah on her cross country tour for the summer.  There are stops in tons of cities, there are trips out to events in disguise, there are nasty paparazzi, and so much more.  There aren't many YA books dealing with famous people but Emery Lord did a great job making this story believable.
The family part wasn't overdone but definitely played a role in both Lilah and Reagan's stories.   Lilah has a close knit family and she wants to keep them out of the spotlight.  She also doesn't want her little brothers to see her in the wrong light.  She's a good girl but the paparazzi will do whatever it takes to make her look bad and she doesn't want them to see her like that.  It was cute how loyal she was to her family and how obvious her love for them was.  Then there was Reagan and her family situation.  Reagan's dad was an alcoholic for a lot of her life and when he cleaned up his act, he got remarried to someone Reagan really couldn't care less about.  Ever since Reagan's dad gave up alcohol, they have only drifted further apart.  Reagan's bad life choices also don't help that relationship but it turns out that her summer away may actually bring them closer together.
The romance was beyond cute.  I told you I would mention Matt Finch and here it is: he may be the perfect male specimen.  Holy crap is he the cutest.  He's sweet, he's funny, he's cocky, he's smart, he's talented, and I could go on and on about his many wonderful characteristics.  He is not your typical famous male singer.  He's got a really sweet, vulnerable side that he really doesn't show often but Reagan brings it out of him.  They both bring out really different sides of each other.  Their banter is beyond adorable.  They have immediate chemistry and from the start I couldn't help rooting for them.  I really wanted to see things work out between them.  Reagan and Matt Finch are two characters that you can't help but want to see together.
There is also some romance between Lilah and her ex-boyfriend, Jimmy.  Things are really complicated with them because Lilah is famous and all Jimmy wants is to grow up and run his own farm.  He's never wanted anything more than that and Lilah.  They love each other so much but they decided they had to let each other go so they could follow their own dreams.  Their story was sweet and heartbreaking at the same time and I truly loved the outcome at the end of their story.  It was perfect.
Overall, Emery Lord's debut novel was, in my opinion, perfect.  Contemporary fans will adore this story and I can't give it a higher recommendation.
What others are saying about Open Road Summer:
We Still Read's review: "This book, feet up, windows down, country music in the back ground? Perfection."
Book.Blog.Bake's review: "Open Road Summer has everything going for it: a swoon-worthy romantic interest, a super strong friendship(the kind that unfortunately uncommon in YA), and a delightful road-trip vibe."
That Artsy Reader Girl's review: "Basically, if you're looking for a sweet summer romance with a little meat to it then this is your book!"