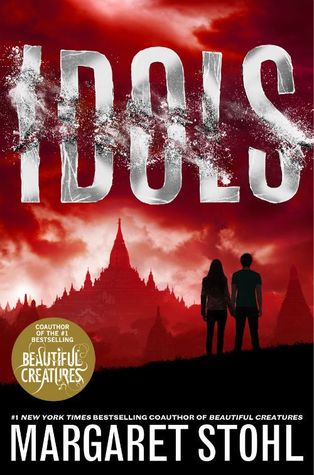 Idoles

by Margaret Stohl
Series: Icons #2
Published by Little Brown on July 8, 2014
Genres: Dystopian
Pages: 432
Format: ARC
Source: Publisher
Buy on Amazon
Goodreads


The Icons came from the sky. They belong to an inhuman enemy. They ended our civilization, and they can kill us.

Most of us.

Dol, Ro, Tima, and Lucas are the four Icon Children, the only humans immune to the Icon's power to stop a human heart. Now that Los Angeles has been saved, things are more complicated - and not just because Dol has to choose between Lucas and Ro, the two great loves of her life. As she flees to a resistance outpost hidden beneath a mountain, Dol makes contact with a fifth Icon Child, if only through her visions. When Dol and the others escape to Southeast Asia in search of this missing child, Dol's dreams, feelings and fears collide in an epic showdown that will change more than just four lives -- and stop one heart forever.

In this riveting sequel to Icons, filled with nonstop action and compelling romance, bestselling author Margaret Stohl explores what it means to be human and how our greatest weakness can be humanity's strongest chance at survival.
It's not often that I read a sequel that not only measures up to the first book but surpasses it but Idols definitely does that. Icons grabbed my attention and intrigued me but Idols had me hooked and dying for more.
Idols picks up right where Icons left off and it's pulse pounding start. The Icon children are on the run from everyone. They need to find the fifth Icon child but they have to stay off the radar while searching for her. As if that's not bad enough, the Icons are spreading, taking over more land and killing more people. Dol and the others need to find a way to shut down the Icons for good and get rid of the Lords.
Dol, Ro, Lucas, Tima, Fortis, and Doc are all back in this sequel and they are a lot easier to like this time around. It was hard to connect with all of them in the first book but that wasn't the case in Idols. They were all much more developed and well-rounded. Dol was brave but also quite terrified. Her powers were constantly growing and changing and she didn't know what to think about anything. There were times when she almost thought she was going crazy. I felt horrible for her but I liked seeing her grow with her powers. Ro's powers were also changing but that was pretty much all that changed about Ro. He was still hot-headed, in love with Dol, and unwilling to trust/like Lucas. Lucas was much easier to like this time around. He was so sweet and I loved seeing a vulnerable side to him. Tima wasn't very different from the first book but she did learn how to use her powers a little better and took a more active role in the group. As for Doc and Fortis they were definitely some good comic relief.
The story was so fast-paced. The pace was one of the my biggest complaints about Icons so I was really happy about the change in the second book. Things were constantly going on throughout Idols and there was never even a second of downtime for everyone. It was crazy! Also, there is still a lot of background information throughout Idols but I felt like it didn't slow things down at all. The backstory was actually one of the most interesting parts of the book and I loved finding out more about Fortis' part in the coming of the Lords and the Icons. It was not at all what I expected.
Overall, Idols is a fabulous continuation to the Icons series. My faith in the series is redeemed after reading this one and I can't wait to see what happens next for everyone. Also I should probably warn you that the ending might break your heart, just a little bit.
What others are saying about Idols:
Reading Teen's review: "If you like books like The 5th Wave and I Am Number Four, or movies like Edge of Tomorrow, I think you'll really enjoy this series!"
The Library Canary's review: "If you haven't started this series yet and you love aliens, then what the heck are you waiting for?"
My Bookish Fairytale's review: "This stunning sequel to Icons was a real page turner."
About the Author:
Margaret Stohl is a lifelong science fiction fan, former video game designer, coauthor of the New York Times bestselling Beautiful Creatures series, and author of Icons. She lives in Los Angeles, California, with her family.
Thank you to Margaret Stohl and Little Brown, fans will have a chance to enter to win a copy of IDOLS at each stop during the blog tour (1 winner per book). Please be sure to fill out the form below to enter to win!  Please be sure to read the giveaway rules listed at the bottom of the form before entering. *US residents only