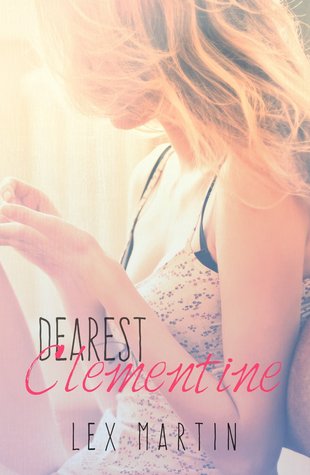 Dearest Clementine

by Lex Martin
Series: Dearest #1
on May 25, 2014
Genres: Contemporary
Pages: 232
Format: ebook
Source: Bought
Buy on Amazon
Goodreads


Twenty-year-old Clementine Avery doesn't mind being called bitchy and closed off. It's safe, and after being burned by her high school sweetheart and stalked by a professor her freshman year of college, safe sounds pretty damn good.

Her number one rule for survival? No dating. That is until she accidentally signs up for a romance writing class and needs material for her latest assignment. Sexy RA Gavin Murphy is more than happy to play the part of book boyfriend to help Clem find some inspiration, even if that means making out...in the name of research, of course.

As Gavin and Clem grow closer, they get entangled in the mystery surrounding a missing Boston University student, and Clem unwittingly becomes a possible target. Gavin tries to show Clem she can handle falling in love again, but she knows she has to be careful because her heart's at stake…and maybe even her life.
When I saw Dearest Clementine on sale on Amazon, I decided to give it a shot.  It was free, what could it hurt?  Well, I realized there was a good reason it was free: it'd be a complete waste of money to actually pay for it.
Clementine was a grade A bitch.  She was only nice to a handful of people and those people were her close friends.  Hell, one of her roommates was even scared of her.  When she first meets Gavin she's not even willing to tell him her name and he's nothing but nice.  Clementine really didn't have much personality either.  It seemed all she had going for her was her looks.
Speaking of looks, the author spends way too much time talking about Clementine's.  It's all about how gorgeous Clem is, how skinny, how lightweight, etc.  We get it, she's pretty!  No need to mention it on every page.
There was also way too much going on, plotwise.  There was this whole storyline with Clementine's professor, another storyline about a missing girl, another storyline about Clementine being a YA writer but nobody knows it, another storyline involving Clementine's cheating ex, etc.  Holy crap!  The sad part was that the book still wasn't very gripping even with all that going on.
As for the love interest (or three) I didn't mind him but I didn't particularly like him either.  He was very secretive and his secrets ended up being really stupid.  If he had just talked to Clementine they would have had no drama in their relationship.  Of course he couldn't do that and Clementine freaked out because she had trust issues.  Those trust issues revolved around her ex, Daren, who I actually maybe liked more than Gavin.  And that is saying something.  Sure he messed up but he apologized and seemed like a really sweet guy.
Overall, Dearest Clementine is one new adult novel that I cannot recommend.  This is one series that I will not be continuing.
What others are saying about Dearest Clementine:
Aesta's Book Blog's review: "Overall, this was a really sweet read with a little bit of humor, fun, drama, and mystery."
Insightful Minds Reviews' review: "All in all, Dearest Clementine earns 4 stars from me."
Lite-Rate-Ture's review: "You have to read Lex Martin's Dearest Clementine, she has a beautiful writing style and DEAREST CLEMENTINE is one of a kind."