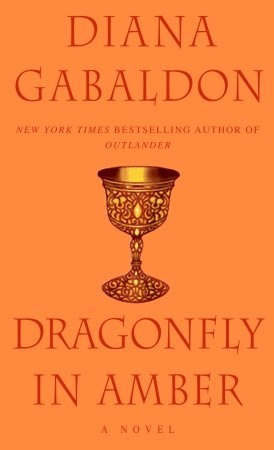 Dragonfly in Amber

by Diana Gabaldon
Series: Outlander #2
Published by Dell on July 1, 1992
Genres: Historical Fiction
Pages: 947
Source: Bought
Buy on Amazon
Goodreads


For twenty years Claire Randall has kept her secrets. But now she is returning with her grown daughter to Scotland's majestic mist-shrouded hills. Here Claire plans to reveal a truth as stunning as the events that gave it birth: about the mystery of an ancient circle of standing stones ...about a love that transcends the boundaries of time ...and about James Fraser, a Scottish warrior whose gallantry once drew a young Claire from the security of her century to the dangers of his ....

Now a legacy of blood and desire will test her beautiful copper-haired daughter, Brianna, as Claire's spellbinding journey of self-discovery continues in the intrigue-ridden Paris court of Charles Stuart ...in a race to thwart a doomed Highlands uprising ...and in a desperate fight to save both the child and the man she loves....
Dragonfly in Amber, the second book in the Outlander series, brings readers back into the lives of Claire and Jamie Fraser.  This book just confirmed my love for this series.
All the original characters are back in this sequel but it also introduces readers to a bunch of new characters.  Two of those characters play a prominent role in the story but I wasn't all that impressed with them.  Brianna Fraser and Roger Wakefield are introduced early in the book but readers are not given a lot of background information about either of them.  I know this is a long series and these characters are going to play parts in the following books though so I'm assuming Diana Gabaldon did that on purpose.  I liked them both but I look forward to finding out more about them.
As for the original cast of characters, I didn't think it was possible to love them more but I was wrong.  Jamie and Claire only grow more amazing throughout the course of the book.  Claire is just as strong as she was in the first book, if not stronger.  She may not fit the mold of women in the eighteenth century but she doesn't care and neither does Jamie.  Jamie is a strong man who loves Claire exactly the way she is.  They are both stubborn and like to argue but I think that only added depth to their relationship.  I loved Jamie but he was seriously hard-headed and made some very bad choices in Dragonfly in Amber.  He did make up for them though.
The story is full of politics and mystery and a good amount of romance.  The politics are what really had me hooked though.  The majority of the story is set in the eighteenth century and it focuses on the rising of Charles Stuart (Bonnie Prince Charlie.)  I don't know how much of the story was fact and how much was fiction but it was so captivating!  This is definitely one of those books that will have you intrigued enough to actually look into more of the history surrounding the story.
Overall, Dragonfly in Amber is a solid sequel to Outlander.  I'm continuing my binge read of this series with Voyager and I seriously need to get started after that crazy ending!
What others have to say about Dragonfly in Amber:
The Lit Bitch's review: "Now that I am done with Book II, I absolutely MUST continue on with the series…though they are long (each book is about 800-900 pages) but I simply cannot move on to something else until I know what happens next."
The Hope Chest Reviews' review: "With her amazing talent and enthralling writing style, Diana Gabaldon has also earned a place among my favorite authors."
I'm Loving Books' review: "It was a great follow up and although it's very long, it was fairly easy to keep turning the page to continue."