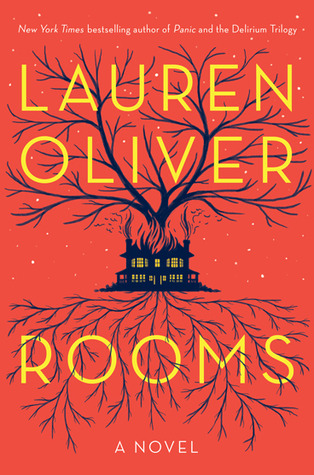 Rooms

by Lauren Oliver
Published by Ecco on September 23, 2014
Pages: 320
Format: ARC
Source: Publisher
Buy on Amazon
Goodreads


The New York Times bestselling author of Before I Fall and the Deliriumtrilogy makes her brilliant adult debut with this mesmerizing story in the tradition of The Lovely Bones, Her Fearful Symmetry, and The Ocean at the End of the Lane—a tale of family, ghosts, secrets, and mystery, in which the lives of the living and the dead intersect in shocking, surprising, and moving ways

Wealthy Richard Walker has just died, leaving behind his country house full of rooms packed with the detritus of a lifetime. His estranged family—bitter ex-wife Caroline, troubled teenage son Trenton, and unforgiving daughter Minna—have arrived for their inheritance.

But the Walkers are not alone. Prim Alice and the cynical Sandra, long dead former residents bound to the house, linger within its claustrophobic walls. Jostling for space, memory, and supremacy, they observe the family, trading barbs and reminiscences about their past lives. Though their voices cannot be heard, Alice and Sandra speak through the house itself—in the hiss of the radiator, a creak in the stairs, the dimming of a light bulb.

The living and dead are each haunted by painful truths that will soon surface with explosive force. When a new ghost appears, and Trenton begins to communicate with her, the spirit and human worlds collide—with cataclysmic results.

Elegantly constructed and brilliantly paced, Rooms is an enticing and imaginative ghost story and a searing family drama that is as haunting as it is resonant.
It really should come as no surprise that Lauren Oliver's adult debut is spectacular.  Rooms is everything I didn't know I was looking for in a book.  The writing is gorgeous, the characters are extremely flawed, and the mystery is captivating.
Rooms is not a book you want to rush through.  It's definitely compelling enough that you will want to sit and read it straight through but it's a book full of stories that take time to completely understand.  Every character has a story all their own.  Sandra and Alice, the two resident ghosts, spend a lot of time telling theirs and I have to say that theirs were the most interesting stories of the group.  They both lived and died in time periods relatively far in the past and they both have secrets and mysteries surrounding their lives and deaths.  That's not to say that the other characters don't have interesting stories though because they do.  Caroline, Minna, and Trenton all have things they are hiding and each story is very compelling.  Even though I may not have liked the characters, their stories had me hooked.
While I say that I didn't like the characters, I don't think readers are really meant to like them.  I sympathized with parts of each character but other than that, they are greatly flawed and hard to like.  Trenton is a little bit of an asshole but he's by far the most likable.  He is seriously depressed and contemplating suicide.  He doesn't see that there is anything left for him to live for but going back home for his father's funeral forces him to look at things a little differently, especially when he starts hearing and seeing ghosts.  Minna is closed off to the world and she is a giant bitch.  There is no nice way to put it.  She thinks of no one but herself.  She has a daughter that she's forced to think of at times but Amy plays a really small part in the story and, it seems, Minna's life.  Caroline is a lot like Minna but an older version.  She's very self-centered.  Even when she says she's doing something for her kids, she's really thinking of herself.  The one thing that really makes these people tolerable is that they have all have secrets that readers don't find out about at first.  Once you start to see the dark pasts of the characters, it's a lot easier to see how they come to be who they are.
Lauren Oliver's writing style translates to the adult age range brilliantly.  I truly have yet to find something she has written that I don't like.  She is one author who could write a phone book and have people rush to grab it off the shelves.  The writing style in Rooms is a little spare but never lacking in details that matter.
Overall, Rooms is a novel that can appeal to many people of many age ranges.  The subject and content are definitely better suited for adults but the appeal of this one is widespread.  And what do you know, another Lauren Oliver novel gets added to my shelf of favorites?
What others are saying about Rooms:
Fantasy Book Critic's Review: "There is real content in the very believable characters' attempts to make sense of their lives."
Fic Fare's review: "This story has a bit of everything… drama, angst, humor and sadness."
Fiktshun's review: "The author's first attempt at a novel aimed at an adult audience was hugely successful."
About the author:
Lauren Oliver is the author of the New York Times bestselling YA novels Before I Fall, Panic, and the Delirium trilogy: Delirium, Pandemonium, and Requiem. Her books have been translated into thirty languages. She is also the author of two novels for middle-grade readers, The Spindlers and Liesl & Po, which was a 2012 E. B. White Read-Aloud Award nominee. Lauren's first adult novel, Rooms, will be published in September 2014. A graduate of the University of Chicago and NYU's MFA program, Lauren Oliver is also the co-founder of the boutique literary development company Paper Lantern Lit. You can visit her online at www.laurenoliverbooks.com
Don't forget to check out the rest of the blog tour!
15-Sep Reading Lark
16-Sep Midnight Garden
17-Sep Icey Books
18-Sep I Swim For Oceans
19-Sep Fiktshun
22-Sep Fiction Fare
23-Sep Read My Breath Away
24-Sep Queen Ella Bee Reads
25-Sep A Dream Within a Dream
26-Sep Anna Reads
29-Sep Katie's Book Blog (ME!)
30-Sep Sweeps 4 Bloggers
Sep-31 Mod Podge Bookshelf