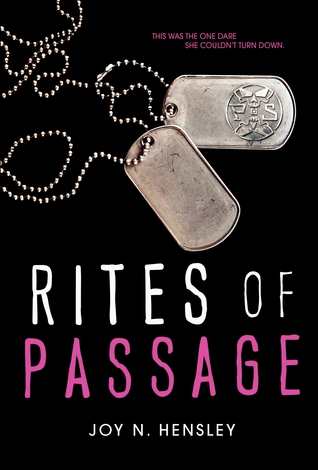 Rites of Passage

by Joy Hensley
Published by Harper Teen on September 9, 2014
Genres: Contemporary
Pages: 416
Format: eARC
Source: Edelweiss, Publisher
Buy on Amazon
Goodreads


Sam McKenna's never turned down a dare. And she's not going to start with the last one her brother gave her before he died.

So Sam joins the first-ever class of girls at the prestigious Denmark Military Academy. She's expecting push-ups and long runs, rope climbing and mud-crawling. As a military brat, she can handle an obstacle course just as well as the boys. She's even expecting the hostility she gets from some of the cadets who don't think girls belong there. What she's not expecting is her fiery attraction to her drill sergeant. But dating is strictly forbidden and Sam won't risk her future, or the dare, on something so petty...no matter how much she wants him.
As Sam struggles to prove herself, she discovers that some of the boys don't just want her gone—they will stop at nothing to drive her out. When their petty threats turn to brutal hazing, bleeding into every corner of her life, she realizes they are not acting alone. A decades-old secret society is alive and active… and determined to force her out.
At any cost.

Now time's running short. Sam must decide who she can trust...and choosing the wrong person could have deadly consequences.
Rites of Passage is a strong debut novel from Joy Hensley.  I was seriously impressed by this contemporary novel and I'm already looking forward to whatever she writes next.
Rites of Passage combines a few of my favorite things: strong females, forbidden romance, and a school setting.  And it just so happens that all three of these things are done well.  Sam is one seriously kick -ass female.  She knows it's going to be tough being one of the first female students at Denmark Military Academy but she doesn't let that stop her.  She's never backed down from a dare and this is not going to be the first time she does.  She is determined to honor her brother's memory by making it through the first year and paving the way for future generations of young women.  She is severely hazed, to the point of injury.  She's looked down upon by almost everyone, including her older brother.  To top it all off, she has no clue who to trust seeing as there is a secret society determined to get her and all the other girls to leave.   None of that stops her though.  She is smart, funny, kind, and one tough cookie.  She's the kind of heroine girls can definitely look up to.
The forbidden romance aspect was pretty steamy.  Sam and her cadet drill sergeant have a lot in common and he's one of the few people at the school who treats her just like anyone else.  He doesn't look down on her because she's a female and he doesn't make any special concessions because she's a female.  To him, she's just another person, one that he is attracted to though.  The attraction between them is definitely made clear at the beginning of the book but it takes time to build and nothing happens for quite some time.  Even after things are more out in the open, Rites of Passage really isn't a romance centered novel.  Sure there are some steamy and some super sweet scenes between Sam and Drill but it's not a focal point.  It was well done.
The school setting was awesome.  Rites of Passage is a lot like any other boarding school novel except that it's set at a military academy where things are crazy strict.  To be honest, while I was reading I kept picturing the set of the Disney Channel Original Movie Cadet Kelly.  I'm sure you know the one I'm talking about, with Hilary Duff.  Scenes from that movie kept popping into my head while reading Rites of Passage and that was not a bad thing.  Denmark Military Academy was a really well-developed school setting that I could easily picture in my head.
The story is completely pulse-pounding.  I read Rites of Passage in one sitting because I was dying to know what was going to happen.  You won't want to put this one down once you start it.  The ending was a little abrupt though and I was left with a few questions that I would love to have answered, maybe even in a second book.  While I don't think Rites of Passage necessarily needs a sequel, I'd greatly enjoy one.
Overall, Rites of Passage is a fabulous debut and a wonderful contemporary novel.  I can't wait to see what Joy Hensley has planned next!
What others are saying about Rites of Passage:
Jenuine Cupcakes' review: "Sam McKenna is the perfect blend of fierce determination, vulnerability and feminine strength."
The Bookish Owl's review: "Rites of Passage, without a doubt, is a phenomenal debut."
Love is not a Triangle's review: "I stayed up until 1:30 am finishing Rites of Passage because I couldn't go to bed until I got to the end."