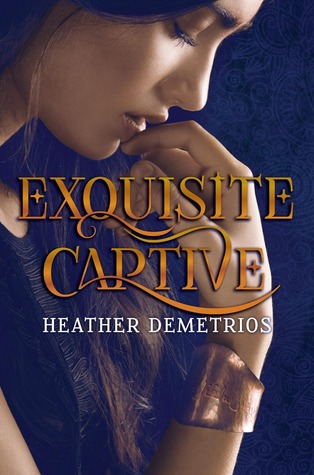 Exquisite Captive

by Heather Demetrios
Series: Dark Caravan Cycle #1
Published by Harper Teen on October 7, 2014
Genres: Fantasy
Pages: 480
Format: Hardcover
Source: Publisher
Buy on Amazon
Goodreads


Forced to obey her master.
Compelled to help her enemy.
Determined to free herself.

Nalia is a jinni of tremendous ancient power, the only survivor of a coup that killed nearly everyone she loved. Stuffed into a bottle and sold by a slave trader, she's now in hiding on the dark caravan, the lucrative jinni slave trade between Arjinna and Earth, where jinn are forced to grant wishes and obey their human masters' every command. She'd give almost anything to be free of the golden shackles that bind her to Malek, her handsome, cruel master, and his lavish Hollywood lifestyle.

Enter Raif, the enigmatic leader of Arjinna's revolution and Nalia's sworn enemy. He promises to free Nalia from her master so that she can return to her ravaged homeland and free her imprisoned brother—all for an unbearably high price. Nalia's not sure she can trust him, but Raif's her only hope of escape. With her enemies on the hunt, Earth has become more perilous than ever for Nalia. There's just one catch: for Raif's unbinding magic to work, Nalia must gain possession of her bottle…and convince the dangerously persuasive Malek that she truly loves him. Battling a dark past and harboring a terrible secret, Nalia soon realizes her freedom may come at a price too terrible to pay: but how far is she willing to go for it?

Inspired by Arabian Nights, EXQUISITE CAPTIVE brings to life a deliciously seductive world where a wish can be a curse and shadows are sometimes safer than the light.
Heather Demetrios' sophomore novel has been receiving mixed reviews all across the board. It was hard for me to set expectations going in because the bloggers I usually agree with, were all over the place. That being the case, I went into Exquisite Captive with the expectations that I would enjoy the novel strictly because I enjoyed Heather Demetrios' debut novel, Something Real, and because I've been enjoying fantasy novels lately. My expectations were definitely met.
The uniqueness of Exquisite Captive greatly appealed to me. I've only read one book about jinni's in the past and it was nothing like Exquisite Captive. I truly have nothing I could compare this to that might tell you guys what to expect. That's far from being a bad thing though. Just know, you are not getting your standard fantasy novel when you go into this one. I loved the Jinni history and caste system and look forward to an expansion of that in the following books in the series.
While I didn't love the love interests, the relationships definitely intrigued me. Nalia's relationship with Malek definitely reminded me a bit of the Juliette-Warner thing going on. He's not a good guy and I don't see him ever being redeemed but I think he will appeal to some readers for that whole Warner-like aspect. Raif, on the other hand, was more my kind of guy. I didn't trust him at first but he grew on me.
The aspect of this book that's probably going to be hardest for some people to get by is how slow the first half is. It's the first in a new fantasy series so you have to expect world-building and you can't expect that to be rushed. Just know that it is worth it if you make it past that first part.
Overall, Heather Demetrios has impressed me once again. I highly suggest you do what I did and go into this one kind of blind and just judge for yourself.
What others are saying about Exquisite Captive:
Novel Novice's review: "Dark and seductive, Exquisite Captive by Heather Demetrios will have you rethinking wishes — and every genie story you've ever heard, whether it's that lovable blue guy in Aladdin or Barbara Eden in "I Dream of Jeannie."
Mostly YA Book Obsessed's review: "I was fascinated by the beautiful world that Demetrios' created!"
Escapism's review: "There was so much potential but it never rose to it."
About the author:
When she's not traipsing around the world or spending time in imaginary places, Heather Demetrios lives with her husband in New York City. Originally from Los Angeles, she now calls the East Coast home. Heather is a recipient of the PEN New England Susan P. Bloom Discovery Award for her debut novel, Something Real, which Publisher's Weekly calls "[An] addictive yet thoughtful debut" about reality TV stardom. She is the author of the upcoming EXQUISITE CAPTIVE, a smoldering fantasy about jinn in Los Angeles and what Kirkus called in its starred review "an intoxicating, richly realized realm of magic, politics, spirituality and history" (#1 in the DARK CARAVAN CYCLE). She is also the author of the upcoming I'll Meet You There (Winter 2015). I'll Meet You There is a love story about a young combat veteran and a girl trapped in their small town, both struggling to escape the war at home. Heather is the founder of Live Your What, an organization dedicated to fostering passion in people of all ages and creating writing opportunities for youth of limited economic means. She is proud to have an MFA in Writing for Children and Young Adults from Vermont College of Fine Arts. You can always find her on Twitter (@HDemetrios), ogling the military dogs she wants to adopt (but can't because her NYC apartment is way too small). Find out more about Heather and her other books at www.heatherdemetrios.com and www.darkcaravancycle.com
Interview!
First off, thanks so much for doing this interview. I adored Something Real and I can't wait to read Exquisite Captive!
Yay! It makes me so happy that readers who liked my contemporary YA are also excited about checking out a story about a jinni enslaved in Hollywood.
Describe Exquisite Captive in 140 characters or less!
Enslaved jinni / empress-in-hiding seeks infuriatingly attractive enemy to free her from dangerous master. Must know how to steal bottles.
How was it different for you, going from a contemporary novel to a fantasy novel? Was the writing process any different?
I work on them at the same time, so although the novels themselves are very different for readers, it's all part of the daily landscape to me. The essentials are the same: creating a world the reader will want to spend time in and characters that will find a place in their heart. The writing process is pretty much the same, although with my fantasy there are a lot more outside elements I use: physical storyboarding, writing to music, using scent in my office to bring the world to life…things like that.
What made you decide to write about jinni? It's definitely not something that's done a lot!
The idea came from a prompt in a writing class, but I stuck with it because nobody else was exploring these fascinating mythological creatures. The more research I did, the more I began to see the enormous potential for giving the jinn the treatment they deserve in the West. This isn't Disney's Aladdin or I Dream of Jeannie. I really tried to delve into the dark side of Arabic lore here.
Do you have any must-haves while writing?
Something to drink—coffee or sparkling water, usually. A heating pad—sitting all day really wrecks you. My Macbook Air and an aesthetically inspiring environment, which is usually my office or one of the coffeehouses in Brooklyn.
Do you have any plans for your release day?
My release day is going to be totally baller because it's the first day of the Epic Reads tour! I'll be in Princeton, NJ on my pub day day—I can't wait! My launch party is the day before at Books of Wonder in Manhattan and we're going to have a sitar player and henna artist there. I want readers to have a little taste of my jinn world.
Can you tell us anything about what you're working on now? I know there are more books in the Dark Caravan Cycle but anything else?
My next contemporary YA comes out in Feb. 2015. It's called I'll Meet You There and it's a love story about a young Marine who just lost his leg in Afghanistan and a girl he works with at a quirky roadside motel. It's my heart in paper and ink. I can't wait for it to come out!
Short answer:
Bad Boys or Good Boys? I prefer bad boys next door. ☺
Happily ever after or happily never after? I'm a hopeless romantic of the Stephanie Perkins school.
Series or standalone? Series for fantasy, standalone for everything else. With fantasy, you need more time to really see this whole world the author is creating and you want to have enough time to spend with the large cast of characters. But I can't reiterate enough that every book in a series needs to stand alone in terms of being a satisfying read with its own plot and character arcs. No filler!
Love triangles or soulmates? Some people might be worried that Exquisite Captive has a love triangle – it doesn't. Three people does no always a love triangle make. I get pretty tired of the love triangle, but when it's done well, I can't resist its pull. Triangle or no, I prefer seeing soulmates who figure out they're meant to be by novel's end, but don't know they're meant to be at novel's beginning.
Write at night or write during the day? I feel very lucky that I get to write full time. Because of that, I try to get most of my work done before my PIC (partner in crime) gets home from work. But it's art – you can't really confine it to one part of the day.
Write in silence or write with music? It depends on the book. I write the Dark Caravan Cycle to sitar and Middle Eastern music because that's just what feels right and keeps me in the world. I usually write in silence, but have a playlist that inspires me for when I'm taking breaks.
Print, audio or eBooks? Print. Ain't nothin' like the real deal.
Giveaway!
October 2nd:
Ex Libris REVIEW
Bookish REVIEW + DREAM CAST
October 3rd:
Fiktshun REVIEW + THIS OR THAT
Imagine a World REVIEW
October 4th:
Two Chicks On Books GUEST POST
Books a la Mode REVIEW
October 5th:
Fire and Ice REVIEW + MUSIC PLAYLIST
Me, My Shelf and I SPOTLIGHT
October 6th:
Novel Novice REVIEW
Addicted Readers REVIEW
October 7th:
Such A Novel Idea REVIEW + 10 RANDOM THINGS
Katie's Book Blog REVIEW + AUTHOR INTERVIEW
Forever Young Adult – CHRACTHER INTERVIEW
October 8th:
I Heart YA Fiction REVIEW
Wholly Books REVIEW + WHAT'S ON HEATHER'S DESK
October 9th:
Once Upon A Twilight REVIEW
Crossroad Reviews REVIEW
October 10th:
Mundie Moms REVIEW + EXCERPT
Curling Up With A Good Book REVIEW
October 11th:
Swoony Boys Podcast REVIEW + A DAY IN THE LIFE OF HEATHER
Book Lovers Life REVIEW
October 12th:
A Dream Within A Dream REVIEW + TENS LIST
CBY Book Club – EXCERPT