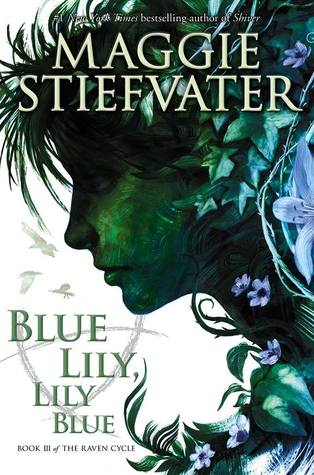 Blue Lily, Lily Blue

by Maggie Stiefvater
Series: The Raven Cycle #3
Published by Scholastic on October 21, 2014
Genres: Fantasy
Pages: 391
Format: ebook
Source: Netgalley, Publisher
Buy on Amazon
Goodreads


There is danger in dreaming. But there is even more danger in waking up.

Blue Sargent has found things. For the first time in her life, she has friends she can trust, a group to which she can belong. The Raven Boys have taken her in as one of their own. Their problems have become hers, and her problems have become theirs.

The trick with found things though, is how easily they can be lost.

Friends can betray.
Mothers can disappear.
Visions can mislead.
Certainties can unravel.
Does it come as any surprise that I absolutely adored Blue Lily, Lily Blue? If it does, you probably haven't read my reviews of The Raven Boys and The Dream Thieves so you should probably stop reading this and check those out first.
I'd heard there was a cliffhanger at the end of Blue Lily, Lily Blue so I was pretty on edge throughout the whole book. (Don't worry; it's not a bad cliffhanger.) There were so many twists and turns in Blue Lily, Lily Blue, I just couldn't keep up. I never once was able to predict what was going to happen next. That's always been one of the things I love most about Maggie Stiefvater's books and it was no exception with this one.
The characters have grown on me since the first book and I've come to love them all but I still can't predict a single thing they are going to do. All of them managed to piss me off at least once throughout the book but I love them even more now, especially Adam. Adam has been the hardest for me to like throughout the series but I finally felt like I could understand where he was coming from with this book. He's still not my favorite of the Raven boys but I like him a lot more now than I used to.
The story develops a lot more in Blue Lily, Lily Blue than in any of the other books. The Raven boys and Blue finally make some progress on their quest to find Glendower but they find more problems as well. Their quest is not a simple one and every bit of progress they make seems to be hindered by something. I'm not sure how things are going to end in the next (and final) book but I'm eager to see how Maggie Stiefvater ties things up.
Overall, Blue Lily, Lily Blue just blew me out of the water. I was expecting something amazing and I definitely got that. I wish I didn't have to wait for the final book but I know there are plenty other readers out there anxiously awaiting it with me.
What others are saying about Blue Lily, Lily Blue:
There Were Books Involved's review: "Maggie Stiefvater makes you believe in magic."
Not Yet Read's review: "The group as a whole do have some pretty tense moments, odd discoveries and of course two major breakthroughs in this installment and the way it ends did indeed leave me eager for the next book, I just didn't feel that this one was as gripping or strong as the previous two books which I loved."
Wrapped Up In Books' review: "This series is undoubtedly one of my absolute favorites, and I am eagerly awaiting not only the series finale, but re-reading it and listening to the complete audiobooks (the narration has been excellent)."