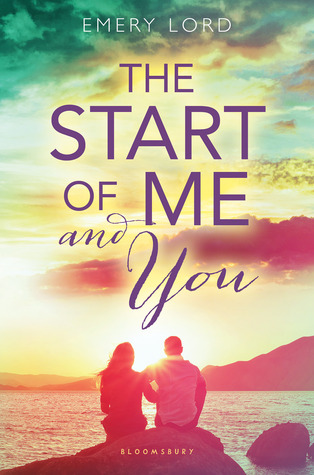 The Start of Me and You

by Emery Lord
Published by Bloomsbury on March 31, 2015
Genres: Contemporary
Pages: 384
Format: ARC
Source: ALA
Buy on Amazon
Goodreads


Following her pitch-perfect debut Open Road Summer, Emery Lord pens another gorgeous story of best friends, new love, & second chances.

Brimming with heartfelt relationships and authentic high-school dynamics The Start of Me and You proves that it's never too late for second chances.

It's been a year since it happened—when Paige Hancock's first boyfriend died in an accident. After shutting out the world for two years, Paige is finally ready for a second chance at high school . . . and she has a plan. First: Get her old crush, Ryan Chase, to date her—the perfect way to convince everyone she's back to normal. Next: Join a club—simple, it's high school after all. But when Ryan's sweet, nerdy cousin, Max, moves to town and recruits Paige for the Quiz Bowl team (of all things!) her perfect plan is thrown for a serious loop. Will Paige be able to face her fears and finally open herself up to the life she was meant to live?
I read and adored Emery Lord's debut novel, Open Road Summer. It was the perfect blend of romance, friendship, and music. That being the case, I had high expectations for The Start of Me and You.  Perhaps my expectations were too high because I found myself only liking this one as compared to how much I loved Open Road Summer.
The Start of Me and You follows Paige Hancock on her journey to move past the death of her boyfriend.  Her journey includes a list of things she wants to do: date a guy, go swimming, join a club, etc.  Seems simple enough except she has her sights set on a specific boy and he tends to make her a bit tongue-tied.  Ryan Chase has been her crush for years and she starts of her school year expecting to date him and not settle for anything less than that.  Obviously things don't go according to plan.  Ryan's cousin, Max, moves back to town and he strikes up a friendship with Paige.  Unlike Ryan, Max is easy for Paige to be around and he doesn't make her nervous at all.  Paige's plan might be Ryan but Max seems to have plans of his own.
Paige was a bit annoying in her pursuit of Ryan.  She barely knew the guy and while the reason she initially developed a crush on him was sweet, the staying power of that crush just didn't make sense.  She had little to nothing in common with Ryan.  Max, on the other hand, had a healthy friendship with Paige that was so sweet.  They had so much in common and the way they made fun of each other was so adorably cute.  They were able to be themselves with each other, no matter how dorky.  Max was totally the type of guy I could see myself crushing on.  He was not the typical love interest but he was well-rounded and adorably nerdy.
Max and Paige were not the best characters though.  Paige's friends were the best.  She always had a solid support system no matter what she was going through.  They stood by her through all the tough times and in return she was there for them when they needed her.  No matter what happened they always knew they had each other. Sure they fought but what friends don't?  They worked through their issues and they always saw past their little fights to what really mattered.
The story was cute and fast-paced enough that I didn't find my attention wavering from the book even once.  While I didn't get Paige's superficial crush on Ryan, I still liked her and I wanted to see her cross everything off her list.  Even though I had I feeling I knew how things were going to end for Paige, I kept reading because I wanted to know how it would all play out.  It was everything I could have hoped for.
Overall, The Start of Me and You is a strong sophomore novel for Emery Lord.  Paige and her group of friends wormed their way into my heart and I'm sure they will do the same with many other readers.  I highly encourage any contemporary fans to check this one out.
What others are saying about The Start of Me and You:
The Book Addict's Guide's review: "THE START OF ME AND YOU was very sweet and lots of fun to read (QuizBowl! What an awesome idea and so great to incorporate) and it was another very solid contemporary from Emery Lord."
Bookiemoji's review: "This book is my soul animal."
Lost In Literature's review: "The Start of You and Me is the perfect contemporary story that I go all heart eyes for."