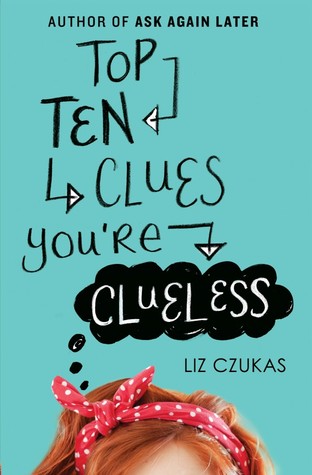 Top Ten Clues You're Clueless

by Liz Czukas
Published by Harper Teen on December 9, 2014
Genres: Contemporary
Pages: 289
Format: ARC
Source: Publisher
Buy on Amazon
Goodreads


Top Five Things That Are Ruining Chloe's Day

5) Working the 6:30 a.m. shift at GoodFoods Market

4) Crashing a cart into a customer's car right in front of her snarky coworker Sammi

3) Trying to rock the "drowned rat" look after being caught in a snowstorm

2) Making zero progress with her crush, Tyson (see #3)

1) Being accused—along with her fellow teenage employees—of stealing upwards of $10,000

Chloe would rather be anywhere than locked in work jail (aka the break room) with five of her coworkers . . . even if one of them is Tyson. But if they can band together to clear their names, what looks like a total disaster might just make Chloe's list of Top Ten Best Moments.
Top Ten Clues You're Clueless is Liz Czukas' sophomore novel for young adults and while I definitely enjoyed it, I found it nowhere near as quirky and fun as her debut novel, Ask Again Later. It's a quick read that I found myself flying through but it wasn't as laugh out loud funny as I expected.
Chloe is a bit nerdy, kind of shy, and easy for readers to relate to, at least if you're anything like me. I found her to be so adorable with her easy blushing and tendency to babble. She had a great sense of humor and she was very easy to like. She sometimes said things that were a little rude but she was always open to getting to know new things. The rest of the "Younglings" who worked with her at GoodFoods Market were a pretty mixed bag of characters. Tyson was a sweetheart who maybe could have had some more flaws. He seemed a bit too perfect to me. It always seems a little unreal when there is a love interest who has nothing bad about him. Sammi and Gabe were trouble makers but they definitely made things fun. Zaina was shy and kind of mysterious but I came to like her. Micah was probably my favorite though. He was so quirky and funny and he didn't even realize it.
The story itself was really fun but a little predictable. It's a mystery surrounding who stole the charity money from Chloe's place of work. The six young cashiers are immediately blamed and held in the store after hours until the police can come check things out. The idea of hanging out in a grocery store after hours has always appealed to me so I loved that part of the book. The kids did some crazy things to entertain themselves and they definitely had me laughing. I also really liked the lists that Chloe made throughout the course of the story. They helped bring in some background information in a fun way.
Overall, Top Ten Clues You're Clueless is nothing spectacular but I'd definitely recommend it for a rainy day read. I will continue to check out Liz Czukas' young adult offerings.
What others are saying about Top Ten Clues You're Clueless: 
YA Midnight Reads' review: "It was written with a similar tone to Ask Again Later, which was just completely adorable and fluffy, and Top Ten Clues was no different."
Tabitha's Book Blog's review: "If you're looking for a wicked cute contemporary fluff book then this is the book for you."
The YA Kitten's review: "As long as you like The Breakfast Club and slow books, you're good to go with this one."