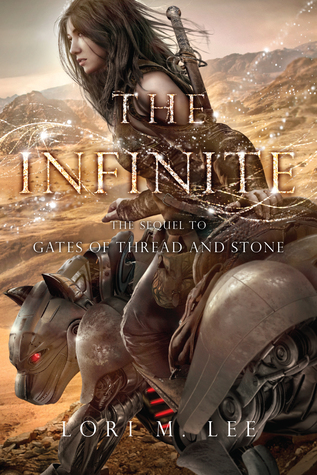 The Infinite

by Lori M. Lee
Series: Gates of Thread and Stone #2
Published by Skyscape on March 10, 2015
Genres: Fantasy
Pages: 378
Format: eARC
Source: Netgalley, Publisher
Buy on Amazon
Goodreads


The walls of Ninurta keep its citizens safe.

Kai always believed the only danger to the city came from within. Now, with a rebel force threatening the fragile government, the walls have become more of a prison than ever.

To make matters worse, as Avan explores his new identity as an Infinite, Kai struggles to remind him what it means to be human. And she fears her brother, Reev, is involved with the rebels. With the two people she cares about most on opposite sides of a brewing war, Kai will do whatever it takes to bring peace. But she's lost her power to manipulate the threads of time, and she learns that a civil war might be the beginning of something far worse that will crumble not only Ninurta's walls but also the entire city.

In this thrilling sequel to Gates of Thread and Stone, Kai must decide how much of her humanity she's willing to lose to protect the only family she's ever known.
I was a big fan of Gates of Thread and Stone so when I saw The Infinite on Netgalley I knew I needed to download it immediately.  The first book tied up pretty neatly but I wanted more of Kai, Avan, and Reev's story.  I got just what I wanted from The Infinite but it definitely left me eager for more.
The Infinite picks up right where Gates of Thread and Stone left off.  Kai is settling into her new life though she doesn't have her powers any more and she's not sure what that means.  Avan is also settling in but it's a bit easier for him seeing as he has no memories of his old life to confuse him.  Then there is Reev who is an awesome big brother but comes across pretty sketchy at times.  I never knew if I should trust his intentions or not.  There are many people in Kai's life that have secrets and it's extremely hard to tell who those secrets are going to hurt when they come out.
I'm  happy to say that The Infinite does not suffer from second book syndrome.  To be honest, I had no clue where this book was going to take Kai's story when I started it.  Like I said, things tied up pretty neatly at the end of the first book so I didn't know what Lori M. Lee had in store for her characters this time around.  There are definitely things from the first book that come into play in The Infinite but it also introduces a new story that kept me hooked from start to finish.  I also really appreciated the character growth in this one.  It was hard for me to see Avan as this new character without his memories of Kai.  While he had the same body as the Avan from Gates of Thread and Stone he was very much a different character and that was unusual.  Then there was Kai who really showed growth and new strengths that I definitely appreciated.
Overall, The Infinite continues the awesomeness of Kai's story that started with Gates of Thread and Stone.  Once again, I'm eager for more but I have no clue what Lori M. Lee is going to do next.  Fantasy fans need to check out this series!
What others are saying about The Infinite:
What Happened to the Wallflower's review: "Basically, what I'm trying to say: in the total of about 360 pages, I was never once bored."
Room 22 Epic Readers' review: "The Infinite was absolutely amazing. I didn't want to put it down!"
Check out the rest of the blog tour for more reviews as well as interviews, giveaways, and more!
Lori is the author of young adult fantasy novels Gates of Thread and Stone and The Infinite. She has a borderline obsessive fascination with unicorns, is fond of talking in capslock, and loves to write about magic, manipulation, and family. She lives in Wisconsin with her husband, kids, and a friendly pitbull.
Find Lori M. Lee online here:
Website: http://www.lorimlee.com
Goodreads: https://www.goodreads.com/author/show/7084159.Lori_M_Lee
Twitter: https://twitter.com/LoriMLee
Facebook: https://www.facebook.com/LoriMLee
Tumblr: http://lorimlee.tumblr.com/
Pinterest: http://www.pinterest.com/lorimlee/
Instagram: http://www.instagram.com/lorimlee82