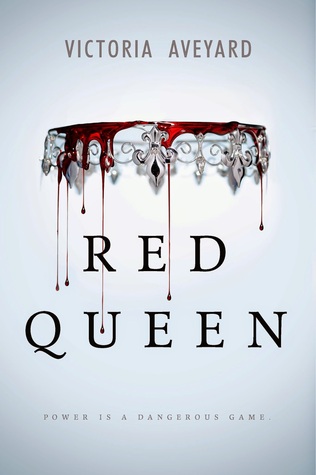 Red Queen

by Victoria Aveyard
Series: Red Queen #1
Published by Harper Teen on February 10, 2015
Genres: Fantasy
Pages: 383
Format: Hardcover
Source: ALA
Buy on Amazon
Goodreads


Graceling meets The Selection in debut novelist Victoria Aveyard's sweeping tale of seventeen-year-old Mare, a common girl whose once-latent magical power draws her into the dangerous intrigue of the king's palace. Will her power save her or condemn her?

Mare Barrow's world is divided by blood--those with common, Red blood serve the Silver- blooded elite, who are gifted with superhuman abilities. Mare is a Red, scraping by as a thief in a poor, rural village, until a twist of fate throws her in front of the Silver court. Before the king, princes, and all the nobles, she discovers she has an ability of her own.

To cover up this impossibility, the king forces her to play the role of a lost Silver princess and betroths her to one of his own sons. As Mare is drawn further into the Silver world, she risks everything and uses her new position to help the Scarlet Guard--a growing Red rebellion--even as her heart tugs her in an impossible direction. One wrong move can lead to her death, but in the dangerous game she plays, the only certainty is betrayal.
I was pretty skeptical when I started Red Queen.  I had heard extremely mixed things about it.  I was looking for a good fantasy read at the time and I'm glad I set aside my skepticism and gave Red Queen a chance.  I adored it and I can't wait for more in this world!  The sequel needs to get in my hands now!
Mare is a completely badass Red who is thrown into the world of the Silvers.  While she may be completely badass and independent in the world of the Reds, she's a completely newbie to the powers that grant her access to the Silver world.  I'm all for a badass MC who can do things for themselves and who lead revolutions but seeing someone like that become so powerless actually made me like her more.  Mare had to learn very quickly who she could trust and rely on inside the castle and out.  I hated seeing her be made a pawn but I really enjoyed watching her come into her own as everyone around her tried to use her for their own purposes.
I kid you not when I say the rest of the characters might have been great but I had no clue who to trust.  Don't get me wrong, I liked them all but I could not tell who the good guys were and who the bad guys were.  It seemed like everyone had ulterior motives for their actions and I will tell you right now, there is some serious betrayal going on in Red Queen.  Don't trust anyone or anything.  Nothing is as it seems.  I loved that about the book!
As for romance, I can't tell if it's a love triangle or square.  Mare is apparently very attractive to many people.  I can understand that since she has such an awesome personality.  First there is Cal then there is Maven and maybe something there with Kilorn.  I'm not sure about that one yet.  Cal was definitely my favorite at first but he's got some things he needs to work on and he may not be the best fit for Mare.  I'm not really a Maven fan and you'll understand why once you read the book.  As for Kilorn, like I said, maybe it's just friendship but maybe not.  Either way, he's a good guy and good for Mare.
The story is so interesting.  When people asked me what it was about I just told them it was fantasy with almost Xmen like powers.  It's a pretty good way to describe the things that everyone can do.  People don't all have the same power, it varies by family.  There are all kinds of powers and all kinds of people wielding those powers.  It's pretty bad knowing that terrible people have these powers and rule the world and can do whatever they want to lower class citizens with almost no repercussions.  It's easy to see why this world might need a revolution and they are definitely about to get one.
Overall, Red Queen met and exceeded my expectations.  I can't wait to see where Victoria Aveyard takes the characters next.  It's going to be interesting.
What others are saying about Red Queen:
Good Books and Good Wine's review: "Aveyard's world in Red Queen is vast and I can't wait to explore more of it when the sequels come out."
Mugglenet's review: "If you're a fan of X-Men, Game of Thrones, and dystopians like The Selection, you'll enjoy this book."
Book Nerd's review: "I liked it but then again I had issues with it."