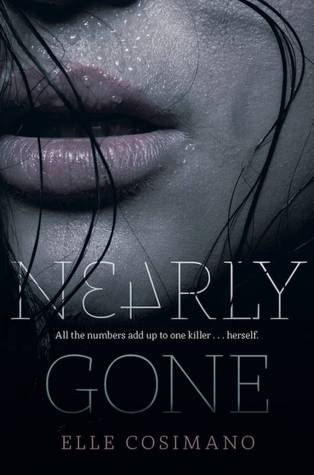 Nearly Gone

by Elle Cosimano
Series: Nearly Gone #1
Published by Penguin Teen on March 25, 2014
Genres: Contemporary
Pages: 388
Format: Hardcover
Source: Bought
Buy on Amazon
Goodreads


Bones meets Fringe in a big, dark, scary, brilliantly-plotted urban thriller that will leave you guessing until the very end.

Nearly Boswell knows how to keep secrets. Living in a DC trailer park, she knows better than to share anything that would make her a target with her classmates. Like her mother's job as an exotic dancer, her obsession with the personal ads, and especially the emotions she can taste when she brushes against someone's skin. But when a serial killer goes on a killing spree and starts attacking students, leaving cryptic ads in the newspaper that only Nearly can decipher, she confides in the one person she shouldn't trust: the new guy at school—a reformed bad boy working undercover for the police, doing surveillance. . . on her.

Nearly might be the one person who can put all the clues together, and if she doesn't figure it all out soon—she'll be next.
Suspense novels for teens are hard to find.  Good suspense novels for teens are extremely hard to find.  Nearly Gone fits into that second category.  Elle Cosimano's debut novel blew me away.  I was up all night reading.  I dare you to put this one down once you start it.
Nearly (yes, that is her name) spends her Friday mornings searching the personal ads in the newspaper, not always sure what she's looking for.  One day she discovers an ad with a sinister undertone and realizes that it is meant for her.  It sets her on a course of action that brings her in the path of a killer and changes her life forever.
Nearly is a character that is impossible not to like.  She's smart and spunky and the girl has attitude.  She was a major nerd (way smarter than I could ever be!) and while she embraced that nerdiness it also made it hard for her to fit in with most people.  She was an outsider at school and her classmates were not nice about it at all.  She wasn't afraid to stand up for herself though and she did have some friends to back her up.  Jeremy and Anh are Nearly's two closest friends.  It's pretty obvious from the start that Jeremy wants more with Nearly but even so, he's still a good friend to her.  He's got some issues having to do with his home life and I truly wanted to see him happy.  As for Anh, she was Nearly's friend but also her biggest competition.  I never really knew what to think of their friendship.
Then there was Reece.  Where do I even begin?  Elle Cosimano found and exploited my weakness for tattooed, pierced bad boys with good hearts.  Reece and Nearly have undeniable chemistry and their banter made me love them together.  They had some serious rough patches but they worked well together.  Reece had the street smarts and Nearly had the book smarts.  Together they made an unstoppable team.  Also, angry makeout sessions are the best.
The mystery is what really hooked me.  I was stumped from the start.  There is so much going on that I could never tie it all  back to one person.  There were definitely some red herrings that kept me on my toes too.  Elle Cosimano also doesn't pull any punches just because it's a YA book.  It's not gruesome or overly horrifying but it's not toned down for a younger audience.
As for Nearly's ability, it helped with her investigation into the killer but it didn't play as prominent a role as I expected.  She can sense feelings by touching someones skin.  It helped her sense when someone was lying but it's not like she had the ability to sense what someone was lying about.  It was definitely an interesting ability though and it kind of broke my heart that Nearly could feel all the bad things people thought of her.
Overall, Nearly Gone is what I am always looking for in a YA suspense novel.  It's fast-paced with a mystery that never becomes obvious.  Elle Cosimano's debut is perfect for suspense fans.
What others are saying about Nearly Gone:
Presenting Lenore's review: "NEARLY GONE is the rare mystery that is both character and plot driven. Definitely worth a look, especially if you like puzzles."
Shae Has Left The Room's review: "A large part of my enjoyment of this book rests on the narrow shoulders of the fantastic Nearly Boswell."
The YA Kitten's review: "That's not to say the novel is a terrible mystery–honestly, the mystery angle of the novel is one of the only angles it gets right–but it needed much more work to be a good, fully formed book."