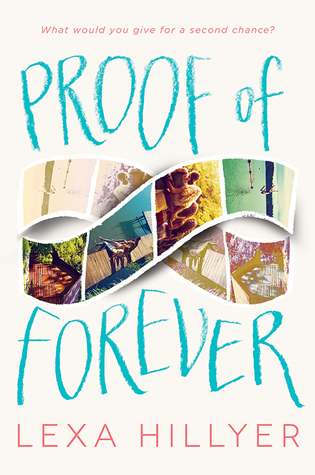 Proof Of Forever

by Lexa Hillyer
Published by Harper Teen on June 2, 2015
Genres: Contemporary
Pages: 352
Format: eARC
Source: Edelweiss, Publisher
Buy on Amazon
Goodreads


BEFORE: It was the perfect summer of first kisses, skinny-dipping, and bonfires by the lake. Joy, Tali, Luce, and Zoe knew their final summer at Camp Okahatchee would come to an end, but they swore they'd stay friends.

AFTER: Now, two years later, their bond has faded along with those memories.

THEN: That is, until the fateful flash of a photo booth camera transports the four of them back in time, to the summer they were fifteen—the summer everything changed.

NOW: The girls must recreate the past in order to return to the present. As they live through their second-chance summer, the mystery behind their lost friendship unravels, and a dark secret threatens to tear the girls apart all over again.

ALWAYS: Summers end. But this one will change them forever.
Proof of Forever, Lexa Hillyer's debut novel, seriously impressed me. It's a beautifully written novel that perfectly captured the feeling of summer, lost friendships, and first love.
Proof of Forever is the story of four very different girls who happen to be former best friends.  Zoe is a quirky nerd who loves everything Dr. Who.  Tali is the pretty girl obsessed with money, popularity, and boys.  Luce is the golden girl with the perfect boyfriend, perfect family, and perfect life, or so it seems.  Then there is Joy, the one who disappeared from their lives two years ago but still manages to bring them all together for their camp reunion.  The mix of characters allows for readers to find at least one they can relate to, if not all of them.  Of course, each character also had their flaws that might annoy readers.  Tali was by far the worst.  I had issues with how shallow she was and how selfish.  Joy was a bit closed off, Luce was a bit high strung, and Zoe was a bit oblivious but otherwise I liked them.  And even Tali grew on me.
The story is extremely fun.  These four former friends are sent back in time to their last summer at Camp Okahatchee.  To get back to the present they have to recreate the summer but they quickly find out that it might be better for them as friends and individuals if they change some things about their past.  The story might be very basic contemporary but there is also a sense of urgency to everything they do which helps speed the story along.
The synopsis mentions a dark secret about the girls but it's not all that dark or secret to the reader.  I was able to guess pretty early on exactly what was going on and what was probably going to happen.  Nothing regarding this secret ever even came into the story until the end of the book.  The ending was quite rushed and that was honestly my only issue with Proof of Forever.
A big plus about Proof of Forever were the types of relationships represented.  Tali was kind of typical, going for the popular guy but there was someone else in her life that challenged everything she knew.  Zoe is a bit clueless about relationships and sexuality but she learns a lot that one summer.  Luce has the perfect relationship but there is a chance it's holding her back.  As for Joy, she meets someone new in the past that opens her up to love, something she never expected or hoped for.
Overall, Proof of Forever puts Lexa Hillyer on my radar.  I can't wait to see what she does next.  It'll have to be pretty dang awesome to top this one.
What others are saying about Proof of Forever:
The Hollow Cupboards' review: "The story itself can be a little predictable at times, but I still loved taking this journey with the girls as they discover more about themselves and each other."
Overflowing Bookshelves' review: "This book has been called 'The Sisterhood of the Traveling Pants for the new generation' and I can agree with that."