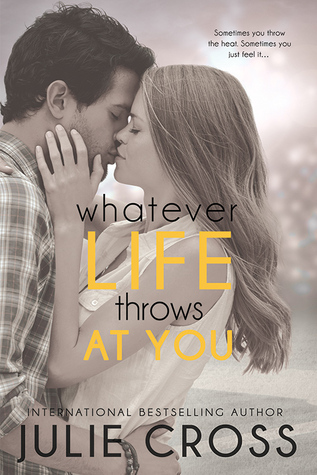 Whatever Life Throws At You

by Julie Cross
Published by Entangled TEEN on October 7, 2014
Genres: Contemporary
Pages: 373
Format: eARC
Source: Netgalley, Publisher
Buy on Amazon
Goodreads


Life loves a good curveball…

Seventeen-year-old Annie Lucas's life is completely upended the moment her dad returns to the major leagues as the new pitching coach for the Kansas City Royals. Now she's living in Missouri (too cold), attending an all-girls school (no boys), and navigating the strange world of professional sports. But Annie has dreams of her own—most of which involve placing first at every track meet…and one starring the Royals' super-hot rookie pitcher.

But nineteen-year-old Jason Brody is completely, utterly, and totally off-limits. Besides, her dad would kill them both several times over. Not to mention Brody has something of a past, and his fan club is filled with C-cupped models, not smart-mouthed high school "brats" who can run the pants off every player on the team. Annie has enough on her plate without taking their friendship to the next level. The last thing she should be doing is falling in love.

But baseball isn't just a game. It's life. And sometimes, it can break your heart…
Whatever Life Throws At You is the first new adult novel I've read by Julie Cross but it definitely will not be my last.  It's a thoroughly enjoyable read with romance, betrayal, and baseball (meaning men in tight pants).  What more could a girl want?
Annie Lucas and Jason Brody may be seriously attracted to each other but they really don't care much for each other.  Annie is the daughter of the Kansas City Royals' pitching coach and Brody is the 19-year-old rookie pitcher for the team.  They have every reason to stay away from each other but things keep throwing them together.  Eventually their attraction may just overcome their dislike.
Annie is a determined, strong, kind, and funny girl.  She's pretty much all her dad has and so they are very close.  They grow even closer when they move to a new state so her dad can take the job.  Brody has nobody and so he sees Annie's dad as a father figure when he takes him under his wing.  This relationship between Brody and Annie's dad throws them in each others paths very frequently and a friendship (maybe more) starts to grow.
I loved the development of the relationship between Annie and Brody.  They really didn't think much of each other until they looked past the outer images they both portray to the world.  Brody is seen as a bad boy player but he still finds time to make it to Annie's track meets.  Annie is seen as a bit of a snob but she's the only one who really takes the time to encourage Brody.  Clearly there is more to both than meets the eye.  A wary friendship starts and eventually leads to more.
The family and friend relationships were also wonderful.  Annie, Jim, and her grandmother are all very close and very open with each other.  Annie's mom, on the other hand, is a terrible person who I hated from the start.  I also hated Annie's best friend, Lenny's family.  They were so fake and I really loved that Lenny had Annie.  Same with Jim's relationship to Brody.  He was not his kid but he still cared a lot for him.
The baseball aspect was not overpowering but still really fun.  Baseball is not a sport I care for but Julie Cross did a great job making it interesting.
Overall, Whatever Life Throws At You is a new favorite of mine.  I would certainly be interested in reading more about these characters.  Also, there is a great blending of new adult and young adult so it would be great as an introduction to the new adult genre.
What others are saying about Whatever Life Throws At You:
Geeky Mythology's review: "A great part of the book is spent building family relationships and it's told beautifully."
NoseGraze's review: "Whatever Life Throws at You was another book that I didn't want to end."
Book Rock Betty's review: "Overall, a really solid contemporary romance!"