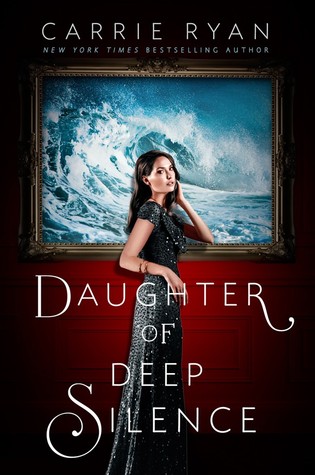 Daughter of Deep Silence

by Carrie Ryan
Published by Dutton on May 26, 2015
Genres: Contemporary
Pages: 384
Format: Hardcover
Source: Publisher
Buy on Amazon
Goodreads

I'm the daughter of murdered parents.
I'm the friend of a dead girl.
I'm the lover of my enemy.
And I will have my revenge.

In the wake of the devastating destruction of the luxury yacht Persephone, just three souls remain to tell its story—and two of them are lying. Only Frances Mace knows the terrifying truth, and she'll stop at nothing to avenge the murders of everyone she held dear. Even if it means taking down the boy she loves and possibly losing herself in the process.

Sharp and incisive, Daughter of Deep Silence by bestselling author Carrie Ryan is a deliciously smart revenge thriller that examines perceptions of identity, love, and the lengths to which one girl is willing to go when she thinks she has nothing to lose.

Daughter of Deep Silence is the first book I've read by Carrie Ryan but it will not be my last. If you're looking for a suspenseful, mystery-filled novel, look no further.
I was a little thrown off by the beginning of the book. It takes place right after the attack on the cruise ship and Frances is hysterical. She's also only 14 years old. For a while I thought that was how old she'd be for the whole book but it jumps to 4 years later after a couple chapters. I was also a little thrown off by the brevity of the relationships between Frances and Libby as well as Frances and Grey. From the synopsis I'd expected them to have been long time friends but it turns out they'd just met on the cruise. It didn't really make a huge difference but it seemed a bit unrealistic that after such a short period of time Frances could take Libby's place. Same with the romance. Not only were they just 14 years old but they had also just met each other. Yet they claimed they were in love. I was a little skeptical.
Daughter of Deep Silence clocks in at almost 400 pages but it takes no time at all to read. The chapters are short and the writing style is very simple and straightforward. The story is also extremely gripping, which helped the pace. There is quite a bit of mystery and I had no clue what was coming. The mystery behind the attack on the cruise ship was not at all what I expected.
The characters were not exactly easy to like. Frances (as Libby) was completely driven by vengeance. She had her sights set on the senator and his family and she would stop at nothing to take them down. It reminded me of the TV show Revenge and that is definitely not a complaint. Frances has emotions but they are buried very deep. She's hard to connect with because of that but it's not hard to understand where she is coming from. As for Grey, he was possibly a bit too perfect for my tasters. He was a total gentleman (which I loved) but only in private. I wanted to see him stand up to his father who was a complete asshole. I had no problem rooting for Frances to take him down. As for the romance between Frances and Grey, I could see why she had trouble not falling for him. They had great chemistry and their history together made things even harder for her. Grey was just such a sweetheart.
Overall, I was impressed with Daughter of Deep Silence in spite of its flaws. I look forward to reading more from Carrie Ryan, especially if she continues to write suspense novels as awesome as this one.
What others are saying about Daughter of Deep Silence: 
Midnight Bloom Reads' review: "Delving into deeper psychological themes such as identity and grief, Carrie Ryan'sDaughter of Deep Silence is more than just an addictive revenge thriller."
Carina's Books' review: "I would say that you should all read Daughter of Deep Silence."
The Forest of Words and Pages' review: "Daughter of Deep Silence is an addictive thriller you won't regret picking up!"