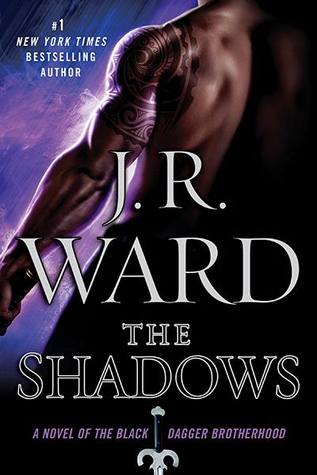 The Shadows

by J.R. Ward
Series: Black Dagger Brotherhood #13
Published by NAL on March 31, 2015
Genres: Paranormal
Pages: 592
Format: Hardcover
Source: Bought
Buy on Amazon
Goodreads


Two brothers bound by more than blood fight to change a brutal destiny in the heart-wrenching new novel of the Black Dagger Brotherhood by #1 New York Times bestselling author J. R. Ward.

Trez "Latimer" doesn't really exist. And not just because the identity was created so that a Shadow could function in the underbelly of the human world. Sold by his parents to the Queen of the S'Hsibe as a child, Trez escaped the Territory and has been a pimp and an enforcer in Caldwell, NY for years- all the while on the run from a destiny of sexual servitude. He's never had anyone he could totally rely on... except for his brother, iAm.

iAm's sole goal has always been to keep his brother from self-destructing- and he knows he's failed. It's not until the Chosen Serena enters Trez's life that the male begins to turn things around... but by then it's too late. The pledge to mate the Queen's daughter comes due and there is nowhere to run, nowhere to hide, and no negotiating.

Trapped between his heart and a fate he never volunteered for, Trez must decide whether to endanger himself and others- or forever leave behind the female he's in love with. But then an unimaginable tragedy strikes and changes everything. Staring out over an emotional abyss, Trez must find a reason to go on or risk losing himself and his soul forever. And iAm, in the name of brotherly love, is faced with making the ultimate sacrifice...
I think it's safe to say that by book 13 of a series I'm pretty hooked. The Black Dagger Brotherhood series was a series I started late but I'm definitely an invested fan now. Trez and iAm's story got me just as much as the original brothers!
Trez and iAm are not members of the Brotherhood. In fact, they are a whole different race; shadows. They are similar to vampires but they have different abilities and different rules to live by. Trez has been promised to the princess of the shadows since he was born but he's been fighting it for years. However, time is about up for him and not only is there no solution in sight, he's also in love with Selena.
This series really gets me with the characters. Trez and iAm were no different. Trez was a strong male who had a lot of difficulties in life. iAm was his rock. The twins had a special bond and I loved how they were there for each other through everything. As for their females, I wasn't quite as invested there. Selena was one of the Chosen, meaning she was very reserved and hard to connect with. As for maichen, she was closed off as well but for very different reasons. I eventually came to like the couples but I didn't have that immediate love for them like I did the other couples in the series.
There was once again a shit ton of stuff going on throughout The Shadows. There is, of course, still the war with the Lessening Society but it really took a backseat to everything else. The Band of Bastards are stepping up their game now but it's hard to tell whose side they will be on in the end. Xcor and Layla's relationship took a new turn in The Shadows. I'm not sure how I feel about the two of them together but Xcor has really grown on me and I feel for him.
Rhage also took center stage in The Shadows which I was not expecting. He has always been one of my favorite brothers so I was excited to see more of him but I'm confused about the direction his story is going. He was very shook up by the events of this book and his ending was very up in the air. I'm wondering what is going to happen with him and Mary from here.
There were also a few new characters introduced and it makes me wonder how many more books are going to be in this series since there are so many open stories now. Paradise is the newest character to be introduced and I already like her. She's young and eager to learn to fight for the Brotherhood. I love females like her and I hope J.R. Ward introduces more in the future books. I can't wait to read her story in the spin-off series.
Overall, The Shadows left me with more questions than answers but I still enjoyed it immensely. I have no clue where J.R. Ward is going to take this series next but I will definitely keep reading.
What others are saying about The Shadows:
That's What I'm Talking About's review: "Without spoilers, I will tell you that the ending of this book, the ultimate resolution, was so egregious in my mind and heart, that it left me unsettled and speechless."
vampirebookclub's review: "I would still recommend picking The Shadows up for simply to see where the Black Dagger Brotherhood members are going."
Red Hot Books' review: "In the end of it all, I was just left tired… and disappointed."