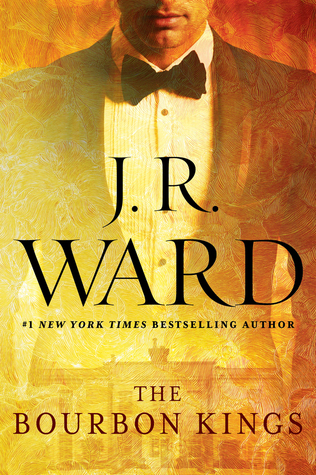 The Bourbon Kings (The Bourbon Kings, #1)

by J.R. Ward
Series: The Bourbon Kings #1
Published by Penguin Publishing Group on July 28th 2015
Genres: Contemporary
Pages: 400
Format: ARC
Source: Publisher
Buy on Amazon
Goodreads


The #1 New York Times bestselling author of the Black Dagger Brotherhood delivers the first novel in an enthralling new series set amid the shifting dynamics of a Southern family defined by wealth and privilege—and compromised by secrets, deceit, and scandal.... For generations, the Bradford family has worn the mantle of kings of the bourbon capital of the world. Their sustained wealth has afforded them prestige and privilege—as well as a hard-won division of class on their sprawling estate, Easterly. Upstairs, a dynasty that by all appearances plays by the rules of good fortune and good taste. Downstairs, the staff who work tirelessly to maintain the impeccable Bradford facade. And never the twain shall meet. For Lizzie King, Easterly's head gardener, crossing that divide nearly ruined her life. Falling in love with Tulane, the prodigal son of the bourbon dynasty, was nothing that she intended or wanted—and their bitter breakup only served to prove her instincts were right. Now, after two years of staying away, Tulane is finally coming home again, and he is bringing the past with him. No one will be left unmarked: not Tulane's beautiful and ruthless wife; not his older brother, whose bitterness and bad blood know no bounds; and especially not the ironfisted Bradford patriarch, a man with few morals, fewer scruples, and many, many terrible secrets. As family tensions—professional and intimately private—ignite, Easterly and all its inhabitants are thrown into the grips of an irrevocable transformation, and only the cunning will survive.
I've always been a fan of J.R. Ward's Black Dagger Brotherhood series so when I was given the chance to check out The Bourbon Kings, I jumped at it.  It's extremely different from what I've read of hers but I think it will appeal to her fans.
J.R. Ward is a master at weaving together the storylines of many different characters.  While the synopsis makes it seem like The Bourbon Kings is a story of Lizzie and Lane, it's actually so much more that that.  It's a story about the Bradford family as a whole, specifically Lane, Edward, and Gin.  They do have another brother, Max, who I'm hoping will pop up in the next book.  Edward was extremely gruff but his circumstances broke my heart.  He and Sutton had such a crazy relationship but I'm rooting for them.  Gin also has some rough times.  I liked her even though she made some stupid choices.  It seemed like she really wanted someone to love her and she was looking in all the wrong places.  As for Lane and Lizzie, I truly adored how they butt heads but still fall for each other.  Lizzie was a strong heroine but she seemed almost a little too perfect.  I wanted more flaws from her.  Lane was very much a typical J.R. Ward love interest but hey, why fix what isn't broken?  He was rich and cultured but also seriously messed up due to his family.
The story is so much more than a romance.  There is mystery,  intrigue, scandal, and murder.  Yeah there is romance too but it's not all The Bourbon Kings has going for it.  Clearly J.R. Ward has a type of story that works for her and she sticks with it.  The romance underlies everything going on but it's not the focal point of the story.  Also, while most things appear tied up at the end of the book, it's clear that this will be a series.  I had so many unanswered questions at the end of The Bourbon Kings but it just has me even more excited for the sequel.
For a J.R. Ward novel, it was pretty tame as far as sex.  There were actually very few sex scenes and only one was between Lizzie and Lane.  I was surprised but pleased by this.  There was just so much more to this story than sex.  There is one scene that is pretty rough to read.  I don't want to give anything away but there is one non-consensual scene.  Just be warned about that before starting this one.
As for the whole bourbon making stuff, it was very interesting although not a huge part of the story.  There was a lot more about the actual money side of things and I loved seeing everything to do with the lifestyles of the rich and famous.  Not everything was as perfect as it seemed at first glance.
Overall, The Bourbon Kings is a wonderful start to a new series that I know I'll be addicted to.  Go into this one with an open mind and I think you'll enjoy it.  J.R. Ward as a contemporary author definitely works for me.
What others are saying about The Bourbon Kings:
Fresh Fiction's review: "Not your average Contemporary Romance, THE BOURBON KINGS is rife with scandal, forbidden love and twists and turns no one will see coming!"
My Para Hangover's review: "This book reads more like a (cough) soap opera but on fast forward."
Alexa Loves Books' review: "In spite of my slight reservations towards the romance, I really wound up enjoying The Bourbon Kings."