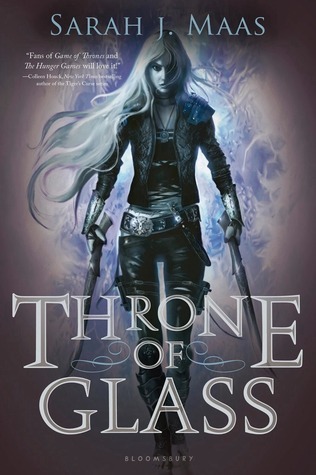 Throne of Glass (Throne of Glass, #1)

by Sarah J. Maas
Series: Throne of Glass #1
Published by Bloomsbury USA Children's on August 7th 2012
Genres: Fantasy
Pages: 404
Format: ARC
Source: BEA
Buy on Amazon
Goodreads


"Nothing is a coincidence. Everything has a purpose. You were meant to come to this castle, just as you were meant to be an assassin."When magic has gone from the world, and a vicious king rules from his throne of glass, an assassin comes to the castle. She does not come to kill, but to win her freedom. If she can defeat twenty-three killers, thieves, and warriors in a competition to find the greatest assassin in the land, she will become the King's Champion and be released from prison.Her name is Celaena Sardothien.The Crown Prince will provoke her. The Captain of the Guard will protect her.And a princess from a foreign land will become the one thing Celaena never thought she'd have again: a friend.But something evil dwells in the castle—and it's there to kill. When her competitors start dying, horribly, one by one, Celaena's fight for freedom becomes a fight for survival—and a desperate quest to root out the source of the evil before it destroys her world.
Where do I even begin with this one?  I was going to do mini reviews for this series but there is just too much I want to say about each book.  I started with The Assassin's Blade so I felt like I was already invested in Celaena's story when I started this one.  Maybe that explains why I just devoured this book in less than a day.
Celaeana's story picks up a year after the end of The Assassin's Blade.  If you haven't read the novellas, that's okay too but I felt like it was a great introduction and they really set things up perfectly for Throne of Glass.  Celaena is approached by the crown prince of Adarlan.  He tells her she can stay in Endovier or she can go with him and compete to be the King's Champion.  If she wins she will have to serve as his Champion for 4 years but then she will earn her freedom.  Needless to say, she goes with Dorian.
Characters are everything to me and the characters in Throne of Glass are epic.  Celaena Sardothien is a 17 year old girl who is trained as an assassin and has spent the past year as a slave in the salt mines of Endovier.  She's fierce and badass but also very scarred and troubled.  Her past is somewhat of a mystery but what readers do know is that she has never had trouble killing people and she shouldn't have any trouble becoming the King's Champion.  I loved her cockiness and there were a few times when I just wanted to laugh at her antics.  She does not lack confidence, that's for sure.  I can't possibly go into detail about all the characters but I'll mention Dorian and Chaol.  I mean, I have to.  There is a bit of a love triangle but who cares?  I'd be torn too if I had both of them as options.  Dorian is the Crown Prince but he's nothing at all like his father.  He could truly do good on the throne.  He's a kind person with a sense of humor and serious smarts.  It doesn't hurt that he's also described as being extremely handsome.  Chaol is not supposed to be as handsome as Dorian and his personality isn't all that great at first but he definitely grew on me.  He was the only one who saw exactly what Celaena was capable of and yes he was a bit of an ass to her because of that but he had good reasons.  Oh and I can't forget Nehemia.  She's another badass female lead that was a perfect fit for Celaena.
The story is dark and twisted and while I definitely saw some things coming, I was taken by surprise a couple times.  There is something evil lurking in the castle and it's taking care of some of the competition, that's for sure.  The thing I really loved about Throne of Glass though was how everything, no matter how small something seemed, tied together in the end.  The thing lurking in the castle that's taking out the Champions isn't just a threat to the Champions.  It's also somehow related to the king and his plans that really aren't good for anyone, anywhere.
The history surrounding magic and Celaena and the kingdom was fascinating and something that definitely needs to be expanded on in the future books.  As the first book in the series though, Throne of Glass does a great job setting things up and showing what could come in the future for Celaena and everyone around her.  Maas hints at some things and she really does a great job getting you intrigued enough to keep reading.
Overall, Throne of Glass is pretty damn epic.  It's got romance and magic and mystery and betrayal and friendships and really just everything I could have ever wanted.  Just read it already!
Also, forgive me for writing this review that is all over the place.   Let me just say, I've already read Crown of Midnight and Heir of Fire and I've kinda gotten them all mixed up and don't want to spoil things for anyone who hasn't read them.
What others are saying about Throne of Glass:
Dawn of Books' review: "I'd recommend Throne of Glass to readers who enjoy YA fantasy as well as to those who have been feeling hesitant to pick it up."
Knite Writes' review: "If you enjoy YA in general, you'll probably like Throne of Glass, especially if you don't mind a younger tone."
Shanny Reads' review: "I also thought the premise of the book was unique and captivating."