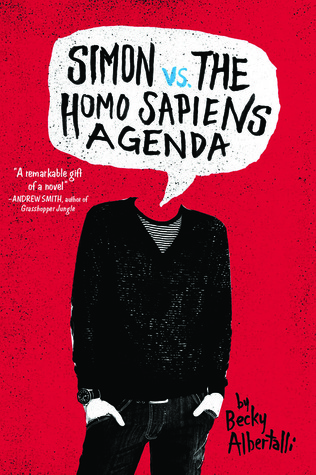 Simon vs. the Homo Sapiens Agenda

by Becky Albertalli
Published by Balzer + Bray on April 7th 2015
Genres: Contemporary
Pages: 303
Format: Hardcover
Source: Publisher
Buy on Amazon
Goodreads


Sixteen-year-old and not-so-openly gay Simon Spier prefers to save his drama for the school musical. But when an email falls into the wrong hands, his secret is at risk of being thrust into the spotlight. Now Simon is actually being blackmailed: if he doesn't play wingman for class clown Martin, his sexual identity will become everyone's business. Worse, the privacy of Blue, the pen name of the boy he's been emailing, will be compromised.With some messy dynamics emerging in his once tight-knit group of friends, and his email correspondence with Blue growing more flirtatious every day, Simon's junior year has suddenly gotten all kinds of complicated. Now, change-averse Simon has to find a way to step out of his comfort zone before he's pushed out—without alienating his friends, compromising himself, or fumbling a shot at happiness with the most confusing, adorable guy he's never met.
Simon vs. the Homo Sapiens Agenda is one of those books that has been getting a lot of buzz lately.  I truly do not think I have read a single bad review for this book and I'll go ahead and tell you now that my review is going to be just as lovely as the rest.  Becky Albertalli's debut novel was completely epic.  She is definitely one author I have added to my auto-buy list.
Simon vs. the Homo Sapiens Agenda is unlike any book I've read.  It's a romance and a mystery and a drama and so much more.  From the start of the book I was hooked and I probably only put the book down once and that was only because I was forced to at work.  The mystery of who Blue was kept me guessing until the end and while I did figure it out before the big reveal, it didn't take anything away from my love of the book.  Like seriously, I'm not kidding when I say I squealed and maybe even threw in a fist pump when I discovered who Blue was.  Let's just say I was pretty invested in the relationship by that time.   The interactions online between Blue and Simon were too cute and too perfect for words.  They built up this amazing relationship without even knowing who they were talking to.  Yes, Simon gave more clues than Blue about his identity but I think there was still a lot of mystery for Blue too.  And let me just say, things did not fizzle when they finally met in person.  No, in fact, things just got better from there.  I have a new favorite couple and it's Simon and Blue.
The blackmail scheme bothered me so much.  I couldn't believe anyone would threaten Simon the way Martin did.  I didn't see Martin as this terrible person but he made some huge mistakes and he was definitely not someone I liked or could ever like.  I also hated that Simon didn't ever do anything about it.  He went along with Martin's scheme even though I thought he should have told someone.  I thought it was adorable how he wanted to protect Blue more than anything but Martin didn't deserve to get away with what he did.
The friendships throughout the story were amazing.  Really all the relationships were fabulous.  Leah, Nick, and Simon had this bond from knowing each other for so long.  Sure there were times when they were at each other's throats but it was easy to see how much they loved each other.  They had a true friendship without all that backstabbing and jealousy that seems to be present in so many friendships.  And while Abby wasn't necessarily part of that original group, she was quickly finding her place with them and I thought she was a great addition to the group.  I loved the friendships but my favorite relationships in the book were definitely between Simon and his family.  They were so quirky and funny and they reminded me so much of my own family.  I don't believe family plays a big enough role in most YA books and that was not the case with this one.  Sure Simon may have found his parents and siblings to be a little nosy but they cared about each other and all they wanted was to be involved.
Now let's talk one minor thing that may not matter much to some people but that I really loved: Harry Potter.  Simon loved Harry Potter and he wasn't afraid to show it.  The references to Harry Potter just made me smile.  I adored every little mention, no matter how small.  Simon Spier, will you be my best friend?
Oh and drunk Simon is possibly the cutest thing ever.  And Bieber!  I could go on and on about this book.
Overall, Simon vs. the Homo Sapiens Agenda is a new addition to my list of favorite books.  I look forward to reading anything Becky Albertalli ever writes.  This book was just pure perfection.
What others are saying about Simon vs. the Homo Sapiens Agenda:
Prettybooks' review: "Simon vs. the Homo Sapiens Agenda is a majorly cute LGBT romance with awesome friends, many adorable moments, and a lot of laughs."
Writability's review: "5/5 stars to this one for sure, and I can't wait to see what Albertalli comes up with next."
The Tales Compendium's review: "As I said before, I didn't want Simon to end, I was just so happy being in Simon's world."