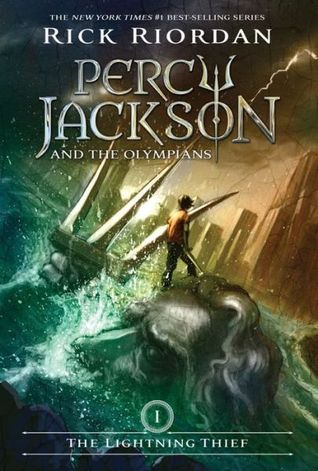 The Lightning Thief (Percy Jackson and the Olympians, #1)

by Rick Riordan
Series: Percy Jackson and the Olympians #1
on June 1st 2005
Genres: Fantasy
Pages: 377
Format: Paperback
Source: Publisher
Buy on Amazon
Goodreads


Percy Jackson is about to be kicked out of boarding school... again. And that's the least of his troubles. Lately, mythological monsters and the gods of Mount Olympus seem to be walking straight out of the pages of Percy's Greek mythology textbook and into his life. And worse, he's angered a few of them. Zeus' master lightning bolt has been stolen, and Percy is the prime suspect.Now Percy and his friends have just ten days to find and return Zeus' stolen property and bring peace to a warring Mount Olympus. But to succeed on his quest, Percy will have to do more than catch the true thief: he must come to terms with the father who abandoned him; solve the riddle of the Oracle, which warns him of betrayal by a friend; and unravel a treachery more powerful than the gods themselves.
I can't tell you how many people have told me to read the Percy Jackson series.  I also can't tell you how many times I've put off reading the series.  I honestly don't know why, I just did.  The urge finally hit me to actually sit down and give this one a shot and I'm very glad I did.  This seems like the start of a series that I'm going to enjoy.
First off, things were a little odd for me with this one because I've read the graphic novel and I've also seen the movie.  Yes, the movie is very different but it still felt a bit like deja vu while I was reading.  I didn't mind though because there was enough new content for me that I found it enjoyable.  Sure there wasn't so much mystery about how things were going to end but that didn't slow me down at all.
This series is very much middle grade, at least for now.  Percy is only 12 years old at the beginning of The Lightning Thief and while I knew that, I still found it a little off putting.  I'm so used to reading about older teens that getting used to Percy was difficult.  He was not very mature but what 12 year old boy is?  Some of his concerns seemed trivial to me but otherwise I liked him and I enjoyed watching him grow throughout the course of the book.  He went through a lot in a short period of time and he handled it really well, especially for someone so young.  I was impressed by that.  As for the other characters, Annabeth and Grover were awesome.  Annabeth was a little snotty at first but she came around eventually.  Grover was, by far, my favorite.  He was hilarious.  Grover was definitely the comic relief here but he also played a huge role in the quest.  He was funny but that wasn't his only purpose and I appreciated that about him.
The Lightning Thief incorporates a ton of mythology.  I can see now why so many people love this series.  It's full of stories that people of any age can enjoy.  I lost track of all the myths that were included in The Lightning Thief.  Even if it was just a brief mention, I caught so many gods, goddesses, and myths.  I think I really appreciated this now because I just finished a mythology in literature course and I was able to catch so many references that I might not have before.  It was fun trying to figure out all the myths and people as I went along.
The story itself is pretty straightforward but I can tell it's going to tie into something much bigger as the series goes on.  The theft of Zeus' lightning bolt is the main storyline in The Lightning Thief (obviously) but it all ties into something that doesn't get wrapped up at the end of this book.  While I wouldn't call the ending a cliffhanger, it's definitely enough to get me to keep reading.
The writing style is simple and I enjoyed that in this case.  Rick Riordan's writing is nothing fancy, that's for sure, but I think that works with the type of story this is.  Like I said, I knew a lot of what was going to happen in The Lightning Thief but it never got boring and the style of writing really helped move things along at a good pace.
Overall, The Lightning Thief wasn't absolutely amazing but it's definitely earned the hype that surrounds it.  The Percy Jackson and the Olympians series is one that I will be continuing.
What others have to say about The Lightning Thief:
Fantasy Book Review's review: "A fantastic book for sure that has me thanking the gods I bought the series."
Shae Has Left the Room's review: "The story itself was also a joy to read."