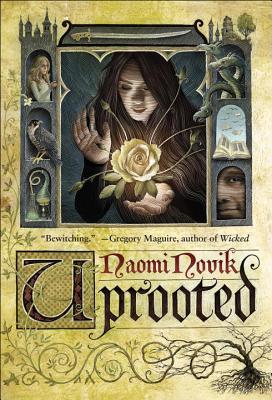 Uprooted

by Naomi Novik
Published by Del Rey on May 19th 2015
Genres: Fantasy
Pages: 432
Format: Hardcover
Source: Publisher
Buy on Amazon
Goodreads


Naomi Novik, author of the bestselling and critically acclaimed Temeraire novels, introduces a bold new world rooted in folk stories and legends, as elemental as a Grimm fairy tale.

"Our Dragon doesn't eat the girls he takes, no matter what stories they tell outside our valley. We hear them sometimes, from travelers passing through. They talk as though we were doing human sacrifice, and he were a real dragon. Of course that's not true: he may be a wizard and immortal, but he's still a man, and our fathers would band together and kill him if he wanted to eat one of us every ten years. He protects us against the Wood, and we're grateful, but not that grateful."

Agnieszka loves her valley home, her quiet village, the forests and the bright shining river. But the corrupted Wood stands on the border, full of malevolent power, and its shadow lies over her life.

Her people rely on the cold, driven wizard known only as the Dragon to keep its powers at bay. But he demands a terrible price for his help: one young woman handed over to serve him for ten years, a fate almost as terrible as falling to the Wood.

The next choosing is fast approaching, and Agnieszka is afraid. She knows—everyone knows—that the Dragon will take Kasia: beautiful, graceful, brave Kasia, all the things Agnieszka isn't, and her dearest friend in the world. And there is no way to save her.

But Agnieszka fears the wrong things. For when the Dragon comes, it is not Kasia he will choose.
I'm sure you have all heard about Uprooted by now but maybe a few of you haven't been convinced  by the rave reviews.  Let me add my voice to the mix and attempt to make you realize how much you need this book in  your life.
Uprooted is one of those books that you want to both devour and savor.  There were so many times that I wanted to keep reading but I knew I'd be devastated when I reached the end.  I definitely forced myself to slow my pace with this one and I'm glad I did.  There was always so much going on that I really feel I would have missed something crucial had I not slowed down.
Agnieszka is a very odd girl but it's understandable since she's lived a very odd life.  Her best friend was raised basically as a sacrifice and she's always known she would lose her.  However that isn't what happens.  Instead Agnieszka is chosen by the Dragon and off she goes to be captive in his tower for 10 long years.  She is scared, clumsy, naive, and quite clueless.  There were times when I wanted to laugh at her crazy assumptions and other times when I wanted to smack some sense into her.
As for the Dragon, it's not actually a dragon. He's just a powerful wizard who protects the towns close to the Wood and definitely scares the crap out of most people.  He was beyond rude to Agnieszka but besides that he wasn't all that scary.  Having lived as long as he had I feel that human interaction was not a big thing for him and I actually felt bad for him at times.
The Wood is the villain in Uprooted and it's interesting how you can grow to hate a place.  Yes there was a person behind everything but the Wood itself was kind of its own character.  As for the creatures inhabiting the Wood, they were uniquely creepy.  I was terrified of what was going to happen next, both when they were in the Wood and when they weren't.  Also, don't expect everyone to make it out alive.  Naomi Novik shocked me quite a bit.  Just because they were a major player didn't mean they were safe.
There is some romance involved and I absolutely loved it.  At first I was worried that it was going to be some weird thing with Agnieszka falling in love with her captor and yes that is what happened but it wasn't weird at all.  They grew from captor and captive to equals and I loved how they pushed each others boundaries.  They were alike in some ways but their differences were what made them so compatible.  Every scene they were in together was perfect.  The sexy scenes were even better.  Ooh boy.
Overall, just go get a copy of Uprooted.  It's an amazing novel that I plan to re-read many times in my future.  Also, buy the UK copy if you can.  It's so gorgeous!
What others are saying about Uprooted:
Angieville's review: "There is almost nothing not to love about Uprooted."
Books, Bones, and Buffy's review: "A glorious, intricate fantasy with strong horror elements, that drew me in and held me spellbound."
There Were Books Involved's review: "It's a little bit dense — Uprooted isn't YA — but if you give it the time it deserves, it is so worth it."