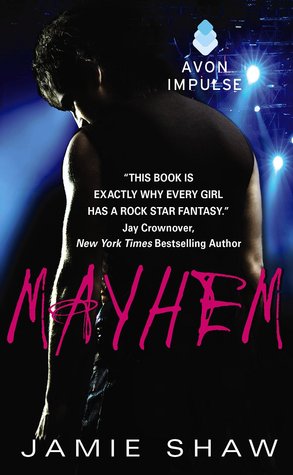 Mayhem (Mayhem, #1)

by Jamie Shaw
Series: Mayhem #1
Published by Avon on January 20th 2015
Genres: Contemporary
Pages: 258
Format: ebook
Source: Bought
Buy on Amazon
Goodreads


When college freshman Rowan Michaels meets gorgeous, up-and-coming rock star Adam Everest, she knows a player like him is the last thing she needs after her ex-boyfriend shattered her heart. But she can't stop thinking about the kiss they shared on his tour bus.

On the first day of school, Rowan is stunned when Adam saunters into her French class. He's soon failing miserably, and, on a whim, she offers to tutor him. But Adam doesn't recognize her as a makeup-free, glasses-clad college student—a far cry from the beautiful, mysterious "Peach" he met at his concert.

During a wild weekend on tour with the band, Rowan can't help falling for the sweet guy buried beneath Adam's rocker persona. Yet she knows she could never compete with the girls constantly throwing themselves at his feet. She'd just end up hurt … again.

Peach is all Adam thinks about, though, and when Rowan realizes this, she has a decision to make: stay just friends to protect her fragile heart … or reveal the truth about the night they met and admit she's fallen completely, hopelessly in love with him.
I saw someone talking this series up on Twitter one day and I had the urge to read a new adult book so I decided to give Mayhem a shot. Boy am I glad I did. Jamie Shaw is a new author to me but she impressed me with Mayhem and continued to do so with the following books.
Admittedly, the story wasn't anything new or all that unique but I found myself hooked from the start. Rowan and Adam meet, hook up, and then go their separate ways. Rowan didn't expect to see Adam in her French class on the first day of school, however. That throws her for a loop, especially since she is still extremely attracted to him and he doesn't even recognize her. Rowan can't avoid him though, especially when she volunteers to tutor him so he doesn't flunk out of their French class. During a weekend on tour with the band, she starts to get to know Adam and the attraction becomes more than just physical.
Adam and Rowan were extremely cute together. Their banter and bickering were adorable. Adam was so full of himself and Rowan put him in his place more than once. She didn't let the fame go to his head. She brought out the normal guy in him and I could definitely understand why she fell for that guy. As for Rowan, she was smart, levelheaded, confident, and kind. I would have slapped Adam if he didn't fall for her. They kept pushing each other away, though. (Nothing can ever be easy in new adult books.) It was fun watching them try to figure each other out and decide what exactly they could mean to each other.
The romance was steamy, the characters were hilarious, the story was captivating, and the ending left me with a smile on my face. Mayhem had everything I wanted and definitely left me intrigued about the other members of Adam's band.
Overall, Mayhem was the perfect place to start with this series and Jamie Shaw definitely has a new fan.
What others are saying about Mayhem:
Cocktails & Books' review: "Cute, in a Disney sort of way."
Book Binge's review: "In the end it was a fun book that didn't have a whole lot of angst – which was awesome."
Little Dixie Readers' review: "Filled with fun sexy times and a great voice in the New Adult genre, Jamie Shaw is a rising star!"