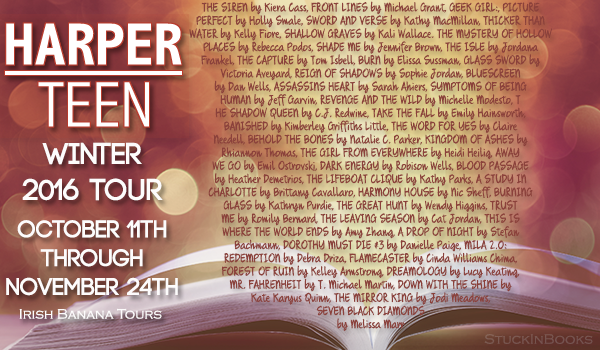 You guys have no idea how excited I am to be part of this special tour to help spotlight Harper Teen's awesome Winter 2016 titles.  Check out the book I'm featuring (one I'm particularly excited about) and then enter the three giveaways to win 40+ titles from the Winter catalog of Harper Teen, 5 titles from their Fall 2015 catalog, and an ARC of Shallow Graves.
Oh and since this is a spotlight tour, make sure to stop by all the other blogs (listed below) to find out more about the awesome YA titles coming from Harper Teen in 2016.
Hitting shelves January 26, 2016: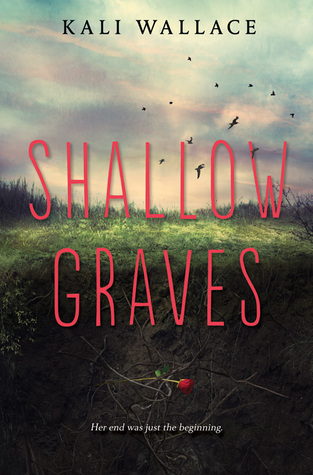 For fans of Holly Black and Nova Ren Suma, a gripping, hauntingly atmospheric novel about murder, revenge, and a world where monsters—human and otherwise—lurk at the fringes.

When seventeen-year-old Breezy Lin wakes up in a shallow grave one year after her death, she doesn't remember who killed her or why. All she knows is that she's somehow conscious—and not only that, she's able to sense who around her is hiding a murderous past. In life, Breezy was always drawn to the elegance of the universe and the mystery of the stars. Now she must set out to find answers and discover what is to become of her in the gritty, dangerous world to which she now belongs—where killers hide in plain sight and a sinister cult is hunting for strange creatures like her. What she finds is at once empowering, redemptive, and dangerous.

Tense, complex, and wholly engaging, Shallow Graves is a stunning first novel from Kali Wallace.
Goodreads | Amazon | Barnes & Noble | Indiebound | Book Depository
I don't know about you guys but I'm pretty damn excited for this book.  I'm a huge fan of Holly Black so any author whose work is compared to hers is automatically added to my TBR.  And it doesn't hurt that the cover is stunning.
Check out the other stops on the blog tour:
You don't want to miss a single spotlight post about Harper Teen's Winter titles.  They don't mess around when it comes to publishing amazing books.
This is the Harper Winter 2016 Tour!

---
This list will close in 61 days, 8 hrs, 42 min (12/6/2015 11:59 PM North America – Eastern Standard Time)
Now here's your chance to enter three awesome giveaways!
Make sure to read the rules for each giveaway and you can enter one, two, or all three.
Giveaway #1:
A Harper Teen Winter 2016 Catalog prizepack of 40+ books*
*All YA titles in the winter2016 catalog with the exception of The Siren by Kiera Cass, Yellow Brick War by Danielle Paige and Glass Sword by Victoria Aveyard.*
Giveaway #2:
5 Finished Copies from the Harper Teen Fall 2015 Catalog
5 books are: The Lies About Truth, Walk on Earth A Stranger, Dreamland, Dumplin', and Da Vinci's Tiger
How to enter:
Collect the daily word from each blog stop during the Harper Winter 2016 Tour (a total of 45). (I suggest going to the blog chart above, and going in numerical order.) Once you've collected them all, email the complete saying to: HarperTeenTour@gmail.com.
Hint for today's word: It's bold, italicized, and underlined.  😉
Prize Rules:
1.)    Winner must have a valid US mailing address to receive the prize
2.)    Winner must be over 13
3.)    Only one (1) entry per person for Prize #2 – duplicates will be deleted.
4.)    Only a completed phrase will be accepted as an entry – do not email each word/phrase daily. Wait until you have the complete saying and then email in.
5.)    All email submissions must be received by 11:59 PM EST 11/30/2015.
6.)    Winners will be selected 12/1/2015 and will have 48 hours to claim their prize before another is selected.
7.)    Participating blogs and bloggers are not responsible for unsent, damaged, and/or stolen prizes offered by the publisher.
** TO ENTER, EMAIL ALL YOUR SECRET WORDS YOU'VE COLLECTED TO: HarperTeenTour@gmail.com **
Giveaway #3:
Win an ARC of Shallow Graves by Kali Wallace.
Open internationally!  Just fill out the Rafflecopter.