As you guys probably know from my Twitter, Instagram, and Etsy Obsessions posts, I love bookish merchandise.  Seriously, if I could get away with wearing nothing but bookish clothes and jewelry, I would.  I love showing my support for my fandoms through clothes, pillows, bookmarks, jewelry, and anything else you can think of.  When I was approached by Andrea about reviewing a couple of her products, I jumped at the chance.  So fair warning, I did receive these products for free but that does not affect my opinions.
(Click any of the images to be taken to the shop page for that item.)
I knew I wanted to get something Harry Potter related and this design jumped out at me.  Hermione has always been my favorite character and I love the quote Andrea chose for the phone case.  The phone case is one from Redbubble and I was extremely pleased with it.  It's a snap on case and it was a little difficult getting it on the phone at first but it fit perfect.  I admit, I drop my phone every now and then but I'm happy to say that the case stood up to drops on cement, wood floors, and tile.  Other than that, the colors and coating stand up to time and purses, jeans, and anywhere else I decided to store it for the day.
I also chose this fandom inspired shirt.  It's long sleeve and perfect for fall!  I have actually read all the books featured in the design so that's kinda why I picked this one.  I've already worn this one a few times and it's super comfy!  It fits true to size and it holds up against wear and washing.  I know she also has fitted shirts in her shop but I went with the unisex style and I really like it.  If you're looking for a more comfy, loose style, go with the unisex.  Also, the sleeves are fitted at the wrists and while I normally don't like that, there is enough stretch that it wasn't uncomfortable.
As for the rest of the shop, I obviously can't say anything about the quality of merchandise but I can show you some of my favorite designs.  Here are a few things still on my wishlist!  (All photos taken from Whoviandrea's site.)
I adore this Hogwarts pillow and I'd love to add it to my Harry Potter collection.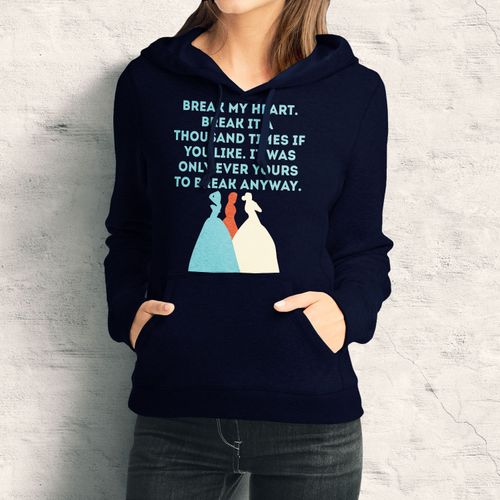 I've only read the first book in the Selection series but I really enjoyed it.  I wouldn't mind rocking this Selection inspired hoodie.  It looks so cozy!
I was extremely pleased with my items from Whoviandrea's shop and I'd definitely recommend ordering from her shop if you're a book nerd like me.  From pillows to phone cases, Andrea has something for everyone in her shop.  And you know, if you've got a birthday coming up (or there's always Christmas) you can add some of these items to your wishlist!
Have you ordered anything from Whoviandrea's shop?  Is there a specific item that you're dying to get?