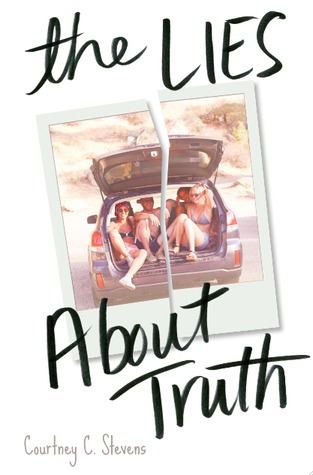 The Lies About Truth

by Courtney C. Stevens
Published by HarperTeen on November 3rd 2015
Genres: Contemporary
Pages: 336
Format: ARC
Source: Publisher
Buy on Amazon
Goodreads


Sadie Kingston, is a girl living in the aftermath. A year after surviving a car accident that killed her friend Trent and left her body and face scarred, she can't move forward. The only person who seems to understand her is Trent's brother, Max.

As Sadie begins to fall for Max, she's unsure if she is truly healed enough to be with him — even if Max is able to look at her scars and not shy away. But when the truth about the accident and subsequent events comes to light, Sadie has to decide if she can embrace the future or if she'll always be trapped in the past.
The Lies About Truth is the first book I've read from Courtney C. Stevens and let me just tell you, I'm impressed.  The Lies About Truth is a gorgeous story about loss, love, and learning to move on.  It made me laugh, it made me cry, and in the end, it made me smile.
The Lies About Truth takes place almost a year after a car accident that takes the life of Sadie's best friend, Trent, and leaves her permanently scarred.  Trent's brother, Max, as well as Sadie's boyfriend, Gray, and best friend, Gina, were also involved in the car accident but they walked away with less visible wounds.  Max's vocal cords were seriously injured but it was more losing his brother that caused him to leave town with his family for most of the next year.  Through emails and letters, Max and Sadie start to become close.  Everything comes to a head when Max finally returns for the year anniversary of Trent's death, finally forcing Sadie to face what happened and her part in it.
Sadie was extremely messed up from the accident.  She had physical scars but she also had mental scars.  She was afraid to get behind the wheel of a car, afraid to show off her scars, and afraid to tell anyone the secrets she was keeping for her best friend.  She basically shut herself away from everyone but Max and she really only kept herself open to him because he couldn't see her.  She could be the old Sadie behind the screen of a computer and when she didn't want to be the old Sadie, Max was willing to take anything she would give him.  They were completely honest with each other because they didn't have to face each other every day.  When Max finally came home, that all changed.  Sadie had already showed him the dark parts of her on the inside so it was just time to show him those parts on the outside.  As for Max, he didn't care about Sadie's scars, he just cared about her.  He had his own scars (less visible but still obvious) and as long as she could accept his, he was willing to accept hers.
The other two people involved in the accident, Gray and Gina, weren't left physically scarred but they were mentally messed up from that day.  Gray and Trent were best friends.  Gina and Trent had been dating for a long time.  Everyone involved in the accident was somehow closely linked to Trent and they were all grieving him but it seemed like they didn't know how to grieve him together.  They were all keeping secrets from each other and it tore them apart.  Honestly the secrets and secret-keeping were a bit overdramatic to me.  Gray had secrets from Sadie, Sadie had secrets from everyone, Max wanted to be in on all the secrets about his brother, and Gina was tearing herself apart by keeping Gray's secrets.  They may have been friends at first but all their secrets were keeping them apart and they couldn't seem to move past them or to share them.  The anniversary of the accident is what finally brought everything out and started the real healing process for everyone.
One of my favorite things about The Lies About Truth was Sadie's relationship with Trent.  Obviously you only get to see flashbacks but those flashbacks were great.  It was so obvious how much they cared for each other and it truly was a friendship thing.   Trent and Sadie loved each other like family.  They accepted each other no matter what.  I think Trent would have approved of Sadie's relationship with Max because Max was like Trent in that he accepted Sadie just how she was.  Neither of the brothers ever wanted to change Sadie.
Overall, The Lies About Truth is one novel that everyone should have on their TBR.  It's just the right amount of cute, funny, sad, and moving.  Courtney C. Stevens is an author I'm definitely going to be reading more from.
What others are saying about The Lies About Truth:
The Book Bratz' review: "The Lies About Truth is a beautiful story that I recommend anyone looking for a fairly quick contemporary read."
Reading Lark's review: "The universality of Stevens' novels is what keeps me coming back, and why I keep recommending them to other readers."