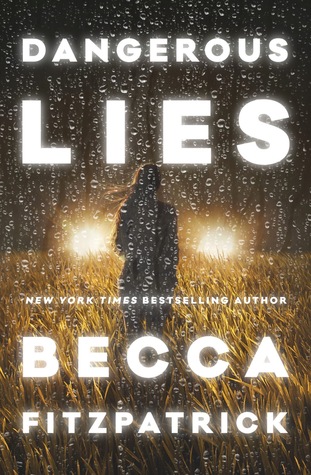 Dangerous Lies

by Becca Fitzpatrick
Published by Simon & Schuster on November 10th 2015
Genres: Contemporary
Pages: 400
Format: Hardcover
Source: Publisher
Buy on Amazon
Goodreads


A teen is forced to make a fresh start after witnessing a violent crime—but love and danger find her anyway in this novel from Becca Fitzpatrick, the New York Times bestselling author of the Hush, Hush saga.

Stella Gordon is not her real name. Thunder Basin, Nebraska, is not her real home. This is not her real life.

After witnessing a lethal crime, Stella Gordon is sent to the middle of nowhere for her own safety before she testifies against the man she saw kill her mother's drug dealer.

But Stella was about to start her senior year with the boyfriend she loves. How can she be pulled away from the only life she knows and expected to start a new one in Nebraska? Stella chafes at her protection and is rude to everyone she meets. She's not planning on staying long, so why be friendly? Then she meets Chet Falconer and it becomes harder to keep her guard up, even as her guilt about having to lie to him grows.

As Stella starts to feel safer, the real threat to her life increases—because her enemies are actually closer than she thinks…
Becca Fitzpatrick's Hush, Hush series put her on my radar when I first started blogging but I have to say, Dangerous Lies is the book that kept me interested in her work.  Young adult suspense novels pretty much always get added to my TBR automatically but they don't always impress me.  I'm happy to say that I was pretty happy with Dangerous Lies, at least enough to check out her other suspense novels.
I know nothing about witness protection and I have to admit that I haven't actually read anything or really seen anything about it.  Needless to say, I was intrigued when I read the synopsis for Dangerous Lies.  Stella's life is turned upside down when she is forced to go into witness protection after witnessing a murder by a huge crime lord.  She has to leave everything she knows behind and take up a whole new identity in some tiny town in the middle of nowhere.  Needless to say, she's not exactly happy about it.  She's leaving her friends, her boyfriend (who also has to go into witness protection), and her whole existence behind.  She couldn't care less about her mom (who got her into the whole situation) but yes, she does have to leave her behind too.
Dangerous Lies starts strong and has a pretty solid finish as well but the middle just dragged for me.  Like I said, I'm not always impressed with suspense novels and while this one is technically classified as that, it wasn't really all that suspenseful or at least it didn't seem that way.  I admit, towards the end there was a bit of a twist thrown in that definitely caught me by surprise.  However, that was really the only thing that caught me by surprise.  With this type of story, you know that the bad guys are going to eventually catch up to Stella.  For me, it just seemed like the middle of the book was a waiting game until they found where Stella was hiding.  That doesn't mean it was bad, it was just a little slow at times.
The characters are what made Dangerous Lies hold up even with the slow middle.  Stella was a little bit of a bitch at first but it was kind of understandable.  Her mom was a total druggie who never paid attention to her daughter and was more upset about Stella testifying against the crime lord than about the murder that happened.  She made me so mad!  Every interaction she had with Stella just made me hate her even more.  Then there was Carmina, the total opposite of Stella's mom.  She took Stella in (for reasons that come up later in the book and totally broke my heart) and she really came to care for her.  Carmina was harsh at first but it was what Stella needed.  She needed someone to drag her out of her funk and find a life in Thunder Basin.  That life came to include Inny, Chet, Dusty, and a few others.  I wish Inny and Dusty were more developed but I liked what I saw of them.  As for Chet, he was maybe a little too perfect but after finding out a bit about his past, I can see why he would be so perfect.
I also want to mention Reed even though readers barely find out anything about him.  He is Stella's boyfriend who is also forced to go into witness protection and I have no clue how I feel about him.  Also, while Stella and Chet start a relationship of some kind, I don't really consider it cheating since Reed and Stella are never expected to see each other again.  While they didn't exactly end their relationship, there really was no future for it.  And hey, if you've read Dangerous Lies, did Reed's ending bother anybody else?  I won't say what happens but it's pretty open ended and it's one thing that really bothered me.
As for the setting of Thunder Basin, Nebraska; it was perfect.  Becca Fitzpatrick really captured the small town feel.  Everybody knew everybody's business and it was impossible to keep a secret.  Maybe not the best place for someone in witness protection but I guess they figured that even if Stella's secret got out in the town, it wouldn't spread anywhere else.  The only problem with everybody knowing everything was that things did get around.  Especially when one person was involved: Trigger.  Trigger was a pain in the ass from the start and everything about him bothered me.  That was one person with absolutely no redeeming qualities.  He definitely caused a ton of problems for Stella and I felt terrible for her.  He seemed to be the one person who was nastier than Stella (in the beginning) and that took talent.
Overall, Dangerous Lies was an enjoyable read that will definitely have me checking out Becca Fitzpatrick's other suspense novels.  If you want a pretty quick read that might surprise you, check this one out.
What others are saying about Dangerous Lies:
The Eater of Books' review: "I loved this book, and I highly recommend it, especially to those who enjoy thriller/mystery/suspense types."
My Bookish Fairy Tale's review: "It was a thrill and I am actually upset that I finished it as quickly as I did."