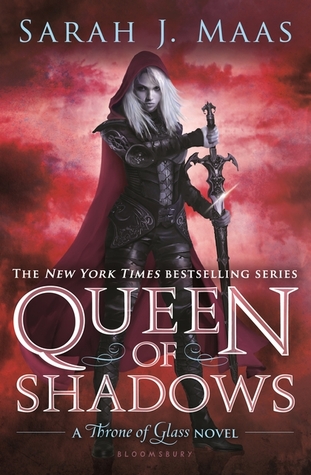 Queen of Shadows (Throne of Glass, #4)

by Sarah J. Maas
Series: Throne of Glass #4
on September 1st 2015
Genres: Fantasy
Pages: 648
Format: Hardcover
Source: Bought
Buy on Amazon
Goodreads


The queen has returned.
Everyone Celaena Sardothien loves has been taken from her. But she's at last returned to the empire—for vengeance, to rescue her once-glorious kingdom, and to confront the shadows of her past…

She has embraced her identity as Aelin Galathynius, Queen of Terrasen. But before she can reclaim her throne, she must fight.

She will fight for her cousin, a warrior prepared to die for her. She will fight for her friend, a young man trapped in an unspeakable prison. And she will fight for her people, enslaved to a brutal king and awaiting their lost queen's triumphant return.

The fourth volume in the New York Times bestselling series continues Celaena's epic journey and builds to a passionate, agonizing crescendo that might just shatter her world.
If you have not read the other books in this series, this review will contain spoilers.  There is just no avoiding that.  However, I will not be spoiling any part of Queen of Shadows.
I'm gonna start off by saying that it's been a month or so since I actually read Queen of Shadows so bear with me if this review is all over the place.  That being said, I'm still thinking about Queen of Shadows and all the twists Sarah J. Maas threw at readers this time around.  I wasn't sure there was a whole lot left that she could shock me with but boy was I wrong!
I read the first four books (I'm including The Assassin's Blade in that count) about two months before Queen of Shadows and I'm glad I took so long to read them.  This series has so much going on that it's actually pretty important to remember what happened in the previous books.  All the books include hints of what is to come and I love that Sarah J. Maas plans everything so far ahead.  I know there are definitely some things that I missed but hopefully I'll catch some more things next year when I reread the series to prepare for the next book.  That's not to say that you have to reread the first few books every time a new one comes out but having a summary of what happened in the previous books is good so you can stay caught up.
Can I just say that Queen of Shadows was everything I hoped for and more?  Is that good enough for you guys?  I imagine most of you have already read it (I mean, who could wait?) but if you haven't you should just stop reading my review now and go pick it up.  Sarah J. Maas managed to answer a few questions while posing some new ones that I hope to get answers to in future books.  I'm honestly amazed at her skill with weaving all these storylines together.  I don't know how she does it (one of many reasons she is the writer and I am not.)  Everything from the first four books has been leading up to this one and I'm sure it will be the same with the next one.  While some huge things went down, there is still so much left for Aelin and her crew to do.  This series is far from over and I feel like the wait for the fifth book is going to be torture.
I loved all the characters (even Chaol) but Dorian definitely held a special place in my heart this time around.  After what happened to him at the end of Heir of Fire, I wasn't sure what state he would be in when Chaol and Aelin saw him next.  I don't want to spoil anything but I will say that my heart broke every time I got to a chapter from his POV.  I died a little inside every time I thought about what might happen to him.  He is the reason I spent so much of this book crying.  Just thinking about it now makes me want to tear up.
I did mention Chaol and I want to mention him again.  I loved him early on in the series but that did not last long.  I know some people love him but I was not one of those people and I'm still not really.  I like him and Dorian and Aelin as friends and that's all I like them as.  Chaol had some serious growing up to do.  He needed to see that Aelin couldn't just close off parts of herself because he didn't like them.  She was a very independent woman and he needed to learn to accept that.  I did see progress on that front in Queen of Shadows and he really started to impress me again.  I also can't fault him for his loyalty and friendship to Dorian.  They are more like brothers than friends.
I don't even really want to say anything about Aelin because she's just as badass and awesome as ever.  And as for who she ends up with, I'm not even going to say anything about it except that he is perfect for her.  I think Sarah J. Maas really took time to see how each guy would match up with Aelin and she chose the one that not only was good with her but was also good for her.
One of the best things about Queen of Shadows was the development of Manon and the Thirteen.  I wasn't sure about them when they were first introduced in the series but they have grown on me and I see how they are going to play a huge role in the battle to come.  Now don't get me wrong, I always thought they were awesome I just didn't want anyone that awesome on the side of the bad guys.  I'm not saying they are good but I think Manon has finally realized that she needs to look deeper into what's going on and decide for herself who she wants to side with.
Last but not least, the plot!  Things move quickly in Queen of Shadows and they build up to a huge battle.  That battle scene was just brilliant and epic!  I might have had some issues reading it since I was crying at the same time but I still know it was awesome.  A lot of huge twists happened during that battle and my jaw dropped more than once.  Sarah J. Maas is one of those authors who isn't afraid to kill her characters and that battle had me worried for more than one of my faves.
Overall, Queen of Shadows is just plain amazing.  If you haven't read it yet, get on it!  I know the wait for the next book seems like forever but just join me in misery while we wait together!
What others are saying about Queen of Shadows:
Beauty and the Bookshelf's review: "Queen of Shadows had some scenes that were just stellar: an epic girl fight, a reunion, a (bloody) witch savior, fucking badass witches, an insane finale, a tear-inducing but happy ending, death (obviously), the exploration of the "who is the monster and who is the man" concept, and discussions about nightgowns and underthings."
Fictional Darkness' review: "Sarah J. Maas has a special talent when it comes to sculpting characters."