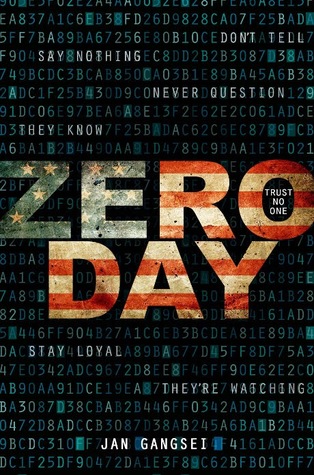 Zero Day

by Jan Gangsei
on January 12th 2016
Genres: Suspense
Pages: 368
Format: Hardcover
Source: Publisher
Buy on Amazon
Goodreads


Eight years ago, Addie Webster was the victim of the most notorious kidnapping case of the decade. Addie vanished—and her high-profile parents were forced to move on.

Mark Webster is now president of the United States, fighting to keep the oval office after a tumultuous first term. Then, the unthinkable happens: the president's daughter resurfaces. Addie is brought back into her family's fold, but who is this sixteen-year-old girl with a quiet, burning intelligence now living in the White House? There are those in the president's political circle who find her timely return suspicious.

When the NSA approaches Darrow Fergusson, Addie's childhood best friend and the son of the president's chief of staff, he doesn't know what to think. How could this slip of a girl be a threat to national security? But at the risk of having his own secrets exposed by the powerful government agency, Darrow agrees to spy on Addie.

It soon becomes apparent that Addie is much more than the traumatized victim of a sick political fringe group. Addie has come with a mission. Will she choose to complete it? And what will happen if she does?
My Thoughts:
Zero Day is one of those books that automatically got added to my TBR when I read the synopsis.  I didn't care about other reviews, that the author was a debut, none of that.  Suspense featuring the daughter of the President of the United States who also happens to be a kidnapping victim?  I was sold.  Jan Gangsei's debut novel surprised me in many ways and was definitely worth the read.
Pros:
Suspense: The suspense in Zero Day was strong.  I grew up reading James Patterson, Harlan Coben, and many other adult crime writers that were fabulous at suspense.  I've only found that same caliber in a few young adult authors so I was a bit skeptical going into this one.  While I did manage to guess a few things, it was usually only right before they were about to be revealed anyway so it didn't take away from my enjoyment.
Romance: I was iffy about this romance for a while.  Darrow and Addie grew up together and Darrow pretty much held himself responsible for Addie's kidnapping.  He was also 9-years-old at the time so there really wasn't anything he could have done but try telling him that.  When Addie is returned, he pretty much automatically has feelings for her.  I couldn't tell if it was because of what they went through or not but he grew on me and I liked seeing him with Addie.  As for Addie's side of the relationship, it was really hard to judge.  If you read the book you'll understand what I mean but her personality was so odd that I had a hard time telling if she meant things or if she was attempting to play someone.  I wanted her to like Darrow and at times I felt that she did but other times I was a bit hesitant.  It was odd.
Characters: Where do I even begin with these characters?  I have some really mixed feelings about some of them but overall I loved the development of them and the complexities to all of them.  Just look at Addie.  She was all over the place with her feelings and thoughts.  I couldn't tell from page to page what was coming next with her.  She obviously went through a ton of crazy stuff in the eight years that she was held captive but that wasn't really what fascinated me about her.  I wanted to know more about what motivated her when she got home.  You will understand what I mean if you read the book.  Her parents were both good parents and bad ones.  They cared so much about public opinion and they couldn't see how that was affecting their daughters.  Then again, they would spend private time with them and be completely wonderful.  I guess that's how politics works.  And I won't spoil anything about Addie's captors but I will say that they were seriously messed up.  Very twisted.
Setting: I don't know if it's so much the setting that I loved but what comes along with the setting.  A lot of the story takes place in and around the White House and also at Addie and Darrow's very classy high school.  Taking a peek inside the world of the offspring of high up government officials was really interesting.  I can't tell you how accurate it is but I enjoyed it.  I love reading about the lifestyles of the rich and famous so that definitely appealed to me.
Pro/Con:
Story: The story had good and bad things going for it.  I loved the idea of the story but the execution left some things to be desired.  I read a majority of the book before I even realized what exactly Cerberus was hoping to gain from their terrorist attacks.  Also, once I figured it out, I couldn't really see how what they were doing was going to achieve that goal.  It confused me.  However, the idea of someone on the inside of the White House working with terrorists really appealed to me and kept me very intrigued.  Things tied up pretty nicely at the end but I could see how there might be room for a sequel and I wouldn't say no to reading that.
Cons:
Writing: The writing was a bit heavy.  I honestly can't put my finger on what exactly about it caused the book to drag more than it should have but there was just something about it.  I was hoping that as  I read more of the book, I would get used to the style and the pace would pick up but that didn't happen.  It's also weird because the book features short chapters which tend to speed things along for me but that didn't happen with Zero Day.  The story was interesting enough though that I didn't every feel like giving up on it.
Overall, Zero Day had it's flaws but it's good parts far outweighed those.  It's a great read for fans of suspense with hints of hacking and politics as well as a peek at the lifestyles of the rich and famous.  I will be keeping an eye out to see what Jan Gangsei does next.
What others are saying about Zero Day:
Bookish Babes' review: "Zero Day by Jan Gangsei is a pulse pounding YA thriller that kept me guessing until the end."
Kovescence of the Mind's review: " The strong female lead provides a refreshing addition to the realm of technology and mystery in young-adult fiction."
Looking for something similar? Check out Nearly Gone by Elle Cosimano!
Giveaway
Enter to win one of three copies of Zero Day!