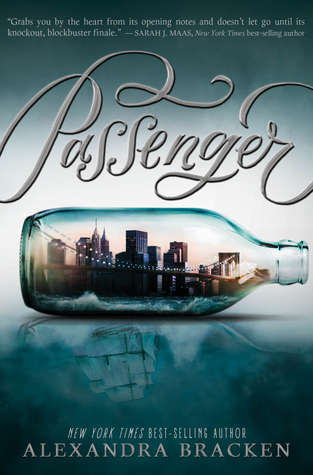 Passenger (Passenger, #1)

by Alexandra Bracken
Series: Passenger #1
on January 5th 2016
Genres: Science Fiction
Pages: 496
Format: ARC
Source: Publisher
Buy on Amazon
Goodreads


passage, n.i. A brief section of music composed of a series of notes and flourishes.ii. A journey by water; a voyage.iii. The transition from one place to another, across space and time.

In one devastating night, violin prodigy Etta Spencer loses everything she knows and loves. Thrust into an unfamiliar world by a stranger with a dangerous agenda, Etta is certain of only one thing: she has traveled not just miles but years from home. And she's inherited a legacy she knows nothing about from a family whose existence she's never heard of. Until now.

Nicholas Carter is content with his life at sea, free from the Ironwoods—a powerful family in the colonies—and the servitude he's known at their hands. But with the arrival of an unusual passenger on his ship comes the insistent pull of the past that he can't escape and the family that won't let him go so easily. Now the Ironwoods are searching for a stolen object of untold value, one they believe only Etta, Nicholas' passenger, can find. In order to protect her, he must ensure she brings it back to them— whether she wants to or not.

Together, Etta and Nicholas embark on a perilous journey across centuries and continents, piecing together clues left behind by the traveler who will do anything to keep the object out of the Ironwoods' grasp. But as they get closer to the truth of their search, and the deadly game the Ironwoods are play­ing, treacherous forces threaten to sep­arate Etta not only from Nicholas but from her path home . . . forever
Why do I continue to do this to myself?  I swear, I think I just like torturing myself.  I knew better than to read an Alex Bracken novel without having the sequel in my greedy little hands.  Passenger is just as amazing as I'd hoped but my heart broke when I reached the end and found out I was going to have to wait another year for the sequel after that seriously major cliffhanger.  I knew better.  Really.  I did.  However, if you're like me and just can't wait when a favorite author has a new book out, here are the good things about Passenger.
Pros:
Characters: I can honestly say that every character in this book held some appeal for me.  Even the bad guys were awesome.  It's not that I liked them all but every single character had serious depth and the ability to surprise me.  Nicholas was definitely my favorite though.  He lived through so much hardship and adversity and yet he was still such a good person.  The same could not be said for Sophia.  That girl is on my shit list.  As for Etta, she was pretty bad ass.  She was thrust into so many different time periods and places that she knew nothing about and she took it all in stride.  Not only that, she did it all under serious pressure.  She was impressive.
Romance: I'm a sucker for romance and Nicholas and Etta's was adorable.  Nicholas didn't think very highly of himself and he couldn't have imagined a girl like Etta ever falling for him so it was tough for him to take in.  I think that made me like him even more.  He didn't take her for granted or her interest in him.  As for Etta falling for Nicholas, I can't blame the girl.
Setting:  I guess this one would be better classified as settings.  Passenger takes place over many years and in many different places.  Alexandra Bracken did an amazing job setting up each place and time.  I honestly don't know how she managed it.  The amount of research that had to go into each setting just boggles me.  Each different place and time period was full of so much history and depth.  It's not just that she chose amazing places but she also chose to have Nicholas and Etta be in these places during some crazy time period like London during the war.  I have to give her props for the setting above everything else.
Story:  I truly didn't know how anything was going to come together but it all fit together so seamlessly.  I love time travel stories but I'm also typically scared to read them because they can come across so choppy and undeveloped.  That was not the case with the story in Passenger.  The passages, the settings, the clues; everything somehow just fit and worked for the story.  There were no extraneous details and while things were a little confusing at first, it makes sense as you read more of the story.
Writing:  Alexandra Bracken became one of my favorite authors because she is such a fabulous writer and Passenger really cements that.  I find that with historical novels like this one (calling it that because a lot of it takes place in the past) the writing can either make or break the story.  Alexandra Bracken's beautiful writing made this story come to life in my head.
Cons:
History: I'm a history buff and I'm not afraid to say it.  However, even to me some of the history seemed a little heavy.  It was pretty much just in the beginning of the book and I feel like it maybe just felt that way because the pacing is a bit slower to start but I was a little confused at some parts.  Don't get me wrong, I loved the history that was woven into the story but when I was just trying to figure out the time travel and the plot, it added a bit more confusion for me.  Once I got past maybe the first 100 pages though it stopped feeling that way.
Pirates?: I can't really say this is a terrible thing but I was hoping for a story with pirates and more ships.  Technically, Nicholas is a pirate but he's not the kind I was thinking of.  And yes it starts out on a ship but not much of it actually takes place there.  This point is more just for me though because the cover had my hopes up.  Also, this point didn't really take anything away from my enjoyment of the book.
Overall, Passenger is a hefty book that you will honestly wish there was more of when you finish it.  Nicholas and Etta's story is really just beginning and I'm dying to see where it goes next in Wayfarer.  You can bet your butts I'm going to be getting that one the day it comes out.
What others are saying about Passenger:
Christina Reads YA's review: "If you're a The Darkest Minds fan, I do think that you're going like Passenger; there's a similar blend of cinematic action, romance, suspense, and emotionally charged situations."
Caffeinated Book Reviewer's review: "If you are looking for a brilliant adventure with a little swoon, I invite you to book your passage on the Passenger."