I am the worst when it comes to adding books to my TBR.  It doesn't help that the ALA MW conference took place a few weeks ago.  I went through everybody's book hauls and added so many new titles to my TBR.  Oops.  Here are 10 recent adds.  Hopefully you find something new to add to your TBR.
I adore the cover of this one and it sounds like my kind of book.  Four former friends embark on an all night adventure the night before the SATs during a crazy thunderstorm and there is romance and friendship.  I don't know the exact release date but it'll be out sometime this year from Simon Pulse.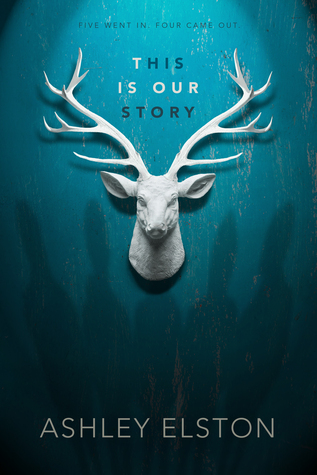 Once again, this was a cover add but it also has an amazing synopsis.  Five boys go hunting and only four return.  The fifth was shot and killed on the trip and none of the boys will admit what happened.  Kate, the main character, takes it upon herself to find out the truth and uncover the mystery of who killed Grant and why.  This one will be out in November from Disney Hyperion.
I adored Jessica Spotswood's debut and while this is a completely different type of story, it sounds really great.  It's contemporary with a runaway mom coming back into her daughters life and bringing two more daughters with her.  This one will be released in May from Sourcebooks Fire.
There isn't much of a synopsis for this one but I love the cover.  A girl is kicked out of her friend group and she begins to hang out with the "fringe crowd" at school.  Going Geek will be out in September from Random House.
This one is a debut and the synopsis is a bit confusing but it intrigued me.  I won't even try to explain it.  Just check it out on Goodreads.  This one will be released in March from Random House.
Time travel.  What more do I have to say?  This one will be released in April from Albert Whitman & Company.
A famous girl goes missing and her former best friend is the prime suspect?  I'm all over that.  Girl Last Seen will be released in March from Albert Whitman & Company.
Everything about this book (except maybe the cover) appeals to me.  A hurricane is coming and two neighboring families evacuate together.  One of those people just happens to be the former quarterback who went to juvie and came back a changed person.  I'm assuming there is going to be romance with this bad boy neighbor.  Hurricane Kiss will be released in May from Albert Whitman & Company.

I'm not a huge science fiction fan but this one sounds interesting, especially since the main character is autistic.  This one will be out in March from Amulet Books.
I admit that I just added this one because I was adding almost all of Random House's upcoming releases to my TBR but after reading the synopsis, I really do think I'll like it.  A girl's brother dies and months later she finds out he was an organ donor and wants to track down the people his organs went to.  It will be out in February from Random House.
I know I totally have a problem when it comes to adding books to my TBR but don't they all look amazing?  Are any of these on your TBR?