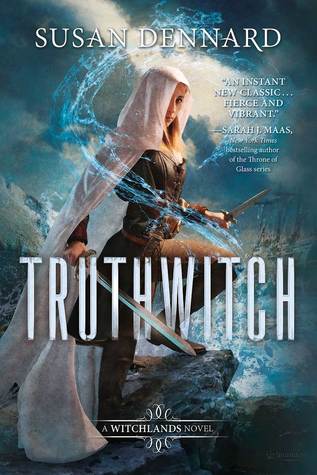 Truthwitch

by Susan Dennard
Series: The Witchlands #1
Published by Tor Teen on January 5, 2016
Genres: Fantasy
Pages: 384
Format: ARC
Source: BEA
Buy on Amazon
Goodreads


On a continent ruled by three empires, some are born with a "witchery", a magical skill that sets them apart from others.

In the Witchlands, there are almost as many types of magic as there are ways to get in trouble—as two desperate young women know all too well.

Safiya is a Truthwitch, able to discern truth from lie. It's a powerful magic that many would kill to have on their side, especially amongst the nobility to which Safi was born. So Safi must keep her gift hidden, lest she be used as a pawn in the struggle between empires.

Iseult, a Threadwitch, can see the invisible ties that bind and entangle the lives around her—but she cannot see the bonds that touch her own heart. Her unlikely friendship with Safi has taken her from life as an outcast into one of reckless adventure, where she is a cool, wary balance to Safi's hotheaded impulsiveness.

Safi and Iseult just want to be free to live their own lives, but war is coming to the Witchlands. With the help of the cunning Prince Merik (a Windwitch and ship's captain) and the hindrance of a Bloodwitch bent on revenge, the friends must fight emperors, princes, and mercenaries alike, who will stop at nothing to get their hands on a Truthwitch.
I contemplated writing a one sentence review for Truthwitch. Basically, I was just going to say 'go buy the book.'  At this point it seems like that is the only coherent thing I have to say about Truthwitch.  I figured you guys might not appreciate that though so here goes nothing.
Truthwitch is your typical fantasy novel, at first.  It takes some to build up the world and it took me some time to figure out what all the words meant and how to pronounce things.  However, after that, it's completely unique.  Susan Dennard has crafted a story full of wonderful new characters, creative abilities, and there are even clever curse words.  How can I start using 'goat tits' on a regular basis?
Safi and Iseult have a special relationship.  They are 'threadsisters' meaning they might as well be actual sisters.  They have a bond that is tested constantly but never breaks.  Safi would give up her life for Iseult and Iseult would do the same for Safi.  They couldn't be more different though.  Safi is hot-headed and a smartass.  She was born into a powerful family but she wants nothing to do with them or her legacy.  Iseult ran from her tribe and Safi, Mathew, and Habim are her family now.  She's quiet and methodical but she has a tendency to panic when Safi isn't by her side.  Together, they make one great team.  They are strong apart but they are unstoppable together.  They also manage to get into a ton of trouble together.
Safi and Iseult spend much of their time on the run.  From the start of the book you know that they are in serious trouble and it only gets worse.  They have a vindictive Bloodwitch out to get them and he's not the only one trying to find them.  They are on the run from tons of people and it's up to the people on their getaway ship to keep them safe.  That's not the ship crew's only priority though.  Prince Merik, the captain of the ship they are on, as well as the Prince of Nubrevna, is out to save his people.  Safi is not his first priority and Iseult is even further down his list of people to worry about.  He's not a bad guy, by any means, but he has a lot of worries without having to deal with Safi and Iseult.  That doesn't mean he doesn't come to care about the two of them though.  Let me just say, Safi and Merik have two very crazy tempers between the two of them and it makes for some explosive encounters.  Their first meeting is very memorable and they only get better from there.
The abilities that some of the characters are gifted with also help make this a completely unique book to read.  Not all people have a gift and some have gifts that are more rare than others.  Safi, for example, is  a Truthwitch.  She can tell truth from lie and she is one of the only (if not the only) Truthwitch.  Merik is a Windwitch which is more common.  Not only do the abilities differ by person but so do the powers that come with their abilities.  Some are much stronger than others.  It all depends on the person.  I look forward to finding out a lot more about the abilities of each character and exactly what they can do with those abilities.
The relationships in Truthwitch are varied and complicated.  Safi and Iseult have one of the easiest relationships of the book.  They'd do anything for each other and that's all that matters.  Then there is Iseult and Evrane.  Evrane saves her life more than once and there is some kind of tie there that I hope will be expanded upon in future books.  Then there is Evrane and Merik.  They are family but they have a very strained relationship.  There is history there that I look forward to finding out about.  Then there is Merik and Safi.  Holy sexual tension, you guys! Like I said, they are kind of explosive and I meant that in more ways than one.  There is also Merik and his first mate, Kullen.  They have a bond very similar to Safi and Iseult's.  They love each other like brothers and I think it hurts Merik more to see Kullen hurt than it would for him to deal with his own pain.  My heart broke for their struggles.  And don't even get me started on how the Bloodwitch Aeduan ties into everything.  I didn't think Susan Dennard could surprise me any more by the end of this book but she totally did.
Overall, Truthwitch has everything I could have wanted and more.  It's a story featuring strong female and male characters, romance, magic, and secrets.  I'll stop gushing now but guys, read this book.  Seriously.  It's an epic start to what promises to be a unique and captivating series.
What others are saying about Truthwitch:
The Soul Sisters' review: "You will not know what to expect with Truthwitch and when you finally dive into it and devour its words, sentences, and pages, it will blow out every expectation you have with its quickly paced and smooth story-telling, amazing, amazing characters and freaking out of this world magic-filled fight scenes, you will seriously be left begging for more."
Vilma's Book Blog's review: "It's a tale rife with magic, action, conflict and political intrigue, but at it's core,  it's a story of unshakeable friendship."