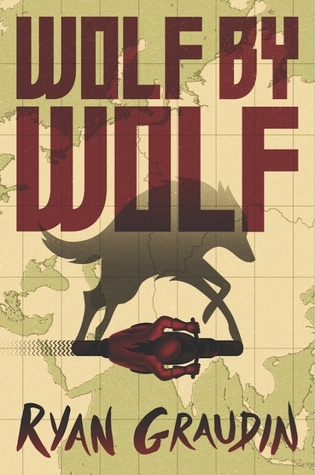 Wolf By Wolf

by Ryan Graudin
Series: Wolf by Wolf #1
on October 20th 2015
Genres: Historical Fiction
Pages: 388
Format: ARC
Source: BEA
Buy on Amazon
Goodreads


The year is 1956, and the Axis powers of the Third Reich and Imperial Japan rule the world. To commemorate their Great Victory over Britain and Russia, Hitler and Emperor Hirohito host the Axis Tour: an annual motorcycle race across their conjoined continents. The victor is awarded an audience with the highly reclusive Adolf Hitler at the Victor's ball.

Yael, who escaped from a death camp, has one goal: Win the race and kill Hitler. A survivor of painful human experimentation, Yael has the power to skinshift and must complete her mission by impersonating last year's only female victor, Adele Wolfe. This deception becomes more difficult when Felix, Adele twin's brother, and Luka, her former love interest, enter the race and watch Yael's every move. But as Yael begins to get closer to the other competitors, can she bring herself to be as ruthless as she needs to be to avoid discovery and complete her mission?
I am pretty much the biggest history buff ever.  I have a very weird fascination with anything Nazi Germany related (probably something to do with my History minor) so Wolf by Wolf was added to my TBR as soon as I heard about it.  Ryan Graudin had been on my radar since I heard about her debut novel, The Walled City, so I had pretty high expectations for this one.  I'm happy to say that this definitely met my expectations and left me dying for more.
Pros:
Writing:  Ryan Graudin's writing is seriously beautiful.  You have to know going into the story that it's going to be depressing.  Yael is a Jew who watched everyone she loved die because of Hitler.  Some of the chapters take place in the concentration camp that she is imprisoned in and it's extremely hard to read.  Ryan Graudin's writing honestly adds to the depressing air but also shows the beauty in everything Yael goes through.
Characters: Yael is obviously the main focus of this story but there are many more characters who fill the pages with her.  The depth that went into each character was pretty fantastic.  Yael is this badass who was raised in a terrible situation.  She spent time in a concentration camp and had to see most of the people she loved die.  Even when she left the concentration camp, she couldn't escape death.  It seemed like that was a big reason for why she chose to take on the task of killing Hitler.  Having lost so much, she didn't want to see anyone else suffer like that.  She also wasn't afraid to die.  She knew it was a strong possibility when she took on Adele's life.  I had some mixed feelings towards the people who put her in that situation though.  Everyone in the resistance wanted one thing and that was to rid the world of Hitler.  They knew that they would lose people to the cause and they were willing to take that chance with Yael's life.  I truly think they loved her but they were more concerned with the world than with just one person.  It was hard for me to think of it that way but I understood why they were willing to put her life so at risk.
Romance: The romance in Wolf by Wolf is really subtle and I loved that about it.  Yael is posing as someone who has a history with Luka so of course there has to be something there.  However, it's hard to tell where things are going to go with them.  Luka and Adele have a history (that no one knows all the details about, including the reader) so Yael has to figure out that history and guess how she needs to act with Luka.  Luka doesn't make any of these things easy for Yael.  He's kind of an ass but I have a feeling that has something to do with Adele's actions in the past.  Their interactions with each other were really pretty great.  They had some serious chemistry and the banter between the two of them was perfect.  I really thought it helped lighten the mood at times.
Family: I have to mention how much I loved Felix.  I know he was trying to stop Adele and bring her home to their family but it was because he loved her and feared for her safety.  He was a good brother and he always meant well.  That wasn't the only family in the book though.  I have to say that while Yael lost her real family, the resistance pretty much adopted her.  She created a family within in the resistance and even though they were willing to risk her safety, they loved her.  Family doesn't always have to be about the ones who share your blood.
Con:
Unanswered Questions: I really only have one complaint about Wolf by Wolf and it's the mystery surrounding Adele and Luka's history.  I know that it will eventually be explained (in the novella or sequel) but I really think it would have added to this story.  I just kept wondering what could have led up to their end of the first race.  I think I'm just being nitpicky now because I truly did love this book.
Overall, I can't recommend Wolf by Wolf enough.  I know it's been getting a lot of praise and it deserves every bit of it.  Even if historical fiction isn't really your thing, you should give this one a chance.  I don't think you will regret it one bit.
What others are saying about Wolf by Wolf:
Prettybooks' review: "Wolf By Wolf is a clever and impressive combination of alternate history and fantasy."
Please Feed the Bookworm's review: "I was on the edge of my seat for this entire read!"