I don't know if you guys have noticed but my rating system is shoes.  I have a thing for shoes.  (Some might call it an unhealthy obsession and those people are entitled to their wrong opinion.)  My love for shoes means I'm extremely excited to share with you this awesome guest post from Jessica Spotswood that just happens to be all about shoes!
Everyone welcome to wonderful Jessica Spotswood!
Hi! I couldn't help noticing that Katie uses shoes to rate books, so I thought for this stop on the TYRANNY OF PETTICOATS blog tour, I'd share some crazy historical shoes that our 15 heroines might – or in some cases definitely would NOT – have worn!
In J. Anderson Coats's "Mother Carey's Table," a runaway slave girl poses as a sailor boy – but the truth is exposed, with devastating consequences, when she tries to sink the Spanish warship threatening her crew (1710: British North America)
Would these men's boots, circa 1700-1710, help convince Half-Hanged Henry (the pirate captain) that Joe is a boy?
In Marie Lu's "The Journey," Yakone, a young Inuit girl, flees across the frozen tundra after the murder of her parents and the destruction of her family's village by white traders. (1723: The Great Land)
These European shoes from 1720 are made of wool, but I don't think they'd be nearly warm (or practical) enough as Yakone drives her father's dogs across the frozen tundra!
In Jessica Spotswood's "Madeleine's Choice," a free girl of color seeks advice from voodoo queen Marie Laveau to choose between the longtime family friend, a respectable middle class man of color, who has offered her marriage — and the romantic, wealthy white planter who cannot. (1826: New Orleans)
These red French satin shoes from the 1820s would definitely turn Maddie's head, much like wealthy planter Antoine!
In Leslye Walton's "El Destinos," the Three Fates are reborn as a trio of Mexican American sisters whose responsibility to control the threads of life and death is tested when two of them fall in love with the same man. (1848: Southwest Texas)
Would these delicate Italian slippers, made of silk satin, sueded leather, linen, kid leather, brass, and pearls, be something like what Rosa would wear for her wedding?
In Andrea Cremer's "High Stakes," a supernatural assassin is hired to protect a powerful player in the poker game that will determine which side the supernatural world will take in the Civil War. (1861: Boston, Massachusetts, and Natchez, Mississippi)
How gorgeous are these red leather boots from around 1865? I can picture deadly Klio wearing them as she boards the steamship.
In Caroline Tung Richmond's "The Red Raven Ball," a bluestocking debutante is tasked with finding the Confederate spy at her formidable grandmother's annual ball – with surprising results. (1862: Washington, DC)
These gorgeous embroidered slippers from the 1860s would be perfect for the annual ball!
In Beth Revis's "Pearls," a privileged young woman flees a forced marriage to become a schoolteacher in the rough Wyoming Territory and learns courage from her ragtag band of students.  (1876: Chicago, Illinois, and Cheyenne, Wyoming Territory)
These bright purple "boudoir slippers" from the 1870s were basically loungewear. Would Helen leave behind fancy shoes like this when she flees Chicago?
In Marissa Meyer's "Gold in the Roots of the Grass," Fei-Yen, a Chinese American medium, helps a young prospector's spirit find justice for his murder. (1877: Deadwood, Dakota Territory)
Would Fei-Yen wear black boots like these from the 1870s as she tries to fend off greedy prospectors hoping for clues about where to find gold?
In Y.S. Lee's "The Legendary Garrett Girls," two sisters fight back against the unscrupulous con man, Soapy Smith, who tries to take over their prosperous frontier saloon. (1898: Skaguay, Alaska)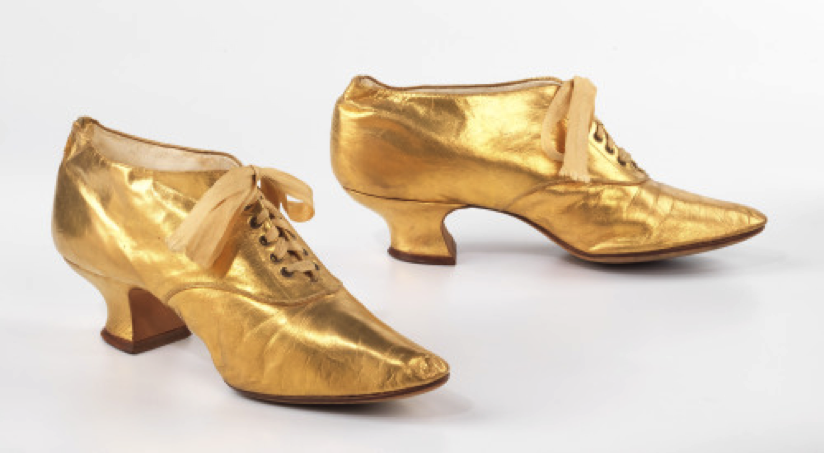 Okay, I don't see either Lily or Clara wearing these fabulous gold evening shoes from 1898…but they seem perfect to represent the story, considering how mad people went in the Alaskan Gold Rush!
In Elizabeth Wein's "The Color of the Sky," Antonia meets her hero, aviatrix Bessie Coleman; bears witness to Bessie's death in a tragic flying accident; and finds herself in possession of the plane's flight record. (1926: Jacksonville, FL & Dallas, TX)
I can't quite see sensible middle-class Tony wearing these black and gold heels from 1926, but perhaps Bessie would at some fine dinner, while fundraising for her flight school?
In Saundra Mitchell's "Bonnie and Clyde, " Marjorie May Johnson doesn't see any conflict in running from the law as Baby Boy Wabash, the Most Wanted bank robber in Posey County, and later snuggling up to the same lawman, who just happens to be her beau. (1934: Indiana)
Great Depression? What Depression, asks these crazy Ferragamo sandals from 1938?
…I don't even know what's happening with these furry Schiaparelli boots but I couldn't resist including them.
In Katherine Longshore's "Hard Times," Rosie "Curls" Weaver hops trains toward the coast in search of a better opportunity – and may find one when she meets a journalist searching for the truth about hobo camps. (1934: Washington State)
Would Rosie wear this pair of men's black and white brogues, circa 1930-1935, as she jumps trains?
In Lindsay Smith's "City of Angels," an aspiring screenwriter falls in love with a fellow Rosie the Riveter who's an aspiring actress – but things change when the men return from war. (1945: Los Angeles, CA)
How gorgeous are these purple silk heels from 1945? I can totally see aspiring actress Frankie coveting them!
In Kekla Magoon's "Pulse of the Panthers," Sandy's worldview is changed when the Black Panthers hold a meeting at her family's farm and she learns secrets about her own family's history. (1967: California)
These…uh…whimsical sandals from 1968 are in no way practical for Sandy's work cooking up breakfast and supper for the Black Panthers, but I couldn't resist including them!
Same with these, but I'd totally wear them!
In Robin Talley's "The Whole World Is Watching," Jill, a Black college student, questions her relationship with her girlfriend as they get caught up in the riots and police brutality of the 1968 Democratic National Convention.  (1968: Chicago, IL)
These 1968 boots are fit for a superhero, but I don't think they're quiiiite what Jill would be wearing to run from the cops and tear gas in Grant Park!
What do you think, readers? Which pair of shoes is your favorite?
Make sure to check out the rest of the blog tour for more amazing posts!