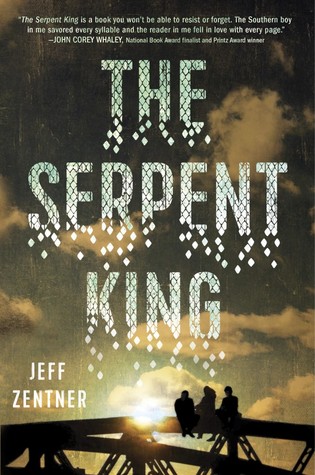 The Serpent King

by Jeff Zentner
Published by Crown Books for Young Readers/Random House on March 8th 2016
Genres: Contemporary
Pages: 384
Buy on Amazon
Goodreads

Dill has had to wrestle with vipers his whole life—at home, as the only son of a Pentecostal minister who urges him to handle poisonous rattlesnakes, and at school, where he faces down bullies who target him for his father's extreme faith and very public fall from grace.
He and his fellow outcast friends must try to make it through their senior year of high school without letting the small-town culture destroy their creative spirits and sense of self. Graduation will lead to new beginnings for Lydia, whose edgy fashion blog is her ticket out of their rural Tennessee town. And Travis is content where he is thanks to his obsession with an epic book series and the fangirl turning his reality into real-life fantasy.
Their diverging paths could mean the end of their friendship. But not before Dill confronts his dark legacy to attempt to find a way into the light of a future worth living.
A playlist for DILL, one of the three main characters in The Serpent King

Chvrches—Tether
https://www.youtube.com/watch?v=d-zN2KmHg0s
Dill would love this song because he would find very resonant the idea of wondering if he'll ever get away from a place that's got him tethered. The energy and intelligence of Chvrches' lead singer would remind him of Lydia, so he would have a crush on her. And their sound would remind him of the 1980s goth music that Lydia loves.
 Sharon Van Etten—Serpents
https://www.youtube.com/watch?v=hYgyQ20TJAs
Dill would love this song because it's about personal demons and they just happen to take the form of serpents, just like his. Sharon Van Etten got her start in Murfreesboro and is one of the real-life models for Dill. I imagine his songwriting being similar to hers in its nakedness and vulnerability.
Strand of Oaks—Wait for Love
https://www.youtube.com/watch?v=hqPUotRW7CQ
Dill would love this song because it makes beauty out of waiting to be loved, which is a struggle Dill knows intimately. I picture Dill's voice having the same soaring quality as Timothy Showalter's.
 Joy Division—Love Will Tear Us Apart
https://www.youtube.com/watch?v=zuuObGsB0No
Dill loves this song because it's Lydia's favorite song. Period. But he also loves it because it's gloomy and poetic and Dill loves gloomy and poetic things. Also, there's a strangely hopeful lilt in the song, the way Dill holds onto hope even when he doesn't know he is.
New Order—True Faith
https://www.youtube.com/watch?v=mfI1S0PKJR8
Dill loves this song because it talks about destiny and coming of age. It talks about unexpected turns in life. And plus, when Dill's mom asks the title of one of New Order's songs after Dill's told her that they're a Christian band, it sounds great for him to say "True Faith." That goes over well in the Early household.
Don't forget to check out the rest of the blog tour!
Monday, February 22: Jenuine Cupcakes, Kickoff Blog Tour Post
Tuesday, February 23: Book Hounds, Review
Wednesday, February 24: Mundie Moms, Review
Thursday, February 25: Curling Up With a Good Book, Review
Friday, February 26: To Read or Not to Read, Annotate a Scene Guest Post
Monday, February 29: Bookish Lifestyle, Review
Tuesday, March 1: The Book Swarm, Review
Wednesday, March 2: Katie's Book Blog, Playlist Post
Thursday, March 3: Paperback Princess, Guest Post: Writing a Character with a Parent in Prison
Friday, March 4: Who R U, Behind the Scenes Book Secret Guest Post
Monday, March 7: Icey Books, Review
Tuesday, March 8: Stories & Sweeties, Author Interview
Wednesday, March 9: LovingDemBooks, Review
Thursday, March 10: Swoony Boys Podcast, Review
Friday, March 11: Good Books And Good Wine, Review
Monday, March 14: Winter Haven Books, Review
Tuesday, March 15: Me, My Shelf and I, Review
Wednesday, March 16: Novel Novice, Review
Thursday, March 17: Lili's Reflections, Review
Friday, March 18: A Reader of Fictions, Author "Don't Miss" in Nashville Guest Post