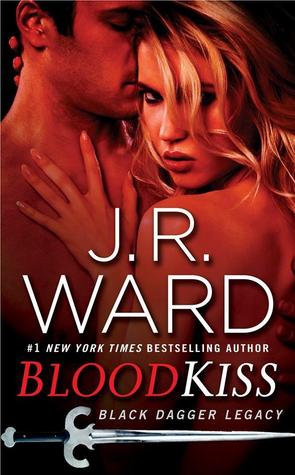 Blood Kiss (Black Dagger Legacy, #1)

by J.R. Ward
Series: Black Dagger Legacy #1
Published by Signet on December 1st 2015
Genres: Paranormal
Pages: 397
Format: ebook
Source: Bought
Buy on Amazon
Goodreads


The legacy of the Black Dagger Brotherhood continues in a spin-off series from the #1 New York Times bestselling author…

Paradise, blooded daughter of the king's First Advisor, is ready to break free from the restrictive life of an aristocratic female. Her strategy? Join the Black Dagger Brotherhood's training center program and learn to fight for herself, think for herself…be herself. It's a good plan, until everything goes wrong. The schooling is unfathomably difficult, the other recruits feel more like enemies than allies, and it's very clear that the Brother in charge, Butch O'Neal, a.k.a. the Dhestroyer, is having serious problems in his own life.

And that's before she falls in love with a fellow classmate. Craeg, a common civilian, is nothing her father would ever want for her, but everything she could ask for in a male. As an act of violence threatens to tear apart the entire program, and the erotic pull between them grows irresistible, Paradise is tested in ways she never anticipated—and left wondering whether she's strong enough to claim her own power…on the field, and off.
I admit I wasn't sure that I wanted to start this series.  While I love the Black Dagger Brotherhood series, I'm already 14 books in with that one and I have a feeling the Black Dagger Legacy series will be just as long.  I don't normally get into series that go on that long but I really liked Paradise and Craeg from The Shadows so I wanted to continue their story.  I'm happy I chose to start this series and I plan on keeping up with it as the rest of the books come out.  I don't know why I'm surprised that J.R. Ward  has hooked me once again.
Pros:
Story: The story hooked me from page one.  I loved the idea of having some new members trained to join in on the Black Dagger Brotherhood's fight against the Lessening Society.  I also loved the idea of seeing what goes into the training required to be a fighter with the Black Dagger Brotherhood.  While this was a huge part of the story, it wasn't the whole story.  J.R. Ward is a master at weaving together multiple stories and she did a great job with everything that was included in Blood Kiss.  Craeg and Paradise's story takes center stage and much of their story involves the training program but they aren't the only two who have a role in Blood Kiss.  Marissa and Butch's story is brought back to front and center when a severely wounded female is found outside Safe Place.  The mystery surrounding her circumstances not only brings in the new trainees but also brings to light some issues that Marissa and Butch have been having with their relationship.  There is so much going on in the story that you will not be able to stop reading.
Characters: I loved being introduced to so many new characters while still showing us all the original characters we've come to love from the original series.  Weaving together both Craeg and Paradise's story with Butch and Marissa's really worked for Blood Kiss. I didn't feel like it was one of the original books but we still got to see glimpses of everyone else.  The trainees were a varied mix of people that I grew to love over the course of the book.  Paradise was raised to be part of the upper class but that's not what she wanted out of her life and she was willing to do whatever it took to change her circumstances.  Craeg was a bit broody and mysterious but his story really broke my heart.  Axe, Peyton, Novo, Anslam, and the other trainee whose name I cannot remember were developed only briefly in Blood Kiss but I look forward to finding out more about all of them in the future books.
Pacing: While I love the original series, I felt like Blood Kiss had a bit better pacing than that series.  Things took off from page one and didn't slow down even once.  There is no such thing as a short J.R. Ward book (which I'm perfectly happy with) but this one read a lot faster than the Black Dagger Brotherhood books and it seemed like a much shorter book.  I honestly can't say exactly what caused that but I think readers will find that this one is actually a surprisingly quick read.
Cons:
Romance: While I loved Craeg and Paradise as separate characters, I wasn't all that impressed with them as a couple.  Things between them were very back and forth and Craeg's reactions a lot of the time got on my nerves.  Paradise was part of the trainee group because of her own merits and strengths but Craeg still looked at her like she was fragile.  He couldn't see how he would be good for her and he kept pushing her away because of that, no matter what Paradise wanted.  Their relationship also seemed to be very physical and I would have liked to see more of the emotional side of things.
This doesn't affect my review in any way but I felt like I should throw this out there.  If you haven't read the original Black Dagger Brotherhood series, you can still read Blood Kiss.  You also don't really need to read Blood Kiss to continue with the Black Dagger Brotherhood series.  However, I think both series' offer more information to readers and I'd highly recommend reading both of them and reading them as they come out.  I plan on staying up to date with both series so that I don't miss out on anything but that might just be due to my obsession with this series and all things J.R. Ward.
Overall, Blood Kiss will definitely appeal to fans of the Black Dagger Brotherhood series and if you've been on the fence, I suggest checking it out.  Also, if you've been thinking about starting the Black Dagger Brotherhood series but are intimidated by how many books there are, you could always start with Blood Kiss and see how you feel about things before starting the other series.  I guess, what I'm saying is, check out Blood Kiss if you're a fan of the paranormal.  I can't get enough of these vampires.