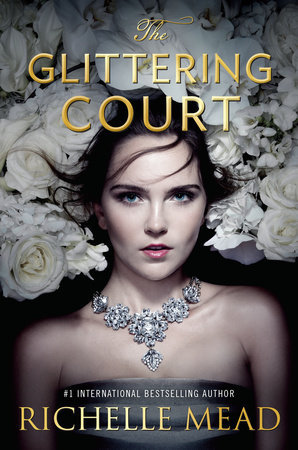 The Glittering Court (The Glittering Court, #1)

by Richelle Mead
Series: The Glittering Court #1
Published by Razorbill on April 5th 2016
Genres: Fantasy
Pages: 416
Format: ARC
Source: Publisher
Buy on Amazon
Goodreads


Big and sweeping, spanning from the refined palaces of Osfrid to the gold dust and untamed forests of Adoria, The Glittering Court tells the story of Adelaide, an Osfridian countess who poses as her servant to escape an arranged marriage and start a new life in Adoria, the New World. But to do that, she must join the Glittering Court.

Both a school and a business venture, the Glittering Court is designed to transform impoverished girls into upper-class ladies who appear destined for powerful and wealthy marriages in the New World. Adelaide naturally excels in her training, and even makes a few friends: the fiery former laundress Tamsin and the beautiful Sirminican refugee Mira. She manages to keep her true identity hidden from all but one: the intriguing Cedric Thorn, son of the wealthy proprietor of the Glittering Court.

When Adelaide discovers that Cedric is hiding a dangerous secret of his own, together they hatch a scheme to make the best of Adelaide's deception. Complications soon arise—first as they cross the treacherous seas from Osfrid to Adoria, and then when Adelaide catches the attention of a powerful governor.

But no complication will prove quite as daunting as the potent attraction simmering between Adelaide and Cedric. An attraction that, if acted on, would scandalize the Glittering Court and make them both outcasts in wild, vastly uncharted lands…
Richelle Mead made me fall in love with her writing years ago when I read Vampire Academy.  I never expected to find something of hers that I loved more than that series (c'mon, Rose and Dimitri?  Can it get any better than that?) but I was wrong.  The Glittering Court is Richelle Mead's best book so far, in my opinion.
Pros:
The romance: Richelle Mead's books never lack in the romance department and that's the same with The Glittering Court.  While the attraction between Adelaide and Cedric is immediate, the romance is not.  In fact, I was really hoping something would start up between them way before it actually did.  They built up a wonderful relationship as friends (kind of) before they ever became romantically involved and it just made it that much sweeter when they did get together.  They had some serious chemistry and some wonderful banter.
The story: The Glittering Court is classified as fantasy but it's almost like an alternate history.  Adelaide and the other girls in The Glittering Court travel to a new land where they will no longer be bound by their original stations in life, whether it be a maid or servant like most of the girls or a noblewoman such as Adelaide.  While they do have to marry once they reach the new land, they get to choose their husband and can even buy their own way out of their contracts if they can come up with the money.  This new land offers religious freedom for some of them as well as a chance at wealth.  The Glittering Court almost reads like historical fiction which I loved.
The suspense: I never knew what was coming next and I'm still reeling over some of the things that happened.  Let me just say, if you want a neat and tidy ending with all your questions answered, this is not the book for you.  The Glittering Court is very much the first book in a series and it sets readers up with quite a few questions and only some of the answers.  Richelle Mead definitely knows how to keep her readers guessing and coming back for more.
The friendships: I think this is one of the big reasons The Glittering Court will appeal to Richelle Mead's previous fans.  If you've read Vampire Academy, you know that Richelle Mead writes about strong bonds between friends (Lissa and Rose) and that those bonds are always amazing. That's the same with Adelaide, Mira, and Tamsin.  They couldn't be more different but they become fast friends during their time at the Glittering Court.  They have their fights and they keep their secrets sometimes but they always come back to each other and each girl has something unique and important to offer to the friendship.
Overall, there are no cons with The Glittering Court.  It's perfection in book form.  Fans of Richelle Mead will find many things to love about it that will remind them of their favorite book from her.  New readers of Richelle Mead will seek out more of her work after reading this one.  You can't go wrong with The Glittering Court.