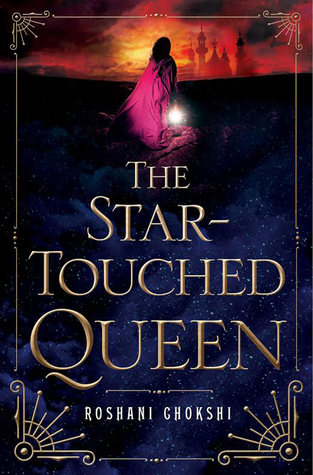 The Star-Touched Queen

by Roshani Chokshi
Published by St. Martin's Griffin on April 26th 2016
Genres: Fantasy
Pages: 352
Format: ARC
Source: Publisher
Buy on Amazon
Goodreads


Fate and fortune. Power and passion. What does it take to be the queen of a kingdom when you're only seventeen?

Maya is cursed. With a horoscope that promises a marriage of Death and Destruction, she has earned only the scorn and fear of her father's kingdom. Content to follow more scholarly pursuits, her whole world is torn apart when her father, the Raja, arranges a wedding of political convenience to quell outside rebellions. Soon Maya becomes the queen of Akaran and wife of Amar. Neither roles are what she expected: As Akaran's queen, she finds her voice and power. As Amar's wife, she finds something else entirely: Compassion. Protection. Desire...

But Akaran has its own secrets -- thousands of locked doors, gardens of glass, and a tree that bears memories instead of fruit. Soon, Maya suspects her life is in danger. Yet who, besides her husband, can she trust? With the fate of the human and Otherworldly realms hanging in the balance, Maya must unravel an ancient mystery that spans reincarnated lives to save those she loves the most. . .including herself.

A lush and vivid story that is steeped in Indian folklore and mythology. The Star-Touched Queen is a novel that no reader will soon forget.
The Star-Touched Queen, Roshani Chokshi's debut novel, will have you shaking your head in disbelief that it is, in fact, a debut novel.  The Star-Touched Queen reads like Roshani Chokshi has been writing her whole life and I'm sure this will not be the only wonderful, heartbreaking book we get from her.
Pros:
Romance: While it might come across a bit like insta-love at first, that really isn't what is going on. Amar and Maya didn't really have much of a choice when it came to starting up a really quick relationship.  They got married the first time they met.  That's just how it was.  However, their attraction made their marriage not quite as tough as it could have been.  Amar and Maya's personalities fit together and they each brought different things to their relationship and their roles as leaders.  While Amar was quite closed off and a bit hard to read, Maya was the opposite.  She had a bit of a temper and she wasn't afraid to say what she wanted and to go after it.  It also didn't hurt that once they got to know each other, their chemistry was even better.  Roshani Chokshi managed to make all of their scenes together both steamy and sweet.
Characters: It's not often that I like all the characters and find them to be well-developed but that was the case with The Star-Touched Queen.  Maya was dealt a poor hand in life due to her horoscope and the kingdom she lived in.  It was predicted that she would bring death and destruction to whoever she married.  It made many people scared of her and needless to say, made marriage kind of out of the picture for her.  Not that she minded that.  She smart and witty and fierce.  Amar, like I said, was kind of mysterious, in a tall, dark, and handsome way.  His personality was hard to gauge at first but once in his kingdom, he started to come out of his shell more.  He was sweet but also smart and cunning.  The harem wives were all very superstitious women who were pretty terrible.  Gauri, Maya's half-sister, was adorable at first and fierce later on.  She was strong and smart and willing to do whatever it took for her kingdom and the people she loved.  Gupta was funny and a little odd.  Kamala had to be my favorite though.  I can't even begin to describe her but she was funny in a morbid and quirky way.  She was fiercely protective of Maya and yet managed to keep a sense of humor even when defending her.  I wasn't sure it was possible that even demon animals could be well-developed characters but Roshani Chokshi proved me wrong.
Setting: The Star-Touched Queen is set in both the kingdoms of Bharata and the kingdom of Akaran.  Both settings were extremely vividly detailed.  Bharata was both a gorgeous kingdom and a kingdom torn apart by war.  The Night Bazaar seemed like an awesomely creepy place but maybe could have used a little more development.  Akaran was, by far, my favorite though.  There were mirrors showing everything but your reflection, gardens made out of glass, and a tapestry full of mystery and fate.
Plot: At first, I really wasn't sure what I was going to get with The Star-Touched Queen.  The synopsis on the back of the book doesn't really say much and I actually really like that about it.  I went in not knowing what to expect and I felt like I got more mystery out of it.  There were a few things that I guessed along the way but I think if I had actually read the full synopsis, I would have guessed them a lot sooner.  However, I think I only guessed those things because of my knowledge of some Indian folklore.  If you don't know any Indian folklore, you are in for a lot of twists and turns and I was still shocked by a lot of things.  Things are a little slow to start but not very.  Maya's story really starts to take off early in the book and since it is a standalone, everything has to happen pretty quickly.  That's not to say that anything is rushed though because it's not.  And since it is a standalone, everything was wrapped up quite nicely and while I would never say no to more stories set in this world, I was happy with how things ended.
Overall, The Star-Touched Queen has a spot on my favorites shelf, that's for sure.  I highly recommend it, especially for fans of Laini Taylor's Daughter of Smoke and Bone series.  While the stories are each uniquely different, I couldn't help getting the same type of vibe from this one and that is high praise.  I look forward to more from Roshani Chokshi.