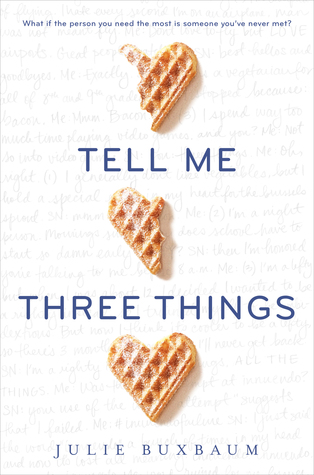 Tell Me Three Things

by Julie Buxbaum
Published by Delacorte Press on April 5th 2016
Genres: Contemporary
Pages: 336
Format: Hardcover
Source: Publisher
Buy on Amazon
Goodreads


Everything about Jessie is wrong. At least, that's what it feels like during her first week of junior year at her new ultra-intimidating prep school in Los Angeles. Just when she's thinking about hightailing it back to Chicago, she gets an email from a person calling themselves Somebody/Nobody (SN for short), offering to help her navigate the wilds of Wood Valley High School. Is it an elaborate hoax? Or can she rely on SN for some much-needed help?

It's been barely two years since her mother's death, and because her father eloped with a woman he met online, Jessie has been forced to move across the country to live with her stepmonster and her pretentious teenage son.

In a leap of faith—or an act of complete desperation—Jessie begins to rely on SN, and SN quickly becomes her lifeline and closest ally. Jessie can't help wanting to meet SN in person. But are some mysteries better left unsolved?

Julie Buxbaum mixes comedy and tragedy, love and loss, pain and elation, in her debut YA novel filled with characters who will come to feel like friends.
I'm a huge advocate for contemporary young adult literature.  I love it and I think it doesn't get enough recognition or love from a lot of readers.  Tell Me Three Things is probably going to the top of my list of recommendations, especially for those readers that don't necessarily like contemporary.
Pros:
Characters: All of the characters in Tell Me Three Things were pretty much perfect.  Don't get me wrong, they had their flaws but that only made them better.  Jessie was a little self-centered but she kind of deserved it.  Her whole life had been uprooted and things were not great at her new school or home.  Theo was one I wasn't sure about at first but he grew on me quickly.  SN was so funny and clever and adorable.  Dri and Agnes were great friends to Jessie although I really wasn't sure they would be at first.  The same goes for Scarlett.  She and Jessie may have been separated by thousands of miles but they worked past that.  Ethan and Liam were so cute.  Liam was a little airheaded and Ethan was a little closed off but I liked them both a lot.  Probably Ethan more though because of the whole reading thing.  I'm all for the nerds.
Romance: The romance in this one was different.  Jessie and SN start out flirting and then it becomes something so much more than that.  Jessie doesn't even know who SN is but she's attracted to him on an intellectual level and their conversations were so cute and so real.  Not knowing who he was allowed her to open up to him in a way she wouldn't have in real life.  It was a little stalker like at times since he knew who she was and sometimes made comments about what she was wearing that day or doing but it was a cute stalker way.  And once I found out who SN really was, I could see how they were perfect in real life too.
Family: Jessie's family is broken and put back together in a new way and it was definitely weird for her.  Her mom died (I'll get to that next) and now she's living in LA with her dad's new wife and her teenage son.  Pretty much none of them (except her dad and his wife) want anything do with each other and I really wasn't sure how it was going to work out.  I appreciate that Julie Buxbaum didn't make it work out perfectly.  They were a broken family when the book started and they were still broken when it ended but they were working on it and that's what I loved.
Grief: Julie Buxbaum did a fabulous job with her representation of grief in Tell Me Three Things.  Jessie wasn't the only one dealing with the loss of someone.  Her dad lost his wife.  Theo lost his dad.  Theo's mom, Rachel, lost her husband.  Ethan lost a sibling.  Each of them dealt with it differently.  There is no right way to grieve someone and I loved that Julie Buxbaum could show all the different ways.
Pacing: Tell Me Three Things is a fast-paced contemporary novel.  At no point does it drag.  I couldn't stop turning the pages.  The mix of texting, IM'ing, and email messages interspersed throughout the novel also helped to move things along making it an extremely quick read.
Cons:
Mystery: Let's be real, here.  I figured out who SN was pretty early on and I think most readers probably will.  It's not that great a mystery.  It was just a little too perfect and while there were some red herrings thrown in, I never really thought they were him.  I'm not really complaining though because the mystery wasn't what kept me reading.  The story was and knowing who SN was before the big reveal didn't detract from my enjoyment of the story.
Overall, Tell Me Three Things might just make you change your mind about contemporary novels.  Julie Buxbaum's young adult debut hit it out of the park and I can't wait to see what she does next.  I hope this isn't her only foray into the YA world.