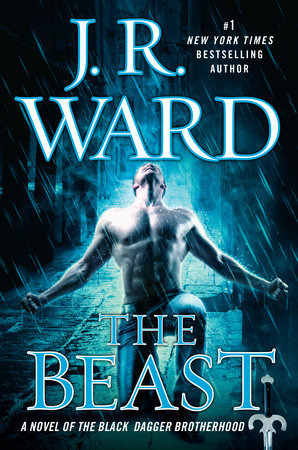 The Beast (Black Dagger Brotherhood, #14)

by J.R. Ward
Series: Black Dagger Brotherhood #14
Published by NAL on April 5th 2016
Pages: 508
Format: Hardcover
Source: Publisher
Buy on Amazon
Goodreads


Nothing is as it used to be for the Black Dagger Brotherhood. After avoiding war with the Shadows, alliances have shifted and lines have been drawn. The slayers of the Lessening Society are stronger than ever, preying on human weakness to acquire more money, more weapons, more power. But as the Brotherhood readies for an all-out attack on them, one of their own fights a battle within himself…

For Rhage, the Brother with the biggest appetites, but also the biggest heart, life was supposed to be perfect—or at the very least, perfectly enjoyable. Mary, his beloved shellan, is by his side and his King and his brothers are thriving. But Rhage can't understand—or control—the panic and insecurity that plague him…

And that terrifies him—as well as distances him from his mate. After suffering mortal injury in battle, Rhage must reassess his priorities—and the answer, when it comes to him, rocks his world...and Mary's. But Mary is on a journey of her own, one that will either bring them closer together or cause a split that neither will recover from...
By book 14, you'd think I'd be over a series but that is so not the case with the Black Dagger Brotherhood books.  J.R. Ward still manages to surprise me with the twists and turns she keeps throwing in her books.
Fair warning: review is spoiler free if you've read the first 13 books.  Otherwise, I make no promises.
Pros:
Story: Things seem to be moving along with the Lessening Society again.  The Beast starts off with a huge battle and things seem like they are finally back on track with the war between the Black Dagger Brotherhood and the Lessening Society.  I admit, it's a little frustrating because this war has been going on for 14 books and it doesn't seem like it's gone very far so it was good to see such a huge, impactful battle in The Beast.
Romance: Rhage and Mary have always been one of my favorite couples (let's be real, it's mainly because of Rhage) so I was a little nervous about the story coming back to them and threatening their relationship.  While it definitely puts things up in the air for them, it really shows that they have a strong relationship no matter what they go through and believe me, they go through a lot.  Rhage and Mary don't have a perfect relationship and they never have.  They went through a lot to get their happy ending and yeah, J.R. Ward kind of throws everything up in the air with The Beast, but she definitely knew what she was doing.
Characters: I'm still totally in love with all the original characters and I love that J.R. Ward is revisiting some of their stories but I also really like that she still manages to introduce new ones and tie all their stories together.  There is one particular character that is introduced pretty early on in The Beast who didn't make sense to the story for quite some time.  When things started to fall into place though, I couldn't believe where things were going.  It's hard to believe that I can still be so surprised by J.R. Ward's books but she manages to throw in some amazing twists that I never see coming.
Cons:
Rhage and Mary: I had some serious issues with Rhage and Mary at times throughout The Beast.  Take the very first scene, for instance.  I'm not going to spoil anything but Rhage does something so incredibly stupid and doesn't even have a very good reason for it.  He acts reckless and it really made me mad.  Then there was Mary.  Mary was so obsessed with Bitty (a child that Rhage and the brothers rescued in a previous book from her abusive father) that she loses sight of so many other things, including Rhage.  Those two had some things they needed to work out and they did not make me happy while they were working them out.  And also, they were pretty cheesy at times which is not something I ever expected from them and I didn't care much for it.
Overall, The Beast is a solid addition to the Black Dagger Brotherhood series and really sets things up for the next book and the next step in the war with the Lessening Society.  I'm looking forward to seeing what happens in book 15, especially with Xcor and Layla.
What others are saying about The Beast:
Smexybooks' review: "To be honest, I wasn't that excited for a second Rhage book, but I was pleasantly surprised by how much I enjoyed this one."
Vilma's Book Blog's review: "Life and death, marriage and love, sacrifices and surprises—J.R. Ward stirs things up in this intimate, evocative next chapter in the Black Dagger Brotherhood."
Total Book Geek's review: "Once again The Beast was amazingly written, and I love how well all the story-lines mix together."