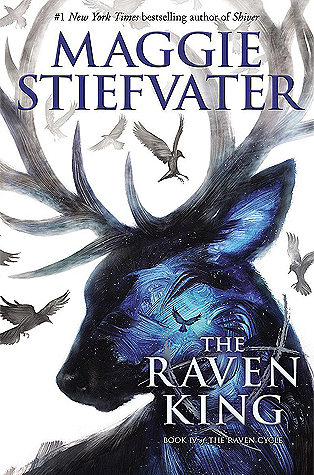 The Raven King (The Raven Cycle, #4)

by Maggie Stiefvater
Series: The Raven Cycle #4
Published by Scholastic Press on April 26th 2016
Genres: Fantasy
Pages: 438
Format: Hardcover
Source: Publisher
Buy on Amazon
Goodreads


Nothing living is safe. Nothing dead is to be trusted.

For years, Gansey has been on a quest to find a lost king. One by one, he's drawn others into this quest: Ronan, who steals from dreams; Adam, whose life is no longer his own; Noah, whose life is no longer a lie; and Blue, who loves Gansey…and is certain she is destined to kill him.

Now the endgame has begun. Dreams and nightmares are converging. Love and loss are inseparable. And the quest refuses to be pinned to a path.
I'm still a little in shock that this series is over so forgive me if my thoughts are all over the place.  I finished this last week and this is the first time I've even felt like I could string together coherent sentences about it.  That should tell you plenty about the finale to the Raven Cycle.
Let me start off by saying that this will be spoiler free as far as The Raven King goes but I make no promises for the other books in the series.  If you haven't read them, I urge you to stop reading my review and go read them.  Or just go read my review for The Raven Boys to see if it might interest you.
Pros:
Characters: These characters hold a special place in my heart at this point.  I've grown so attached to them over the past 4 books and I was so happy with how Maggie chose to end their stories.  I'm not saying that everything that happened to them was happy.  What I appreciated about how she ended everything was that it felt true to each of the characters.  I also loved that she could introduce new characters in the final book and make it feel like they had been there the whole time.  Henry Cheng may have been introduced in an earlier book but The Raven King is really where he made his grand entrance and he grew on me in no time.  I loved the relationship he built with everyone but Blue especially.
Romance: Y'all already know how I feel about Gansey and Blue (I adore them!) but I've never really been vocal about anyone else.  After reading The Raven King, I may like Ronan and Adam more than I like Gansey and Blue and that is really saying something.  Gansey and Blue have always had this chemistry that pulls them together and a curse that pushes them apart.  I'm a sucker for forbidden romance and that was another big appeal for them.  Ronan and Adam have a completely different type of relationship.  I wouldn't even say they are that close as friends.  It's more that Gansey brought them all together and they found each other through that weird friendship.  The tension between them just permeates everything they do and I just wanted to reach in the book and push them together.  Gah!  I can't even talk about it anymore because I'm out of words.  Oh and then there was Maura and the Grey Man.  They were oddly cute together.
Writing: I bet this one is a big shocker to you guys.  Well, okay, maybe not really.  We all know I love Maggie Stiefvater's writing.  It's a style that might be a little more wordy than some authors but I love that.  I feel like every word she writes should be savored and she somehow manages to string them all together perfectly.  She is beyond talented.  It's no surprise that the writing in The Raven King is flawless.
Cons:
Story: The story was not bad, it was just a little all over the place.  I don't know what I was expecting but it wasn't quite what I got.  I said no spoilers so this part of the review is a little difficult.  Maggie Stiefvater tied up all loose ends which pleased me, definitely, but how she went about it wasn't perfect, in my opinion.  And to be quite honest, if I took my time and re-read the whole series, I may not find the story to be a problem at all anymore.  I think it may have been that I took so much time between the first 3 books and this one that the confusion was only on my part.  I know there were things I forgot from the first books and when I eventually go back and re-read them, maybe things will make a bit more sense.
Overall, The Raven King will surpass expectations for fans of The Raven Cycle.  Maggie Stiefvater impressed me once again and I cannot wait to see what she does next.  The Raven Cycle will forever be up there on my list of favorites.