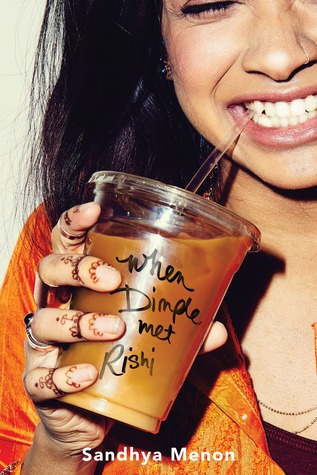 When Dimple Met Rishi

by Sandhya Menon
Published by Simon Pulse on May 30th 2017
Genres: Contemporary
Pages: 380
Format: Hardcover
Source: Publisher
Buy on Amazon
Goodreads


A laugh-out-loud, heartfelt YA romantic comedy, told in alternating perspectives, about two Indian-American teens whose parents have arranged for them to be married.

Dimple Shah has it all figured out. With graduation behind her, she's more than ready for a break from her family, from Mamma's inexplicable obsession with her finding the "Ideal Indian Husband." Ugh. Dimple knows they must respect her principles on some level, though. If they truly believed she needed a husband right now, they wouldn't have paid for her to attend a summer program for aspiring web developers…right?

Rishi Patel is a hopeless romantic. So when his parents tell him that his future wife will be attending the same summer program as him—wherein he'll have to woo her—he's totally on board. Because as silly as it sounds to most people in his life, Rishi wants to be arranged, believes in the power of tradition, stability, and being a part of something much bigger than himself.

The Shahs and Patels didn't mean to start turning the wheels on this "suggested arrangement" so early in their children's lives, but when they noticed them both gravitate toward the same summer program, they figured, Why not?

Dimple and Rishi may think they have each other figured out. But when opposites clash, love works hard to prove itself in the most unexpected ways.
When every single one of your bookish friends is raving about a book, you know they can't all be wrong.  That's how I felt about When Dimple Met Rishi.  Everybody I know that read it, loved it.  I honestly have not seen one single bad review for it.  In all my years blogging, I feel like I have never seen one book get so much praise.  I obviously had to pick it up to see what all the fuss was about.
When Dimple Met Rishi is like the perfect romantic comedy in book form.  I haven't been reading much contemporary lately but that's because I stopped finding books like this one that reminded me of my love for the genre.  This book had everything that made me love contemporary YA novels growing up: romance, friendship, conflicts, confusion, family, and so much more.  Dimple and Rishi are far from perfect and that's why they are so dang lovable.  And don't even get me started on their friends and families.  The family dynamics between both the parents and children and the children and siblings may have been my favorite aspect of this book.  So often it seems like family can get overlooked in favor of romantic relationships in books but that's not the case with When Dimple Met Rishi.  Sandhya Menon perfectly balanced every aspect of this book.
What made the family dynamics so awesome though were the characters.  Dimple and Rishi are obviously the main focus of the story but their story couldn't have been told without their families and the friends they made at Insomnia Con.  Dimple's family was very traditional and it was easy to see that her parents wanted a traditional life for her.  The love they had for Dimple was clear but her mom couldn't see why Dimple wanted something more out of life than marriage and children.  As for Rishi, his parents were of a similar mindset but it wasn't such an issue because it's also what Rishi wanted.  From the start it was clear that Dimple and Rishi were looking for different things out of life but that didn't really stop them from falling for one another.  Also, Celia (Dimple's roommate) and Ashish (Rishi's brother) kind of need their own story now.  I want to know more about those two.
As for Dimple and Rishi, they were pretty great.  Dimple was a little hardheaded and she definitely did some stupid stuff but I still adored her.  Rishi was almost too perfect.  He was so incredibly sweet and loving.  He was a total romantic and while his and Dimple's personalities didn't seem like they would go well together, they really did.  Rishi brought out a softer side in Dimple and Dimple pushed Rishi to go after what he really wanted in life.
Overall, When Dimple Met Rishi deserves every bit of praise it's been getting.  Sandhya Menon has set a very high bar for herself but I am sure that whatever she writes next will meet that standard.
What others are saying about When Dimple Met Rishi:
A Reader Of Fictions' review: "If you've been looking forward to this one, you were right to be excited."
The Book Smugglers' review: "I can't entirely express how cute, engaging, funny and heart-warming this novel truly is."